The Renault Zoe is now available to buy with a 40kW battery, in addition to the 22kW battery offered previously.
Updates to the all-electric Renault supermini also include a new range-topping trim level. The new battery, which joins the existing 22kW battery in the Zoe range, provides an official claimed range of 250 miles, which is around the same as an entry-level Tesla Model S, although Renault reduces this claim to between 186 and 124 miles in real-world driving, depending on the temperature.
Hot two-seat Renault Zoe e-sport gets 460bhp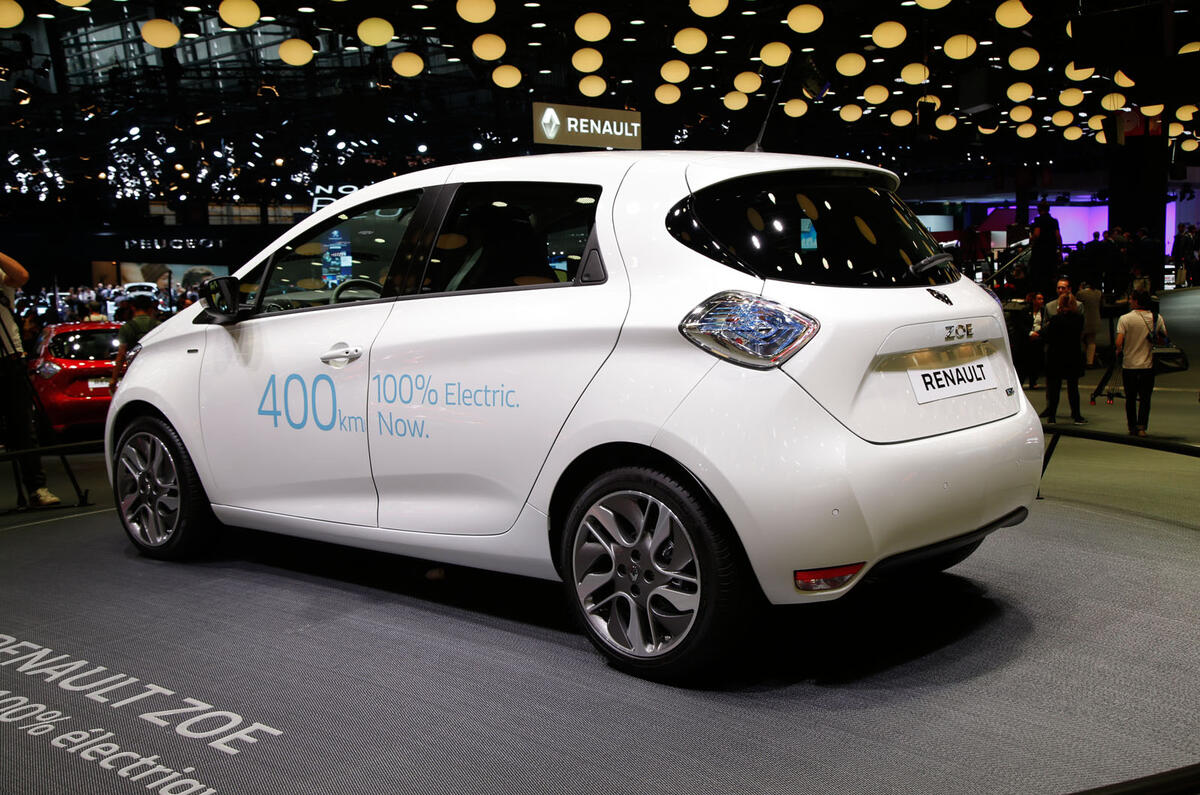 The larger battery is available with Dynamique Nav trims and above; this includes the new Signature Nav trim, which has leather upholstery, heated front seats, a Bose sound system, a reversing camera and 16in alloys, as well as added lumbar adjustment for the driver's seat. The revised model also gets three new exterior paint colours.
Badging for the new Zoe signifies whether the battery is leased or has been bought outright. Cars with with an owner-bought battery get an 'i' before the trim name; for instance, the entry-level leased battery car is badged Expression Nav, but if the battery is owned outright it is badged iExpression Nav. Every Zoe sold also gets a 7kW fast charger with free home installation. The fast charger takes three to four hours to charge a Zoe to full capacity from empty.
Buying the battery outright adds £5000 to the Zoe's entry-level Expression trim price and £5600 to all other spec levels, with the higher price reflecting the larger 40kW battery pack. Leasing the 22kW battery costs from £49 per month with a 4500-mile per year limit to £89 per month for up to 10,500 miles per year, while the larger battery pack costs £59 per month for 4500 annual miles, or up to £110 for an unlimited annual-mileage lease.
The Zoe gets two entry-level prices: £13,995 with a battery lease, or £18,995 when you buy the battery pack outright. Cars with the larger battery pack are also available with a 43kW quick charger, which is a £750 option that allows an 80% charge in just over one hour. The new top-spec Signature model starts at £19,895, or £25,495 with battery purchase. All prices are after the government's £4500 plug-in car grant has been applied. Dynamique trim, where the new 40kW engine enters the range, is £17,845 with battery lease, or £23,445 outright.