Jaguar has been testing a facelifted version of its F-Type with a four-cylinder engine at the Nüburgring.
The test model has recieved minor tweaks to the styling of its nose and was spotted lapping the 'Ring clad in a camouflage body wrap. Though initial reports suggested the car was running a V6 engine, DVLA records reveal the car is in fact using a 2.0-litre four-pot motor.
This petrol engine could either be based on the 237bhp one found in the 2.0-litre XE, or alternatively it could be Jaguar's upcoming 2.0-litre petrol Ingenium engine. Either way, insiders expect power output to reach as much as 300bhp.
The addition of a four-cylinder unit to the F-Type range has long been rumoured, and the arrival of this prototype suggests it's on course to arrive next year.
On the car's exterior, the front bumper lacks the air intakes that sit either side on the current V6 model, and instead makes do with slimmer gaps below the grille. This creates an overall cleaner, more aerodynamic look.
The new model also features LED headlights, which will likely feature adaptive technology.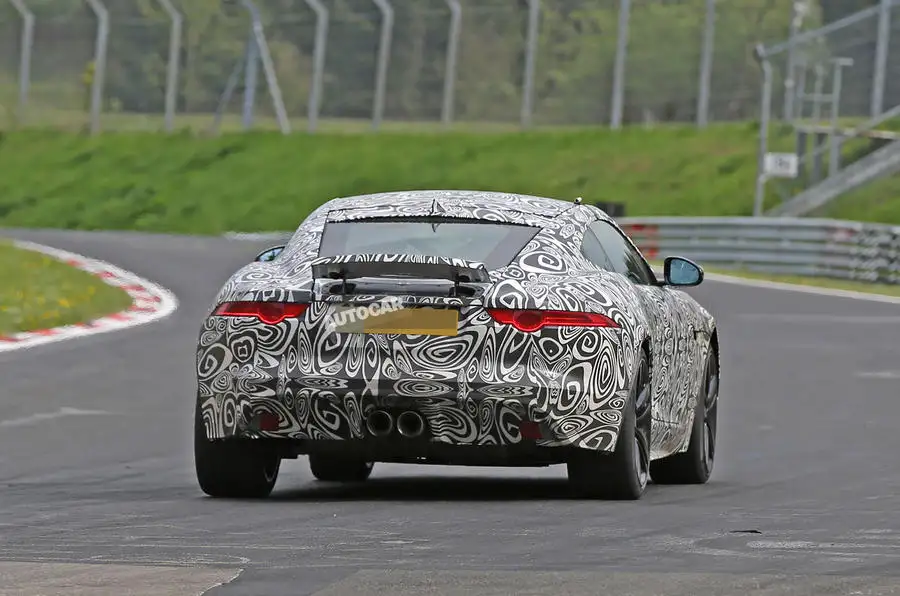 The rest of the test car's body looks unchanged from the current model, suggesting the 2017 model will only receive the smallest of changes to its exterior. Though this particular car is a coupé, similar changes are expected for the convertible version.
Our spy photographers weren't able to catch a glimpse of the car's interior, but insiders expect the 2017 F-Type to get Jaguar Land Rover's latest infotainment system, which is featured in new models such as the Discovery Sport.
Little else is expected to the change in the engine range. Thus, the supercharged V6 car steps up from entry to mid-level, and the range-topping car will retain Jaguar's brutish supercharged V8 unit.