The 2017 Honda Civic has been spotted completely undisguised on a car transporter by an Autocar reader.
We've driven the 2017 Honda Civic. Click here to read the review
The new Honda Civic Type R has been revealed at the Paris motor show - read more here
The transporter, which was carrying a number of Civics without any disguise, was spotted heading into Southampton by Autocar reader Nick Mortimer. This means the cars are likely to be heading for the US, given Southampton's role as a major UK export hub.
The full styling of the car is visible, with the familiar angular design of the Geneva motor show concept and test mules that have been previously captured on camera. The twin central exhaust tips are gone on these particular cars, replaced by an exhaust tip on each rear corner.
Update: The tenth generation Honda Civic takes it bow at the 2016 Geneva Motor show
A rear spoiler remains incorporated into the rear windscreen - something of a Civic hallmark - and the wheels are finished in gloss black. Official sources at Honda wouldn't comment on the image.
The 2017 Civic has also previously been spotted testing in Cumbria by two Autocar readers.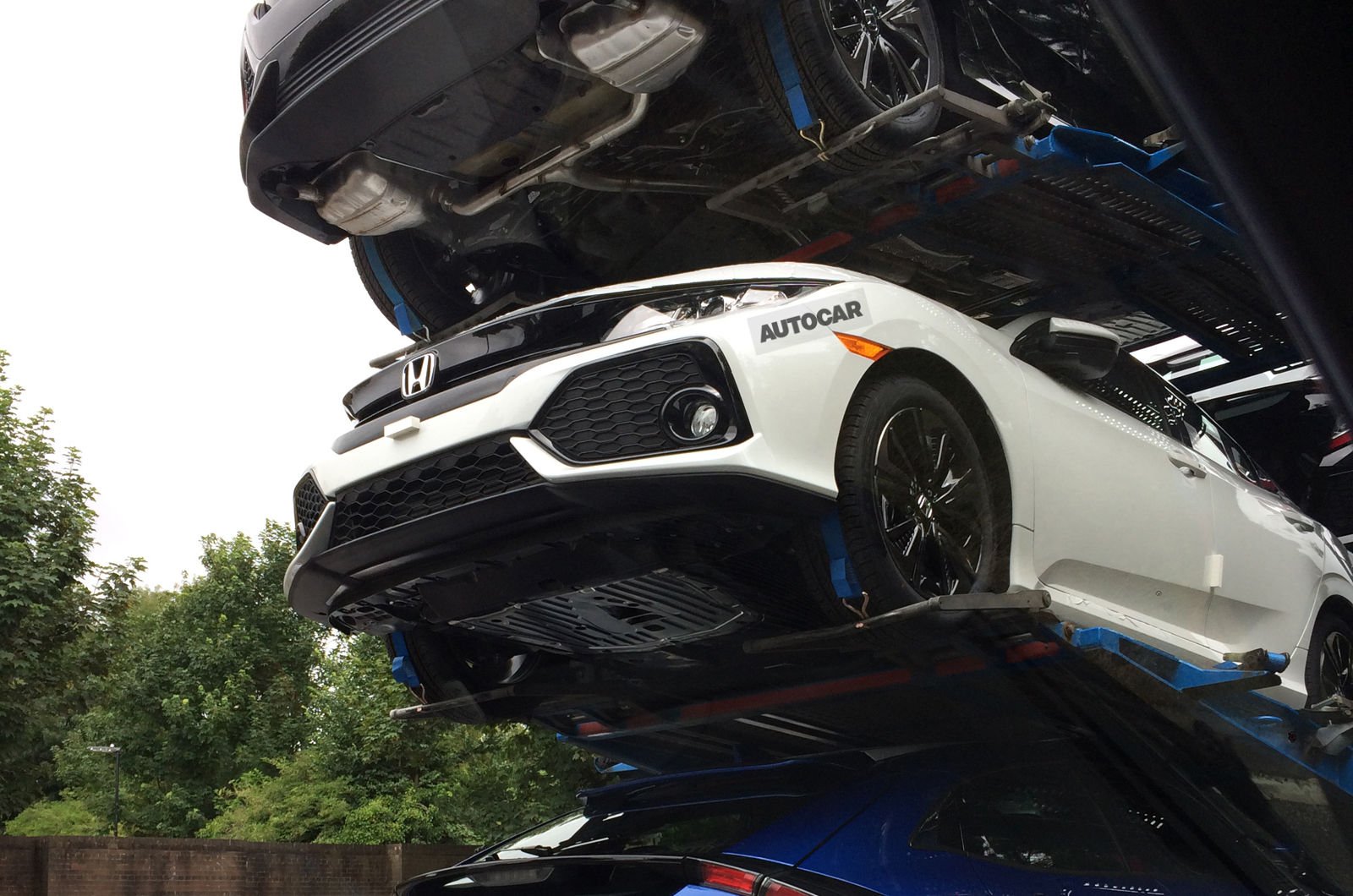 Autocar reader Adrian Jackson was able to describe the car in detail, paying particular attention to the non-LED tail-lights, which didn't appear to extend into the tailgate like those of the Civic concept, high-quality leather interior and large central twin exhausts.
Jackson's description was confirmed by another Autocar reader, Stephen Biggs, who spotted the Civic and managed to catch it on camera.
The test mule spotted by Jackson was a five-door, left-hand-drive example with a driver and passenger aboard. It wore disguise with an extra roof antenna and had three rear headrests, suggesting a full five-seat layout.