This isn't unusual. Not many people who aren't Matt Neal drive Matt Neal's racing car, but the casual nature with which he hands it over is, in my experience, fairly standard.
Racing car drivers are more relaxed about their cars than their race engineers are. I suppose it stands to reason. Neal is used to taking his Honda Civic out in the middle of a pack of other British Touring Car Championship cars and it's a series not renowned for upholding the mantra that racing is a non-contact sport.
We put the 306bhp Honda Civic Type R through its paces on the road and track
There is a very good reason that, in addition to an extremely wide rear-view mirror above my head in the centre of the cabin, there are mirrors by the side windows that do precisely the same as the door mirrors do. Because the door mirrors might not make it past the first corner.
Anyway, Neal's briefing is… er… brief. I'm allowed to have a go in this car because we've prepared a video shootout between it, a McLaren 650S and a British Superbike Championship race bike and there's just enough time for me to have a few laps of Silverstone's Stowe circuit.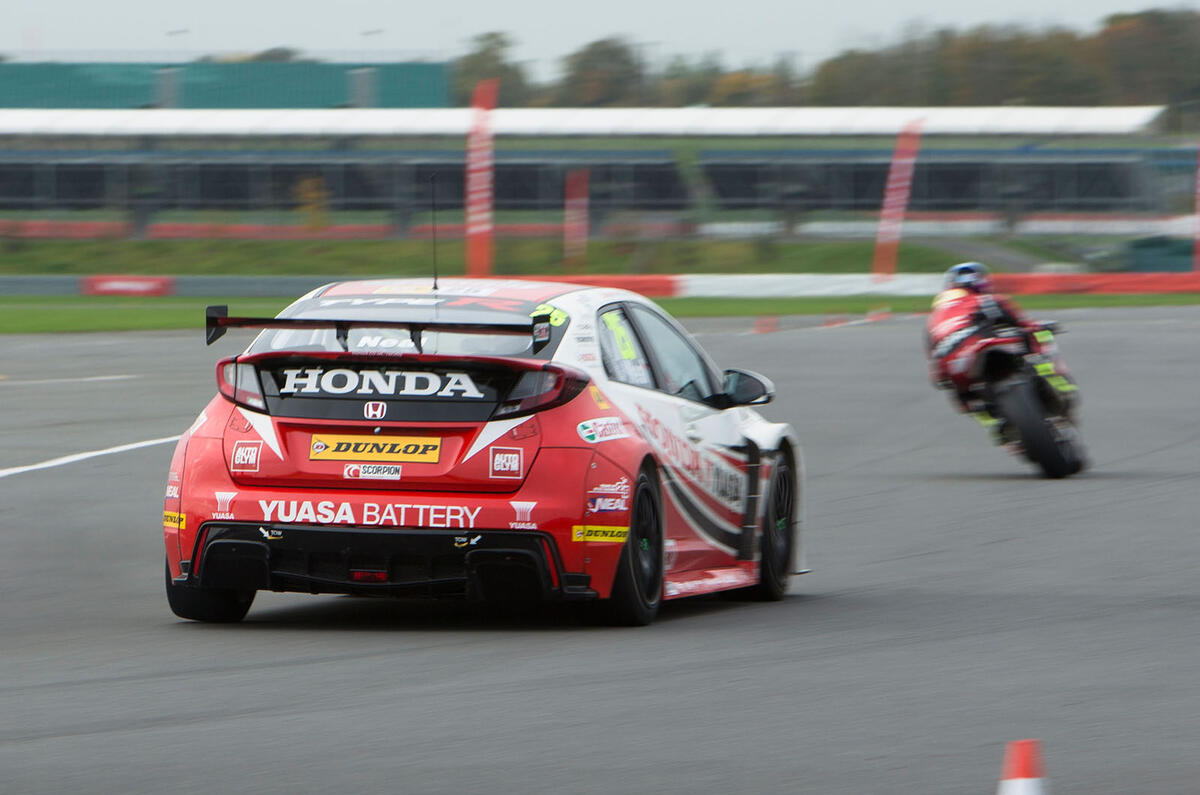 What I want to know is just how different a BTCC car feels to a regular Honda Civic Type R. The shape is pretty much the same, after all, they're both front driven with a limited-slip differential, and such is the nature of a modern hot hatchback that the Type R isn't a million miles away on power from a BTCC racer (not that anybody really likes to tell you exactly how much power their racing car makes).
The first huge difference between road and BTCC car, as with so many race cars, is the driving environment. Race teams start with a production car, but take everything out, modify the body, lighten everything, weld in the cage, and only then start putting things back in again, although not necessarily in the same place they started. And not, obviously, the same things that they started with. BTCC regulations ensure that every team has the same front and rear subframe and suspension: proper adjustable double-wishbone kit. Gone are the days when you had to keep a derivative of whatever the standard car had.