The BMW i8, with its dihedral doors and wide sills, is not the easiest car to get into and out of at the best of times.
The i8 used as a safety car for the FIA Formula E electric race series has an intricate roll cage and heavily contoured, carbonfibre-backed Recaro race seat that rob the driver's door aperture of even more precious space, so it takes the flexibility of a contortionist (and a lot of swearing) to squeeze into the snug cabin.
This special i8 is one of two examples created by BMW's i division and has followed the Formula E circuit around the globe since last September. It features, among other developments, a new inductive charging function from Qualcomm that operates at 7.2kW instead of the 3.6kW of the most powerful plug-in system. This allows the car's battery – borrowed from the X5 xDrive40e and packing greater capacity than that used by the production i8 – to be charged in less than an hour. This i8 also acts as a test bed for developments that BMW plans to incorporate into future incarnations of the road car.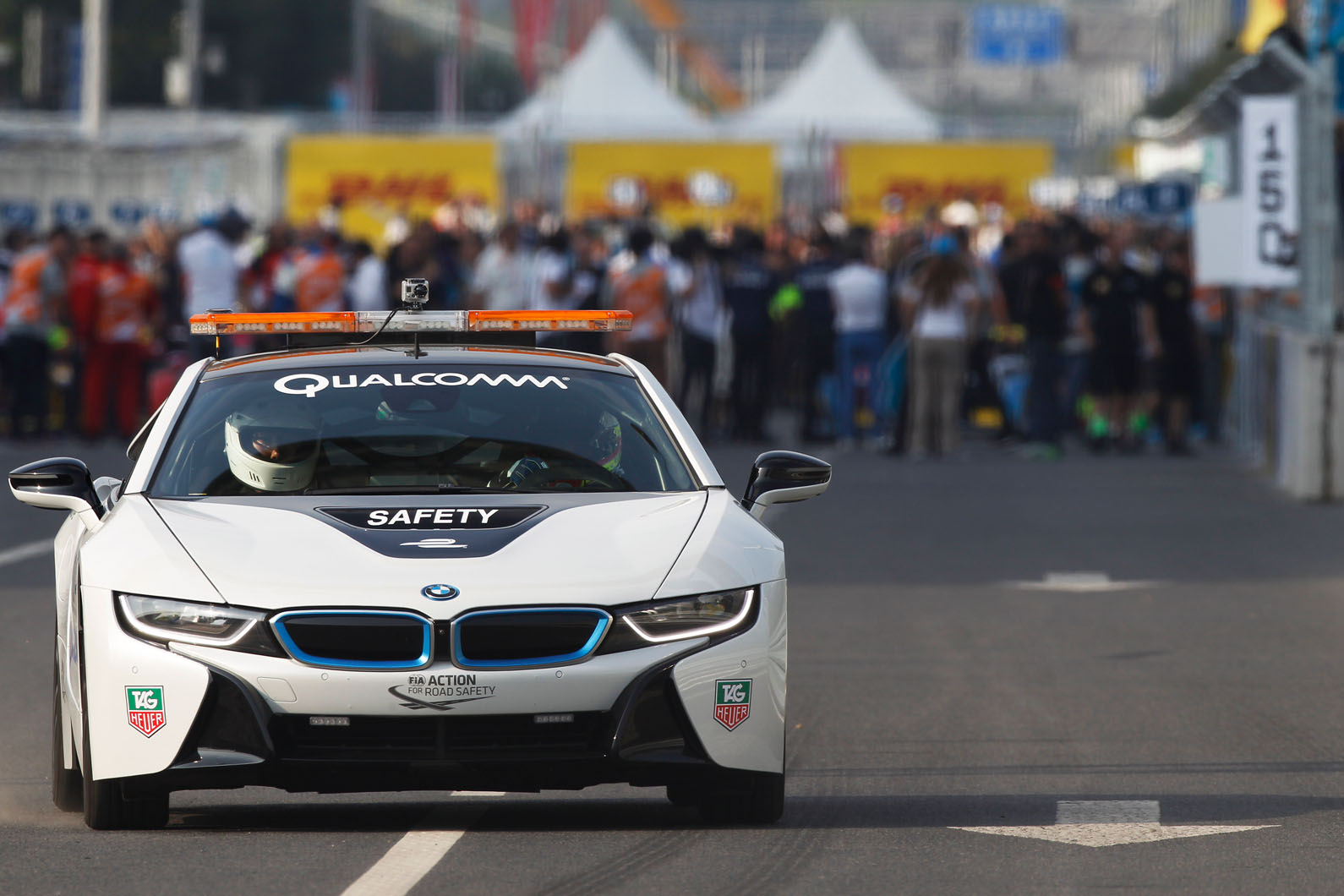 Once I'm finally behind the wheel, I draw the driver's seat up close to the steering wheel and strap myself in with a six-point harness, before setting about familiarising myself with the additional switches for the strobe lights mounted atop the roof, together with the various radio equipment specified by the FIA.
That's when I notice the absence of a conventional rear-view mirror. In its place is a high-definition monitor connected to a rear-facing camera. It takes some adjustment before I feel fully comfortable with the projected image and its rather odd depth of field, although it actually provides a wider view of what's behind than the standard rear-view mirror, so don't be surprised to see it pop up on the production i8 sometime soon.
The digital rear-view mirror is required due to the absence of the production i8's rear window within the tailgate. In its place is a new carbonfibre-reinforced panel that hides a pair of upgraded fans mounted above the combustion engine at the rear.