Toyota Avensis driver Tom Ingram heads the Dunlop MSA British Touring Car Championship after three incident-packed races at a rain-hit Donington Park on Easter Sunday. Ingram shared the race wins at the East Midlands circuit with Aiden Moffat (Laser Tools Racing Mercedes A-Class) and Colin Turkington (Team BMW 125i M Sport).
Rob Austin (Handy Motorsport Toyota Avensis) claimed pole position for the opening race of the weekend. Ashley Sutton (Adrian Flux Subaru Levorg) actually set the fastest time in the session, but was thrown to the back of the grid due to a technical issue on his car's turbocharging system.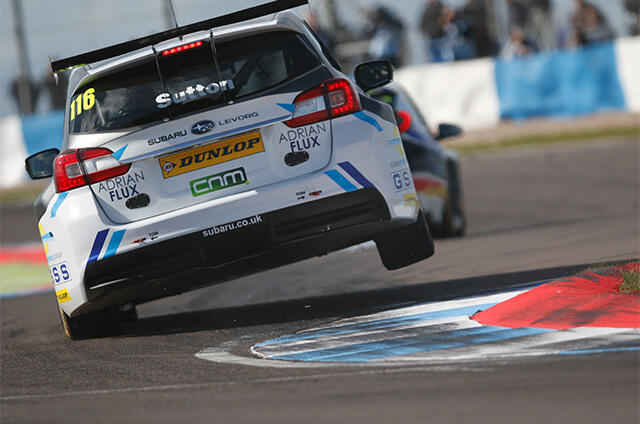 Maiden win for Moffat
Austin got away cleanly as the red lights went out at the start of the race, but was given a robust tap from Tom Ingram (Speedworks Motorsport Toyota Avensis) under braking for Redgate, the first right-hand corner. Ingram slipped past into the lead, and on the second lap Austin was demoted to third place by a charging Moffat.
Ingram's Avensis was laden with performance-equalling success ballast in light of his strong performances at Brands Hatch a fortnight earlier, and was also wearing the harder (and less grippy) Dunlop SportMaxx tyre compound. He had no answer to Moffat when the Mercedes driver sliced ahead as the cars swept down the Craner Curves.
As Moffat made good his escape at the front, Ingram lost second place to the resurgent Austin, who was grappling with a slight gear shifting issue. Ingram was also demoted by Matt Neal (Halfords Yuasa Racing Honda Civic) and Turkington before the end.
Neal - chasing the 60th BTCC victory of his career – slipped ahead of Austin in the closing stages, but could make no impression on Moffat, who matched the Civic driver's lap times to rack up the first BTCC victory of his career.
"It's a very special feeling – I won't be forgetting this moment anytime soon," said Moffat. "The Laser Tools Racing Mercedes was absolutely brilliant. We've had a great set-up on the car all weekend, so I was feeling confident and knew we had the pace. It all came together nicely."