Halfords Yuasa Racing has unveiled the Honda Civic Type R it'll field in this year's British Touring Car Championship.
On show at the Autosport International show in Birmingham, the 2017 racer is based on last year's platform but features a small number of upgrades. It also sports a striking new livery that switches last year's orange and black pattern around.
"This is an evolutionary take on last year's car but we expect to improve in all areas," reigning BTCC champion Gordon Shedden told Autocar. "The target is to do it again – to win the championship."
Like the 2016 model, the new Type R racer is powered by a turbocharged 2.0-litre four-cylinder engine. It's based on the road Type R's unit but has been uprated by Neil Brown Engineering.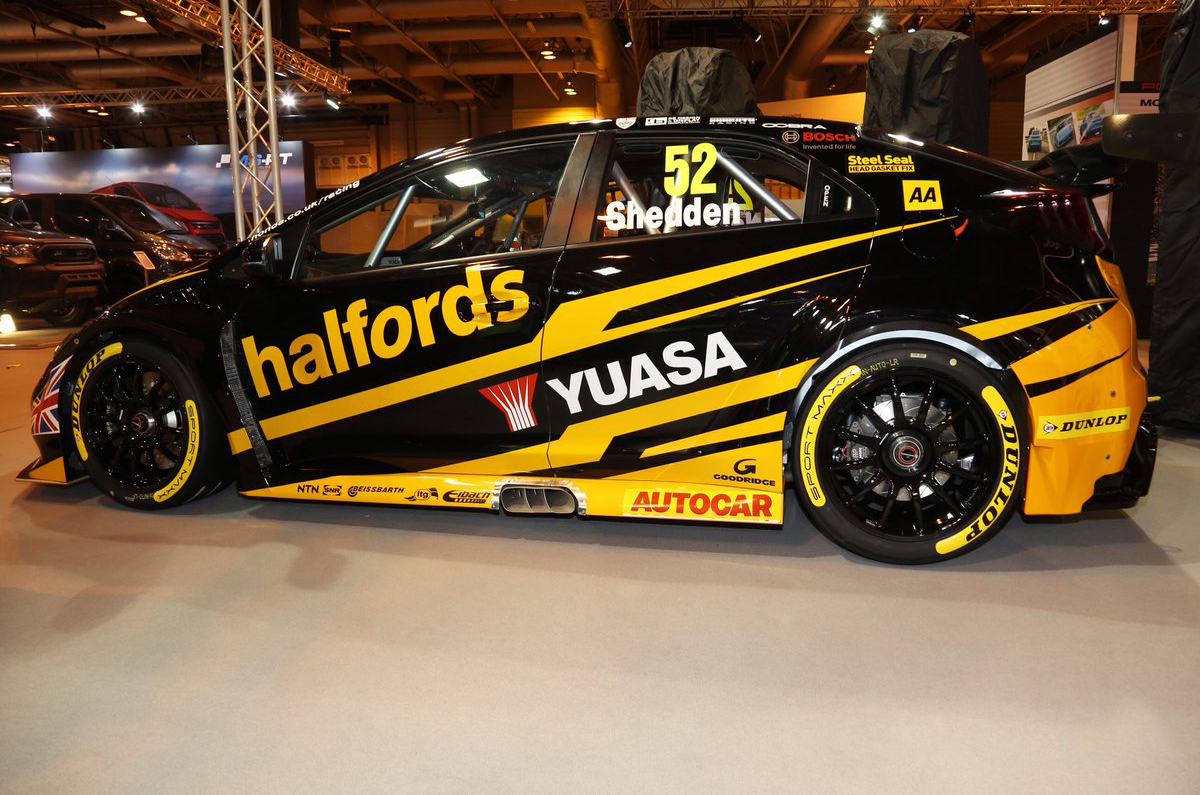 The powerplant, named K20C, produces around 370bhp, although Honda refrains from quoting an exact output. The car is front-wheel drive, and it weighs 1280kg, as per BTCC regulations.
2017 marks the eighth consecutive year Gordon Shedden and Matt Neal have raced alongside each other at Honda's BTCC outfit.
"Development is very restrictive in the BTCC on both the chassis and engine side, but we have been pushing hard in all departments and making good progress," said Neal. "One of the biggest question marks heading into the new season will be over who adapts best to the new Dunlop tyre, and in that respect, I think the inter-team rivalry with 'Flash' [Shedden] will be fascinating."
This year's championship kicks off on the 1-2 April at Brands Hatch.
used Honda Civic Type R 2015-2017 cars for sale
Honda CIVIC 1.0 VTEC Turbo SE Euro 6 (s/s) 5dr
Honda Civic 2.0 I-VTEC Type R GT Euro 6 (s/s) 5dr
Honda CIVIC 1.6 I-DTEC SR Euro 5 (s/s) 5dr
Honda Civic 2.0 I-VTEC Type R GT Euro 6 (s/s) 5dr
Honda CIVIC 1.5 VTEC Turbo Sport Euro 6 (s/s) 5dr
Honda Civic 1.5 VTEC Turbo Prestige CVT Euro 6 (s/s) 5dr
Honda Civic 1.5 VTEC Turbo Prestige Euro 6 (s/s) 5dr
Honda Civic 1.8 I-VTEC SE Plus (Navi) Euro 6 (s/s) 5dr
Honda Civic 1.0 VTEC Turbo SR CVT Euro 6 (s/s) 5dr
Powered By