Toto Wolff is grabbing a sandwich downstairs when we arrive for a chat in his refreshingly unpretentious office in the Mercedes-AMG Petronas Formula 1 team offices at Brackley, just down the road from Silverstone.
Wolff's previous appointment has overrun, which is understandable. In these important days leading up to the season's first F1 race, everyone wants a word with the team's executive director and managing partner.
In any case, a few minutes' delay is a bonus for the interviewer. There is time to note the orderly state of the glass-topped desk, the neatly folded jumper over one of the chairs, and the fact that the one and only photograph in this office is a signed image of Frank Williams with Toto (real name Torger) beside him. It is from the 2014 Austrian Grand Prix, Wolff's home race, where Mercedes cars finished first and second and Mercedes-powered Williams cars were third and fourth.
I'm getting the strong impression that nothing in this relatively austere room is there without very good reason, which is why my own jacket, initially parked on the floor, has been tactfully transferred to a nearby wardrobe. Toto likes things tidy, says one of his helpers.
At this stage, I've only ever seen 45-year-old, Austrian-born Wolff on TV, in his role as the usually victorious principal of a team that has won the past three F1 constructors' and drivers' championships – a total of 54 victories – since he arrived at the beginning of 2013. That's enough to tell me his English (just one of the six languages he speaks) is perfect. I also know he's tall and imposing and looks directly at interviewers through intense, all-seeing eyes, and that he seems to have a nice sense of humour. Today, I've seen the attention to detail, which makes me wonder whether he's somewhat of a control freak, and if so, how this squares with a sport-cum-business like F1 that contains so many uncertainties.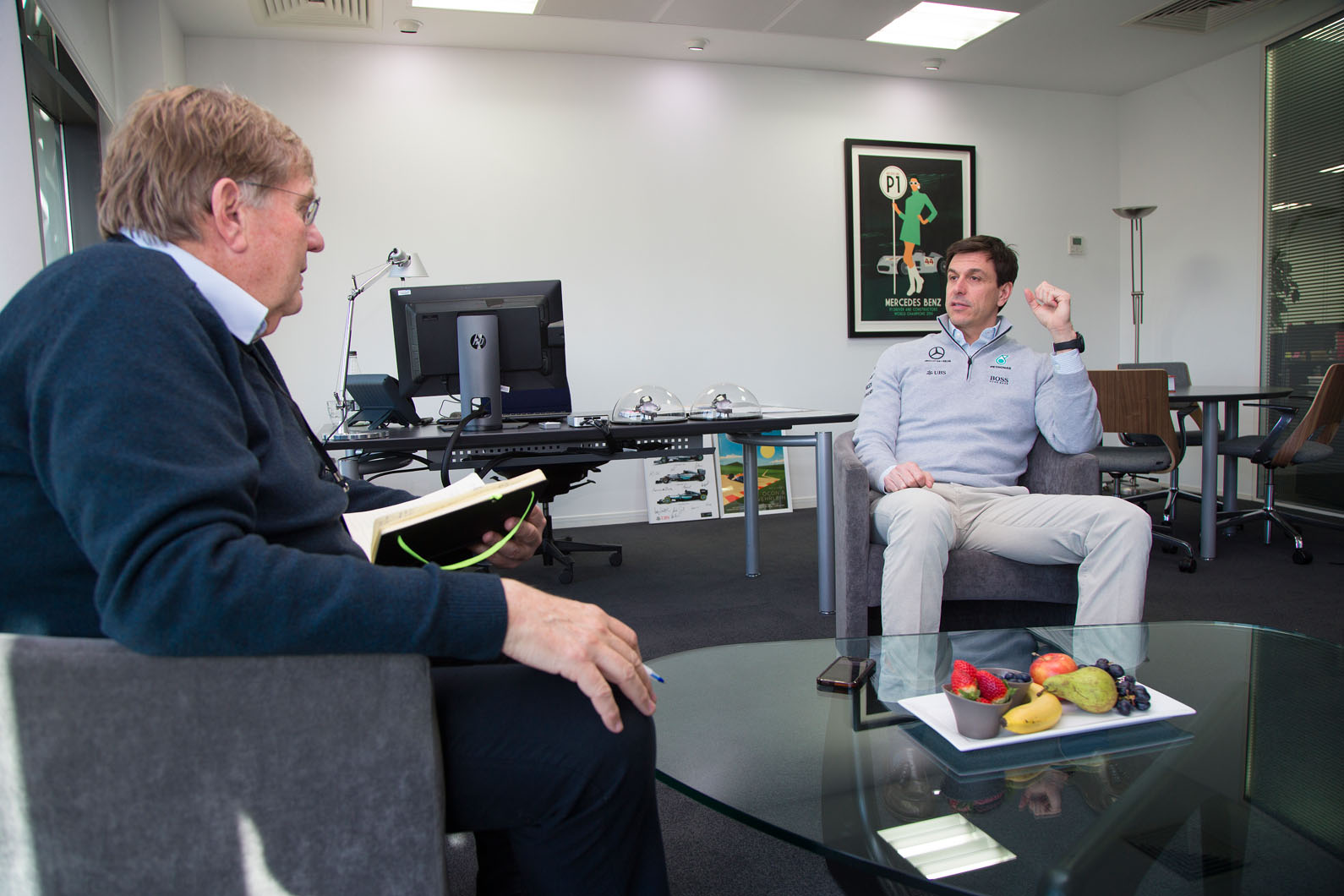 While I'm speculating, Wolff walks in with a smile that's almost shy, and a word of apology for his very few minutes' lateness. He sits co-operatively where asked by the photographer, and suddenly we're talking as if we'd been doing it all morning. One of his secrets – he'll tell me later – is very deliberately to do his best at everything, so he immediately impresses me by knowing something of our magazine, by understanding the hoped-for direction of our interview and by giving this encounter his full attention. No phones, no interruptions from the PA.
We tune up on one of my hobby horses: F1's Bernie Ecclestone-led tendency to take its fans for granted – and whether things will change now the sport has new owners and Ecclestone no longer controls its reins. I soon discover that, in sync with every other F1 leader, Wolff has no appetite for Bernie-bashing. "I owe him my entry in to F1 and I'll never forget that," he says. "You have to remember Bernie's main objective was to earn money for his shareholders and he did that brilliantly. It was not to embrace the teams' customers. He invented a sport that wasn't there before and made it into a $90 billion business. Now it has been put into other hands and they have a big responsibility to continue his legacy. They seem open-minded and have started to ask the right questions. We will do everything we can to help them maintain the sport's attractiveness and make it better."