Volkswagen has previewed its plans for a US-built pick-up with the unveiling of the Atlas Tanoak at the 2018 New York motor show.
Conceived around the company's unibody MQB (Modularen Querbau) platform - as used by a wide range of VW models ranging from the compact Polo hatchback to the Atlas SUV – the dual-cab concept hints at how the German car maker intends to muscle its way into the lucrative North American full-sized pick-up market against competition that includes the ubiquitous Ford F-150.
Volkswagen Atlas Cross Sport concept unveiled
Combining a contemporary design lineage reminiscent of more recent VW SUV models with traditional pick-up proportions, the 280bhp 3.6-litre V6-powered Tanoak has been conceived as part of an eventual three-model Atlas line-up that includes the seven-seat Atlas SUV and five-seat Atlas Cross Sport - the latter of which also made its debut at the New York motor show.
The Tanoak remains a concept for now. A spokesperson told Autocar: "The mid-size pick up segment [in the US] is interesting but not a no-brainer. It is below 500,000 sales a year - down from a million but stabilising and growing again now - and this really is a concept that is being evaluated. It hangs in the balance if we'll make it, and it will depend on reaction at the show, in clinics and ongoing. The logic is there, but the business case has to fit, and until we get the feedback we can't commit."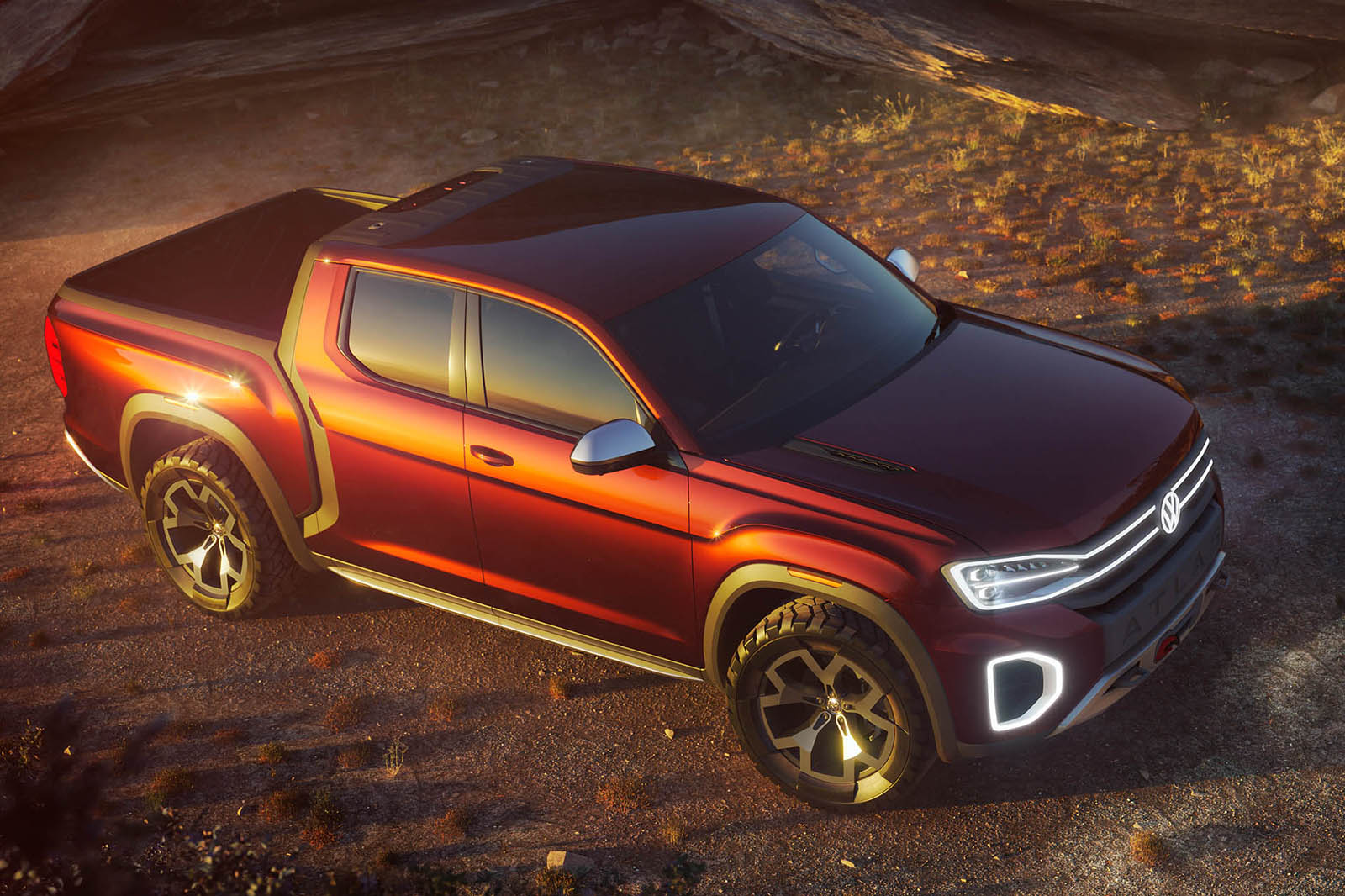 Unlike the Atlas Cross Sport concept, which has already been confirmed for production in 2019, the Tanoak is described as being more conceptual in nature. Its brief, says VW design boss Klaus Bischoff, is to test public reaction to a full-sized pick-up model for the North American market that he says could be produced at the company's Chattanooga plant in Tennessee.
"We're not saying this is a model we will definitely bring to showrooms. Rather, we're airing our ideas of how a future Volkswagen pick-up could look like. In the US, you need to be in the truck market to generate proper volume. With a positive reaction from potential customers, the Tanoak could take us there," says Bischoff.
While VW admits the Ford F-150 and Chevrolet Silverado are among the competition being targeted by the new model, it says the Honda Ridgeline and upcoming production version of the Hyundai Santa Cruz pick-up concept are more obvious rivals for the Tanoak, which has been seen as less of a tradesman's workhorse and more of a lifestyle-oriented model.