The driving experience is more intense, they say, the shorter the distance you drive a brilliant car. So it proved, at least, on my quickish, wettish run up the Goodwood Festival of Speed hillclimb in the brand new McLaren 570S Spider, the first time any hack has been able to slide behind the wheel.
Excellence was expected, of course. We've spent enough time in the McLaren 570S coupé to reach a general agreement that it's one of the world's finest supercars, regardless of price. And given that this new open version is every bit as powerful and torsionally rigid, rolls on the same tyres and suspension and only weighs 46kg more, there's no way it was going to be any less superb to drive.
Neither was it going to be a lot more expensive: the first 400 Spiders - launch editions tipped to sell quickly because demand for other open-cockpit McLaren models has tended to outstrip coupes two-to-one - are priced at £164,750 and can be ordered now.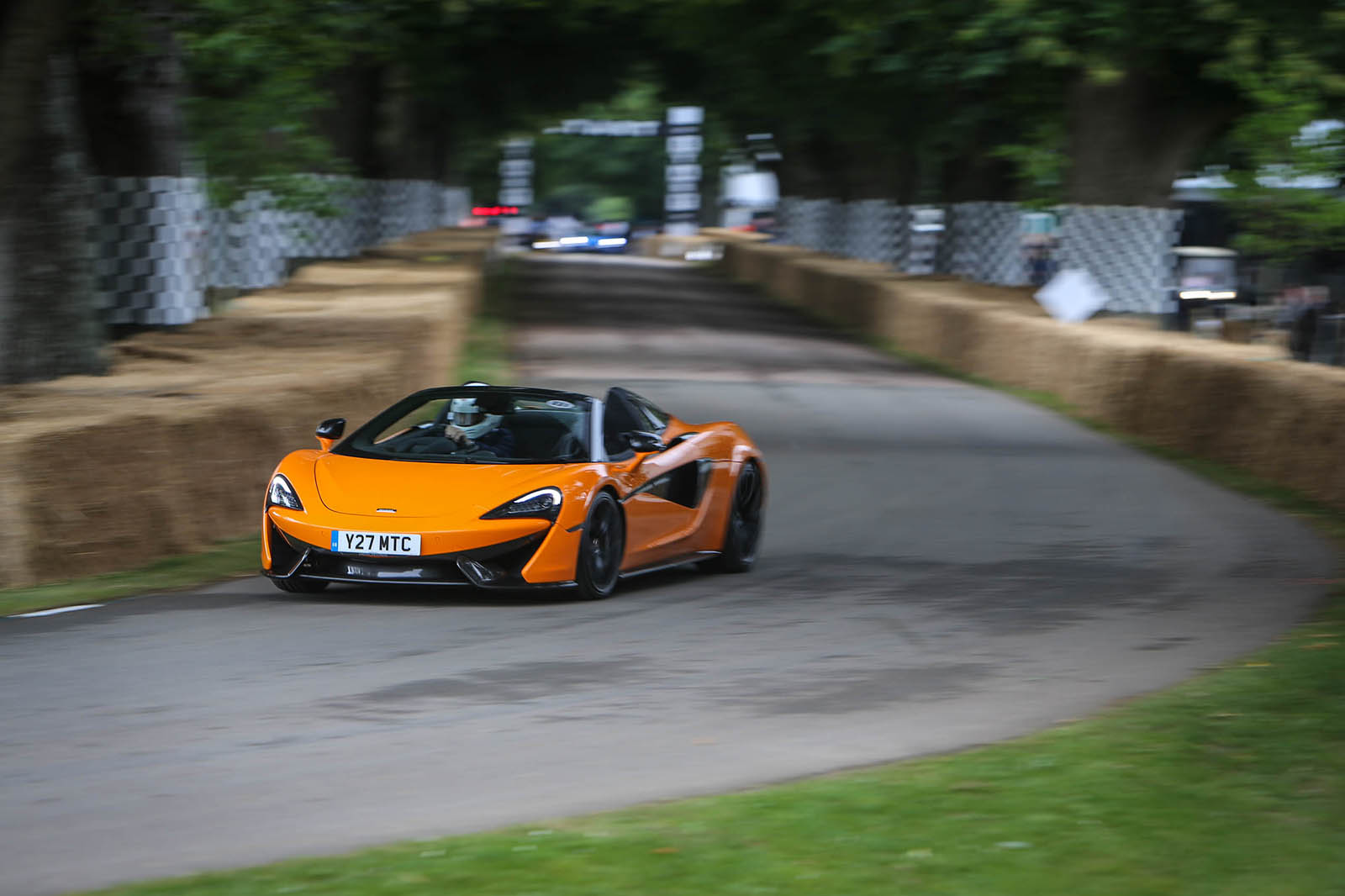 The Spider hood is a two-piece affair, using lessons from McLaren's 650S and 675LT Spiders. It's formed of lightweight composite panels that integrate so well into the car in its open condition that it's hard to see that exists at all. And there are other subtleties: a window behind the occupants retracts or erects at the driver's command, allowing the engine note and fresh air supply to be infinitely adjusted. As a bonus, the raked windscreen and well refined cockpit aerodynamics afford pretty good weather protection. Even intermittent Goodwood drizzle couldn't upset its top-down comfort.
Driving was brilliant, of course. The plaudits for the existing 570 models so far centre first on the performance (204mph; 0-60mph 3.2 seconds) and the unique combination of driving ease with a Ferrari-level sense of occasion. That coupé's top speed does raise one tiny Spider drawback: with the lid down the car can only manage 196mph. We predict, however, that the list of owners who care will be short indeed.