The Volkswagen ID R Pikes Peak was designed to showcase the capabilities of electric technology and prove that it could match combustion-engined machines — and the anticipation that greeted its appearance at the Goodwood Festival of Speed suggests it has done just that.
After Romain Dumas blitzed the outright record on the 12.42-mile Pikes Peak International Hill Climb with the 671bhp electric challenger, there was speculation that he could eclipse Nick Heidfeld's 19-year-old Goodwood hill record of 41.6sec. 
Pikes Peak 2018: Volkswagen ID R breaks outright record
That outright record was set in Mika Häkkinen's 1998 Formula 1 championship-winning McLaren-Mercedes MP4/13, and the fact that many seriously considered an EV could beat its time highlights how the ID R and other machines are changing perceptions of electric tech.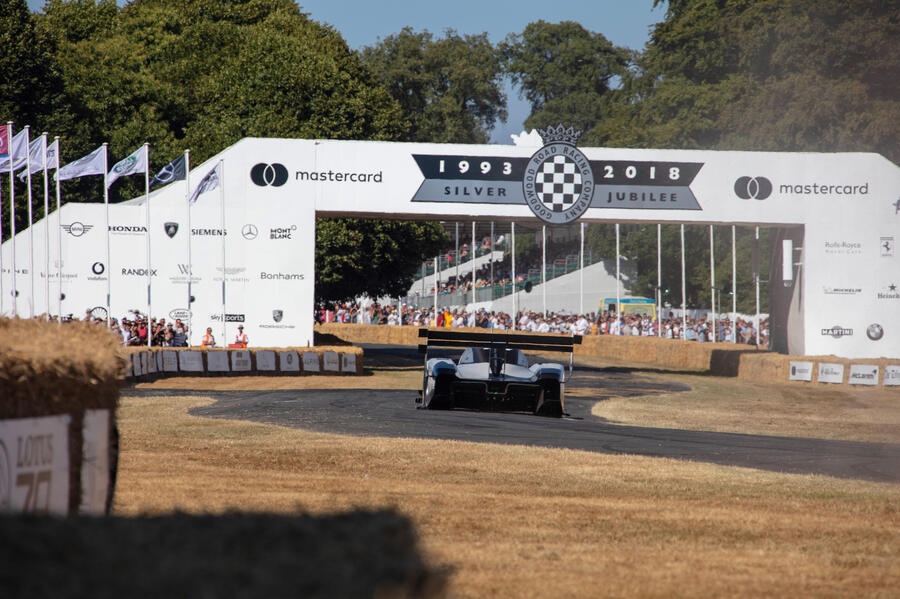 In truth, the ID R Pikes Peak — at least in current form — was never likely to beat Heidfeld's time. The machine's relatively small engines were designed to offer workable power throughout a 12.42-mile course, rather than dumping all that energy on a 1.16-mile run, while the massive rear wings — vital to producing downforce at altitude — are likely to be an impediment on the quick Goodwood hill. 
Dumas set the ID R Pikes Peak's quickest time of 43.05sec on Saturday — enough to shatter the electric hill record of 46.34sec, set in 2013 by Jonny Cocker in an 850bhp Lola-Drayson B12 69/EV prototype.
Volkswagen ID R Pikes Peak goes fastest in timed Goodwood shootout
Autocar caught up with Dumas at Goodwood to find out his view of the event. What did you make of the festival?
"The event is very nice. There are a lot of nice cars, for sure. It was my first time driving competitively up the hill, because last year I only drove up it once with the Porsche GT3 road car, so it's essentially completely new. The course is not so easy, but it was good fun."
How hard did you push?
"I didn't push really hard early on, but we did push more in the later runs. For sure, there was time to come from both myself and the car."
Did you make any changes to the ID R for Goodwood?
"We raised the car up because it was bottoming out a lot in our first run. We moved a lot of things compared to Pikes Peak. We had to go softer with the suspension springs for the set-up, but the problem is that, with so few runs, we just had no time to try — and here, as soon as you start, you've finished."