The new Prophecy performance car concept shows what to expect from the next generation of electric Hyundais.
It combines the compact proportions of last year's 45 concept with the dramatic curves of the Le Fil Rouge saloon from 2019, in an evolution of the Korean manufacturer's 'Sensuous Sportiness' design language.
Said to have been designed with a focus on aerodynamic efficiency, the Prophecy features a heavily raked roofline, minimal bodywork creases and innovative propeller-style wheel designs that help to channel air down the side of the car's body.
An integrated rear spoiler is fitted for greater stability at high speeds, while short front and rear overhangs hint at the Prophecy's dynamic potential.
The lack of a blanked-off grille shows that bespoke electric vehicles from Hyundai will be likely to take a different styling direction to their combustion-engined counterparts.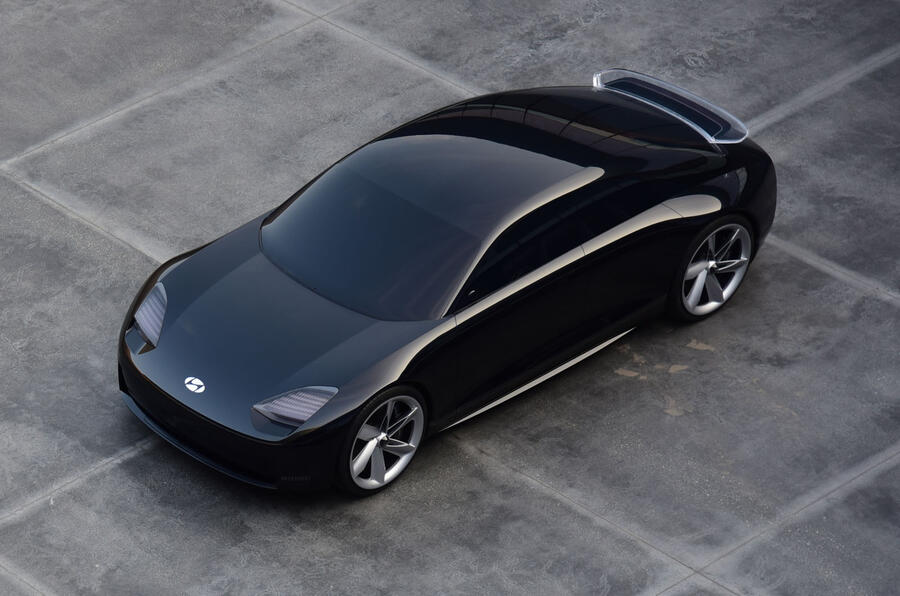 Extended wheel arches emphasise the Prophecy's long, low profile and mark a EV's sleek body and propeller-style rims extend its range departure from the styling of the 45, which referenced Hyundai's first-ever car by focusing on straight lines and sharp angles.
The Prophecy's beltline descends towards the back, meeting the roofline and ending at a sharply angled rear end that's designed to make the Prophecy appear as if it's always in motion.
Technical details of the saloon's powertrain remain secret, but we do know it's based on a new EV architecture that enabled Hyundai to achieve what it calls "the ultimate automotive form".
As with the Hyundai Kona Electric, the battery pack is housed under the floor, hence the prominent air intake under the Prophecy's front bumper, which is claimed to cool the power cells more effectively, thus enhancing efficiency.
Several new design features that appear on the Prophecy can be expected to migrate to production cars in the coming years. The pixelated front and rear light clusters, for example, will become "a signature design element" of future Hyundai models.
It's unlikely the transparent component housings featured on the spoiler, headlight and camera monitoring system will make their way to showrooms, however.