Tyre manufacturer Goodyear has introduced the Aero – a concept tyre designed to propel vehicles through the air.
On display at the Geneva motor show, the airless tyre concept operates differently depending on its orientation. On the road, the Aero operates as a normal tyre, with the spokes supporting the weight of the vehicle. But when tilted, the spokes double as fan blades to provide lift.
The 'non-pneumatic' structure has been seen in airless concept designs before. These normally take the form of a hexagonal grid design, constructed using a material that provides a certain amount of shock absorption – supple enough to provide grip, particularly over obstacles, but strong enough to support the weight of the car. In the case of the Aero, it must also be strong enough to rotate at sufficiently high speeds to provide vertical lift.
Goodyear says that rotation to the tyres would be delivered via "magnetic force" to provide frictionless propulsion, but it remains tight-lipped about the mechanics of this system. There would also be optical sensing and artificial intelligence employed to monitor road and tyre conditions.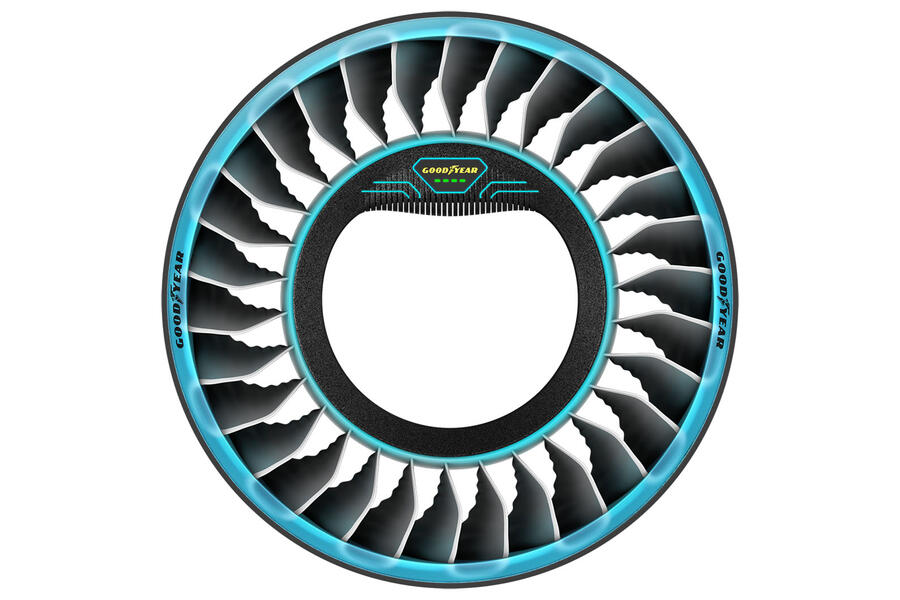 This isn't the first time that Goodyear has presented a radical design concept at Geneva. In 2016, the firm demonstrated a spherical concept tyre above which the car levitated, a concept developed and brought back for the 2017 show.
Talking about the Aero, Chris Helsel, chief technology officer at Goodyear, said: "With mobility companies looking to the sky for the answer to the challenges of urban transport and congestion, our work on advanced tyre architectures and materials led us to imagine a wheel that could serve both as a traditional tyre on the road and as a propulsion system in the sky."