Mercedes-Benz has previewed its upcoming EQS luxury saloon with the unveiling of a new 470bhp electric-powered concept at the Frankfurt motor show.
Called the Vision EQS, the new four-door provides a foretaste of what Mercedes-Benz claims will be its most advanced production model yet when it reaches showrooms in 2021. It will be launched as a direct rival to the next-generation pure-electric Jaguar XJ, as well as the Tesla Model S and Audi E-tron GT.
As such, Mercedes design director Gorden Wagoner says the EQS will attract new customers to the brand, rather than cannibalising sales from existing S-Class buyers. "The key for EQ cars is then to develop cleanliness for a technical, digital look. It is quite free-form but still very sexy, almost like the best operating systems," he said. "You must remember that majority of buyers will not be S-Class customers making the switch, but people who are entirely new to the brand.
"The electric architecture gives very different proportions to work with, so it is a very different approach. On the exterior, we call it a one-bow design. It is almost coupe-like, a bit cab forward and quite clearly a very different proposition to the S-Class. The reason for that is that the battery pack sits the car about 15cm higher than an ICE car, and the best way to create that is with the bow - and in fact it actually looks lower as a result."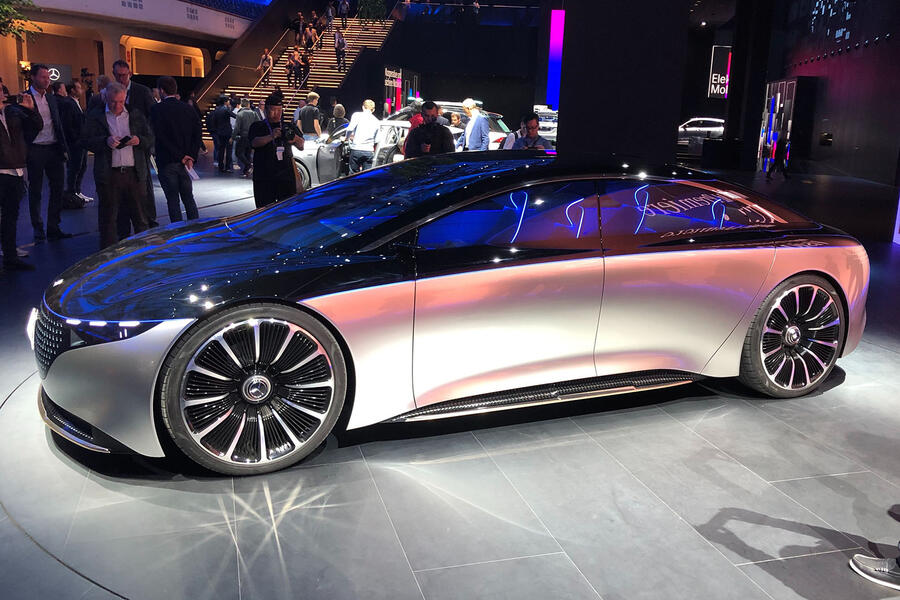 The EQS is set to be sold alongside the seventh-generation S-Class and will act as a high-tech figurehead for an extended range of models from Mercedes-Benz's newly created EQ electric car sub-brand. It follows the Mercedes-Benz EQC, EQA and EQB as Mercedes-Benz's fourth all-electric model but is the first to feature a dedicated steel, aluminium and carbonfibre platform, dubbed MEA internally. The EQS also forms the basis of an even more luxurious Maybach model that is intended to take on an upcoming EV being developed by Rolls-Royce.