A new image of the Audi Q8 concept, a near production-ready version of the upcoming Q8 SUV coupé, has been released ahead of the car's Detroit motor show debut.
The 2017 Audi Q8 concept has now been revealed. Click here for more
The image follows two sketches and reveals the car's prominent grille and the edge of a sharply angled headlight. There's also a large silver front lip that curls upwards. Lifting the cover is Audi design boss Marc Lichte.
Set to top Audi's line-up of Q-badged SUVs when it arrives in 2018, the BMW X6 and Mercedes-Benz GLE rival will share its engineering with the Audi Q7, which is built on Audi's MLB platform, and have a range of turbocharged petrol and diesel engine in V6 and V8 forms.
It will also be offered as a hybrid, as confirmed by these sketches, which show an e-tron badge, used by Audi to denote its hybrid and electric models. The powertrain will also be offered in the next Porsche Cayenne.
The four-seat Q8 is expected to share many of the advanced systems being developed for next year's Audi A8, including a 48V electrical system, OLED high-definition digital displays and the latest in autonomous driving functions.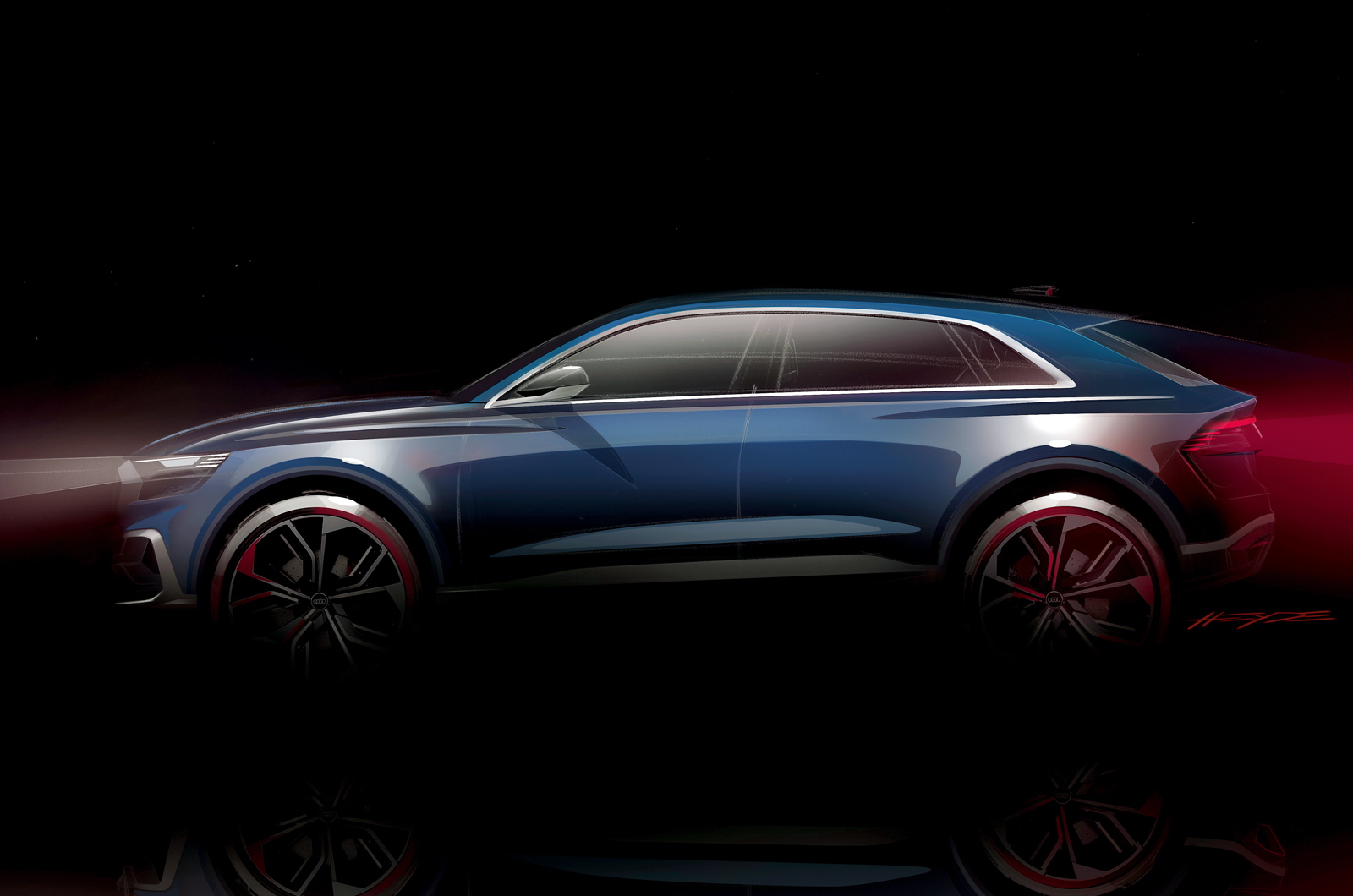 As with the Q4 and Q6, the Q8 will adopt a five-door layout with a liftback-style tailgate for the boot. The car will measure roughly the same size as the Q7, which is 5050mm long and 1970mm wide.
The Q8 coupé's slanting rear roofline will trim height and therefore headroom at the back, with around 50mm shaved from the Q7's 1741mm top. Despite this, an Audi spokesman said that the model's roof drops later than its rivals, so boot space shouldn't be hindered too much.
In the UK, the sleek SUV will have a starting price of around £55,000 for an entry-level Q8 3.0 TDI model.