Fresh from the pleasure of unveiling two surprise concept cars at the Geneva motor show – the widely admired Fiat Centoventi and the Alfa Romeo Tonale – FCA Group design chief Klaus Busse and his team now have the pleasure of being able to walk 500 metres from their studio to step into the past and admire more than 250 historic Fiats, Alfa Romeos, Lancias and Autobianchis. 
They can do this because FCA's new Heritage Hub, housed in a huge industrial building within Fiat's Mirafiori factory and engineering complex in Turin, is where the design centre is also housed. The former Officina 81 once manufactured transmission components, but now its sympathetically restored 15,000 square metres of space is dedicated not only to displaying a fabulous array of heritage cars but also providing a meeting place for designers, engineers, marketing personnel and everyone else inside the group, with the aim of providing an inspirational setting for discussion. Better still, the Hub will also be open to the public.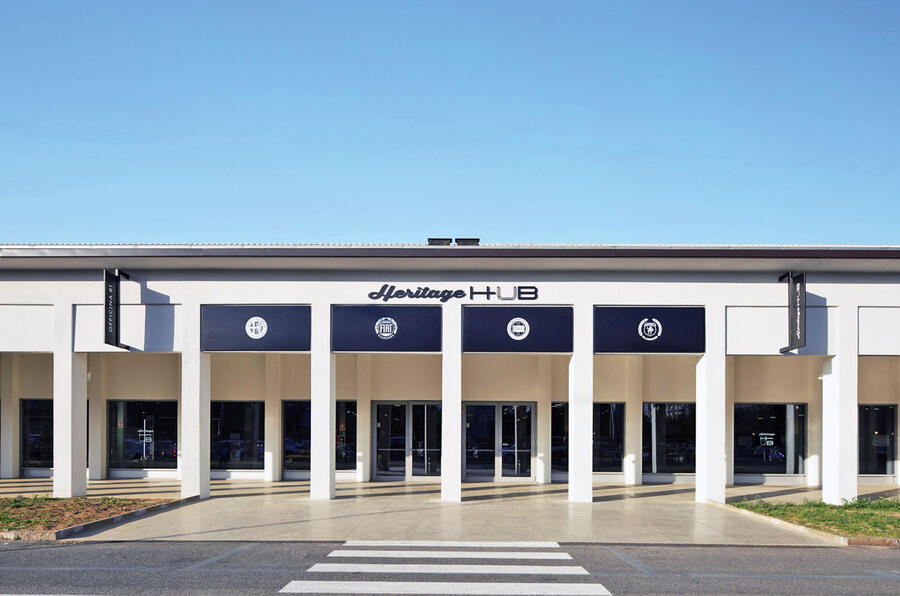 FCA chairman John Elkann says the Hub's opening is part of activities begun in 2005 "to give more value to the Mirafiori plant". This factory complex is considerably less busy than it was 20 years ago, and part of this more recent reimagining of its use involves opening some of the space to the public. 
"We tore down the wall between the plant and the city, and there are offices in the plant for CNH [Case New Holland, the agricultural machinery manufacturer], Centro Stile, Abarth and IT," says Elkann. 
"The Hub shows our heritage in terms of innovation – we have written the history of car making." 
'Co-written' would be more realistic, but there's no question that Fiat has been a huge force in the advance of car mass-production, not least with robots and platform-sharing. "What we believe matters is the strength of the thought behind the idea to innovate," Elkann continues. "Innovation is the best guarantee to continue building the future." To that end, the electric Cinquecento, which was announced by the late Sergio Marchionne last June, will be built at Mirafiori.