The Fiat Barchetta two-seat convertible of 1995- 2005 is a sort of thinking driver's Mazda MX-5.
Without question, the Mazda is the easier decision to make, but plump for the Fiat and you'll be rewarded by a sweet and surprisingly tenacious front-drive set-up, more artful styling and a degree of rarity that will have onlookers doing double-takes.
True, you'll have to sit on the wrong side of the car to steer it but that's just part of its charm. The big issue is corrosion. Old MX-5s rust badly, too, but the Barchetta fell prey from day one. The floor and the rear wheel arches suffer worst. A faulty rear hood seal and UK cars' generous underseal (it traps water, causing the floor to rot) are the culprits. Another, although far less serious, weak spot is the variator. It controls the inlet timing and can become seized, causing the engine to run badly and make a noise not unlike a diesel engine at around 2000rpm. It's not terminal but will need replacing. It's best to do it, along with the water pump, at every second cambelt change. This job falls every three years or 36,000 miles. The belt itself is durable; it's the tensioner that can fail. The problem lies in its lubrication. Rarely used cars are most at risk because the bearing grease is allowed to sink, causing the bearings themselves to run dry. Then the tensioner seizes, the belt jumps and you need a new engine.
Find a Fiat Barchetta for sale on PistonHeads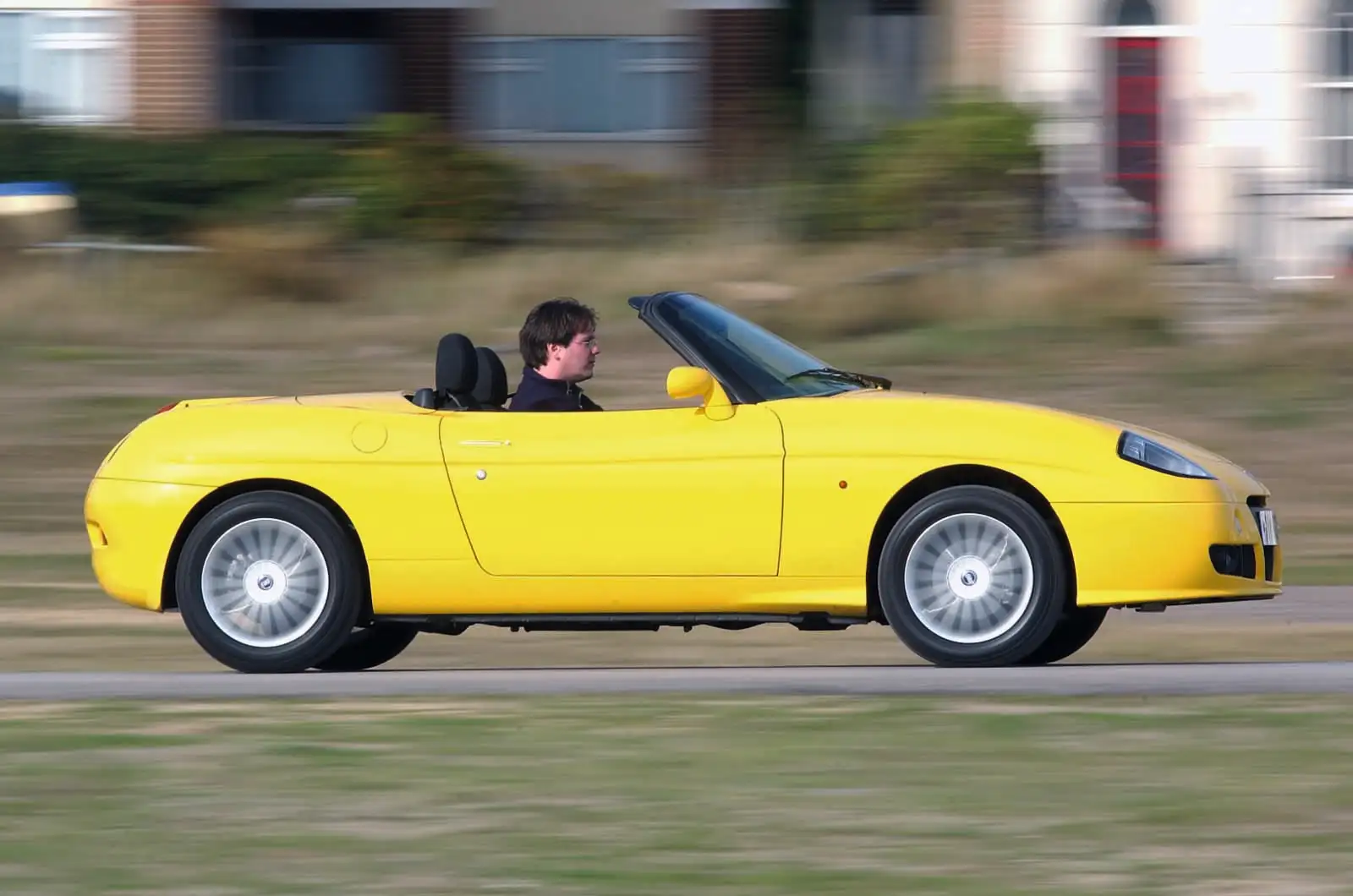 The Barchetta was launched in 1995, some five years after the original MX-5. Being left-hand drive and having Punto underpinnings, it could never hope to unseat its Japanese rival. Even so, it proved reasonably popular, especially with unofficial importers who wasted no time undercutting Fiat UK prices. Fiat would eventually get its own back when, in 2003, it launched the facelifted version (restyled nose, foglights and a leather steering wheel) with a £2800 price cut. These last-plate versions are less desirable than prettier, pre-facelift cars, though.
The Barchetta's 1.8-litre engine, with variable camshaft timing, produced 128bhp, sufficient to propel the 1060kg roadster from 0-62mph in 8.6sec. Standard equipment included a five-speed manual gearbox, power steering, anti-lock brakes (official UK cars only; imports may not have the system) and electric windows. The hood was a manual affair and its rear slam panel seals routinely fail, letting in water. Replace them every so often – they cost around £250 all-in. The optional Comfort pack brought a mix of luxury and safety features including leather, powered mirrors and a passenger airbag.