A twin-turbocharged V6-powered Kia sports saloon developed by BMW M's former chief engineer seemed like a fairly outrageous idea a few years ago, but the Kia Stinger turned out to be so credible that you wouldn't believe it was a first attempt from its maker.
This article was originally published on 14 October 2018. We're revisiting some of Autocar's most popular features to provide engaging content in these challenging times.
In that context, a 5.1-metre-long, V8-powered, four-wheel-drive Kia luxury saloon to rival the Mercedes-Benz S-Class might not seem quite such absurd an idea as it once might have done. Perhaps more far-fetched, yes, but not completely a cause for spitting out your cornflakes.
And yet such a car is not an idea, but a reality – and one that has been a part of Kia's range further afield for a few years now. The K900 (known as the K9 in Korea, but renamed for export for fairly obvious reasons) is indeed the manufacturer's answer to the S-Class.
The car has now entered its second generation, having been launched in its home market this summer as a range-crowning technological tour de force. It has wider significance across the Hyundai Motor Groupas the first car to use a new rear-wheel-drive platform that will also underpin Hyundai's new Genesis premium brand and its G80 saloon, a car that will have greater export appeal than the Kia and is destined for mainland Europe and the UK.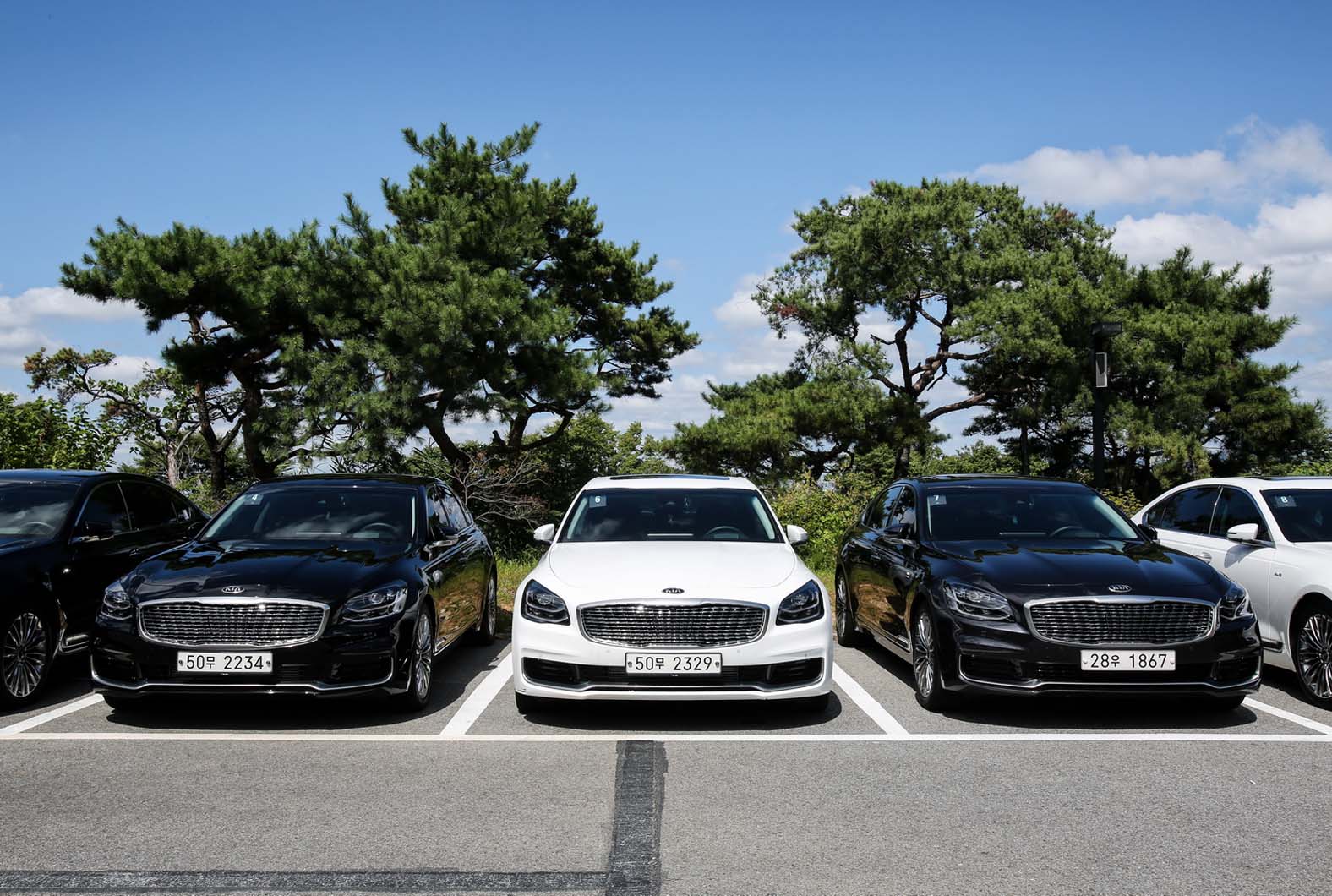 The K900, meanwhile, will be sold in the Middle East and US but not Europe, because the idea of a Kia rival to the S-Class is unlikely to be one to find much credibility no matter how good it might be or how much post-Stinger glory there is to bask in. We're in Seoul to drive it but before we do, a chauffeur drives us.
K900s are mostly experienced from the back seat by their buyers. What do they experience? Plenty of space, that's for sure. A big comfy chair with lots of adjustability, and a decent enough ride. The feel is less luxury, more premium, perhaps like an Audi A8 from a decade ago: it ticks all the right boxes on paper but you don't really feel all that special. The chauffeur gets the really interesting job. From the driver's seat you get to experience the V8. Powering the K900 is a 5.0-litre unit with 419bhp and 383lb ft, driving all four wheels through a very smooth-shifting eight-speed automatic transmission.