It's taken five years or 50, depending on how you look at it. It's been five years since David Brabham won a lengthy court battle for the right to apply his family name to a car once more, and 50 since his dad, legendary triple Formula 1 world champion Sir Jack Brabham, sold his stake in the business.
However you look at this car, the first new Brabham since the F1 team fizzled and died midway through the 1992 season, it really matters. For this is not a one-off Gavin & Stacey-esque appearance before heading back to retirement: it is intended to be the start of something big for Brabham. Something very big if you ask ex-F1 driver and Le Mans winner David Brabham. He has talked freely about plans to be racing at Le Mans in 2021 so people have naturally assumed this new BT62 will form the basis of that car. But it won't because it can't: the Brabham Le Mans car will race with the likes of Ferrari, Porsche and Aston Martin in the GTE category, which means it will need to be based on a road car. A road car we've not seen yet.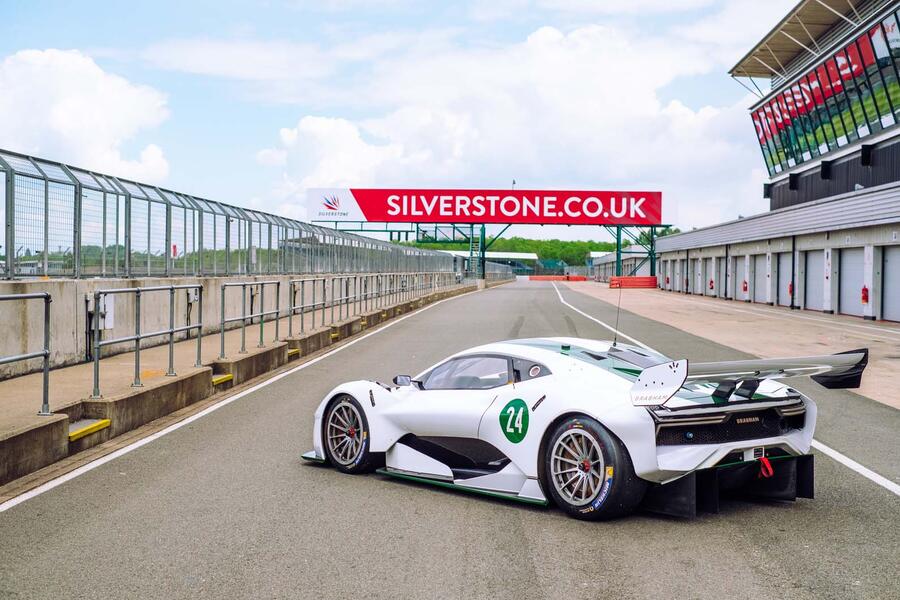 But that's all for the future. For now, I'm squeezing my way into the BT62's reasonably spacious cockpit, squinting at the hi-def screen in front of me and wishing there was a bit more room in the pedal box for my size 11s in this, the first prototype. Production cars will be more accommodating.
David leans in and talks me through the spec. I've done my homework but there's no harm in being reminded what you're about to take on. The car has a tubular structure to which is bolted a carbonfibre body. The brakes are carbon-ceramic discs clamped by carbon pads. The engine is a V8 that started life as a 5.0-litre Ford motor but has now been modified beyond recognition. It displaces 5.4 litres and produces 691bhp. And, no, there is not a turbo in sight. It drives through a six-speed sequential race gearbox to rear wheels controlled by pushrod suspension and clothed in simply enormous Michelin slicks. The whole thing weighs 975kg and produces, wait for it, 1200kg of downforce at 167mph. Which means it could happily drive upside down.
Just 70 will be made to commemorate the 70 years that passed between Sir Jack's first race in 1948 and the project's announcement in 2018. Each will cost £1.2 million, or £1.35m if you choose to have the road version. To be clear, that buys you a road-legal version of a pure racing car, so those expecting civility on the school run will likely soon be disabused of that notion.