Even now, 33 years on, you don't have to search far to find pockets of hardcore Ford lovers still outraged that a bunch of disconnected bosses in Dearborn killed the Capri. The name, the image, the affordable style – plus 1.9 million sales – should have kept a great car alive, they will argue to the grave. 
Sadly, this enduring love for 'the car you always promised yourself', along with its steadily rising classic prices, obscure the fact that by 1986 the Ford Capri had run its race. Front-wheel drive was taking over, Ford dealers were having a great time selling XR3i hot hatches and the Capri's secret weapon, a close under-skin relationship with Ford's volume saloons, was disappearing. The decision to kill it was hard-nosed but right.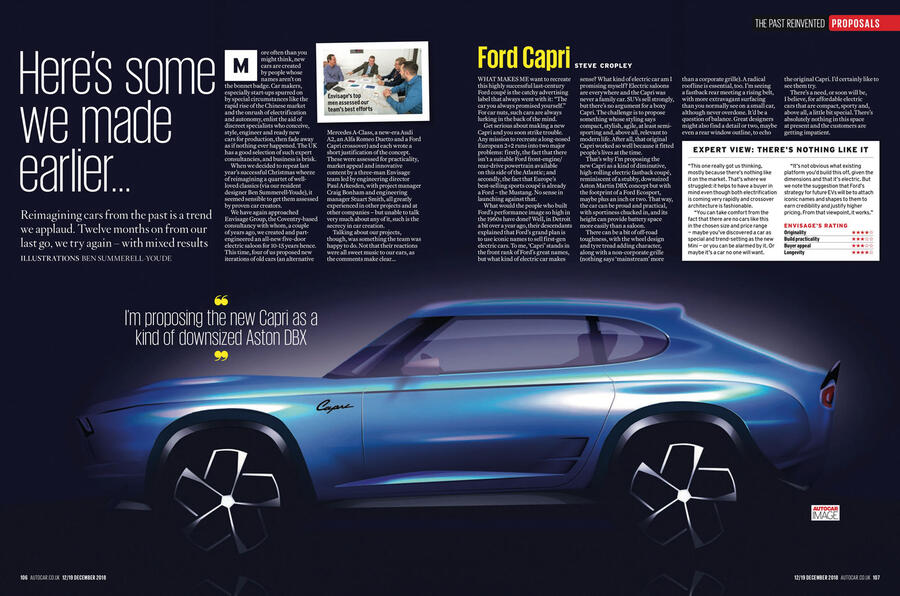 Here's the irony. Today, the case for a new Ford Capri could be back on the table. At least according to Autocar and its readers, that is. Back at Christmas, in an 'icons recreated' feature, we proposed a different kind of Capri and the idea won warm approval. The model could come back as an electric coupé crossover, we argued, especially given the fact that Ford itself had recently argued that an effective way of introducing people to electrification was to apply new technology to iconic models. We know the US market will soon see a Mustang-influenced crossover called Mach 1; why not a more compact European creation called Capri CC (for Coupé Crossover)? 
Other arguments in favour of the all-electric, semi-sporting soft-roader include the fact that there is already a precedent – Opel-Vauxhall's impressive GT X Experimental concept launched last year. And the idea gained further validity at the recent Geneva show when Kia unveiled its stunning Imagine concept.