Currently occurring is a cull of city cars, as an unintended (you'd hope) consequence of a drive to reduce harmful emissions by the European Union.
We've in the past few months seen the Renault Twingo, Seat Mii, Skoda Citigo, Suzuki Celerio and Vauxhall Viva be removed from sales lists, while almost every survivor still has an uncertain future.
A historical parallel can be found in 1948, when it was announced by the Labour chancellor Hugh Dalton that the road taxation system would be changed.
Since 1910, road tax had been charged on a hierarchy according to a specially formulated (and often quite innacurate) horsepower hierarchy. Under Dalton's new regime, every car would attract a flat rate – initially of £10 per annum.
"Signs are evident," we reported at the time, "that the new system may lead manuafacturers to rationalise to the extent of having one model – naturally a car with plenty of engine power. This, The Autocar considers, would be a false move."
Our basis for this was that almost as soon as the change had been announced, Standard had revealed the Vanguard. This was an exciting model, but it cast doubt over the firm's popular budget car, the Eight. Rumours swirled as Vauxhall dropped the Ten, and Ford indeed soon saw off the Anglia.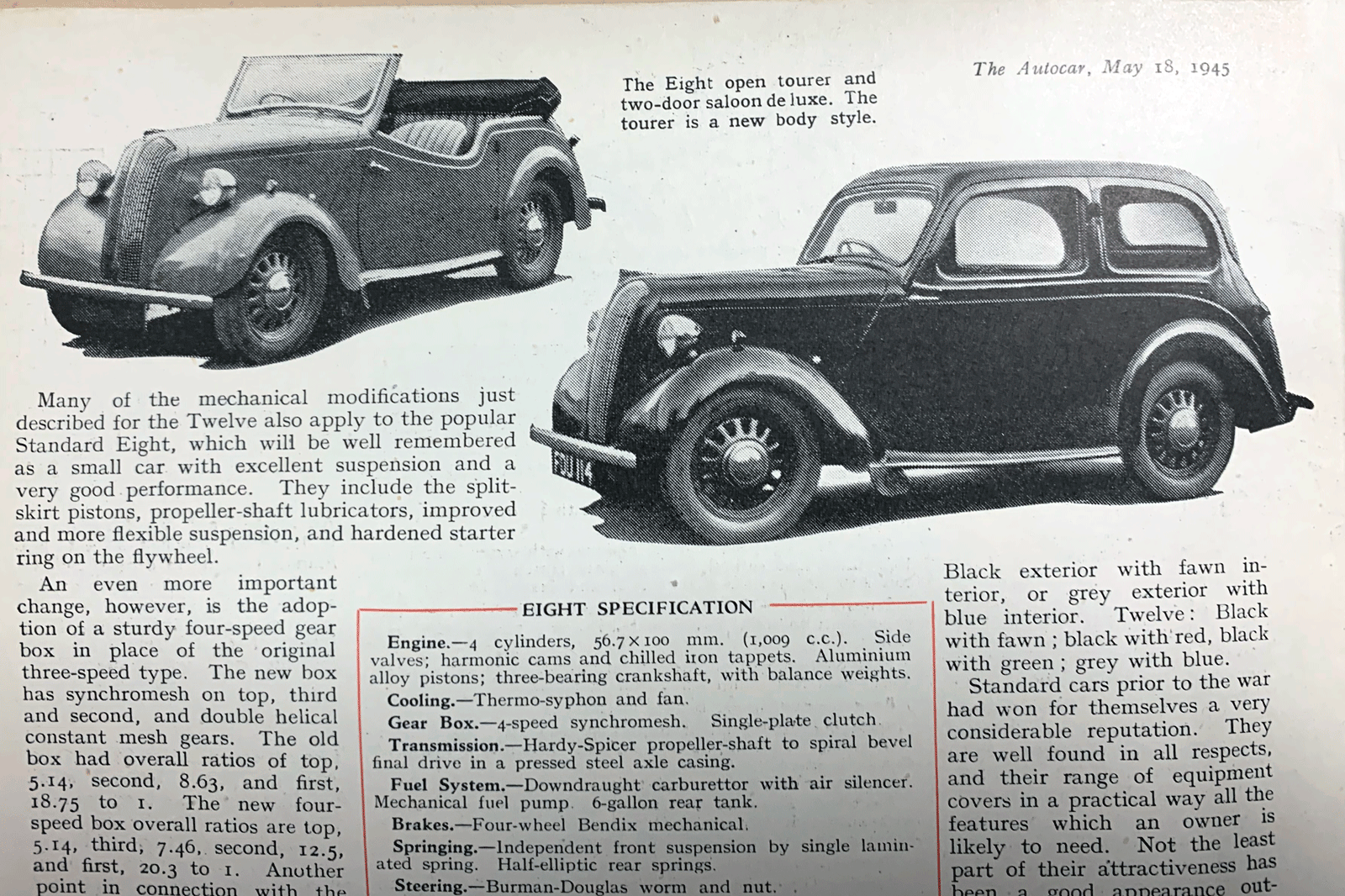 "The 'buzz box' description of the small car has been developed into the slick similes of the backbenchers in recent Parliamentary debates," we complained. "It is time that someone rose to defend the quiet, able and handy little Eight."
But why would such over-rationalisation happen? We explained: "From the manufacturers' point of view, the one-model policy may have a decided advantage; without full knowledge of the intimate and secret details of production costs, it is impossible to tell. The major expense of car production lies in tooling up. An outlay is made of so many thousand pounds – it can easily be millions – and that overhead cost is spread over the batch of cars which the machine tools will produce before they wear out, or before the model becomes outdated. But if the batch is to be very large, it is necessary to duplicate the machines, and the question then arises as to whether the new machine tools should produce the same car or another model.
"Production figures for the next five years at least are likely to approximate to those which are being compared now – 27,496 cars in May. Reasons against a vast expansion of output are familiar. Number one is coal. On coal depends steel and a host of other things.
"The manufacturer's problem, therefore, is whether on present figures and other factors in his organisation it is necessary to duplicate his machine tools, and if so, whether he shall duplicate a single car model or have two strings to his bow.
"In that case, this journal unhesitatingly advises the makers to think twice about dropping the smallest cars which are listed at the moment – the Eights.