BMW has unveiled an advanced new self-driving concept car at a gala ceremony held to mark its 100th anniversary at the company's first ever factory, now home to its Classic department, in Munich, Germany.
The Vision Next 100 is the first in what BMW chairman, Harald Kruger, says is a series of four similarly-themed concept cars under construction at BMW brands Mini, Rolls-Royce and its motorcycle operation and planned to be unveiled during its centennial year. It showcases new construction and design techniques, as well as digital based interaction methods and autonomous driving technology that is already under development for inclusion on future BMW models.
Conceived to anticipate future mobility needs a century after the German car maker was originally established as the Bavarian Motor Works out of the aero engine operations at the earlier Rapp Motorenwerk in 1916, the Vision Next 100 also explores how the company's brand values and familiar sheer driving pleasure catch phrase could translate into the future.
Although BMW is yet to go public on the proposed drivetrain for the Vision Next 100, save for the fact it is emissions free, its latest concept car provides an insight into the German car maker's vision of autonomous driving and how it proposes to dovetail it with the traditional manual driving mantra featured prominently in its global marketing.
"Autonomous driving is no longer a question of 'if' but 'when'," it says, adding, "but the driver will remain firmly in focus, with constant connectivity, digital intelligence and state-of-the-art technology available for support".
The body of the Vision Next 100 uses a combination of carbonfibre and plastic in anticipation of a shift away from conventional steel structures and the associated assembly process in use today. Various elements, including the side panels, have been made from residues collected during the production of other carbonfibre structures.
"At some point presses that punch out hundreds of steel parts may well become obsolete," says BMW with an eye on the future. "Technologies such as rapid manufacturing and four dimensional printing will produce not only components or objects but intelligent and networked materials."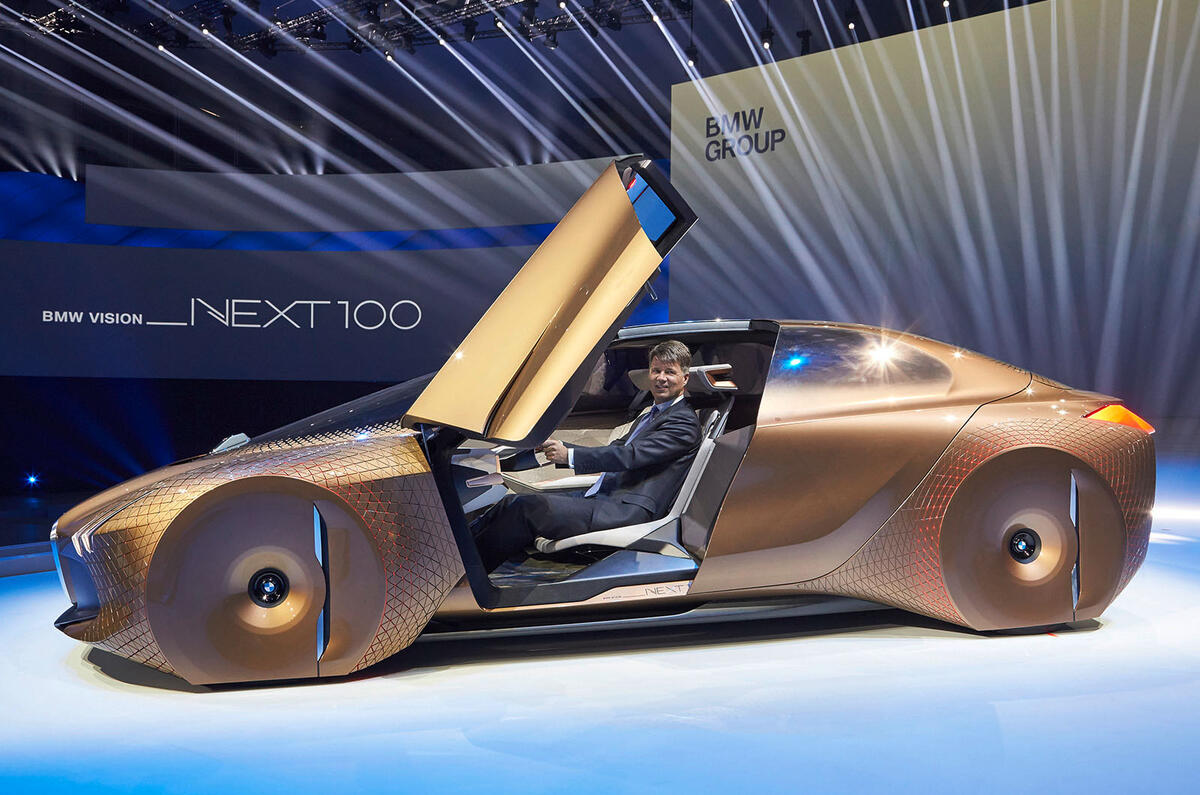 Eschewing the one-box pod like shape of other recent future orientated concept cars presented by its luxury car rivals, the new BMW receives a more conventional three-box silhouette combining the inherent sleekness of a traditional coupe with the four-door practicality of a modern day saloon in a continuation of the German car maker's recent preference for such a layout, as seen on models such as the 4-series GranCoupe and BMW 6-series GranCoupe.
A saloon was chosen rather than an SUV as BMW still believes saloons to be at the core of its brand, and the bodystyle it has the greatest history in.