The recipe for a performance coupé is simple: take one good-looking coupé, give it a more muscular look if it needs one, make the dynamics sharper, drop a powerful engine in the nose and aim the performance figures for the stratosphere. 
The hot versions of these slick-looking coupés each exhibit their own exhilarating traits, making them unique to own, drive and live with. The appearance in this list of some of the usual suspects may not come as a surprise, but the big question remains: who can reign supreme in our top 10 out of Mercedes-AMG, BMW M and Audi Sport, and one or two others?
The Mercedes-AMG C63 S Coupé is endowed with so much power, sinewy good looks and handling attitude that it's hard not to fall adoringly under its spell. It becomes harder still when you realise that this will be the last AMG C-Class of its kind with a V8 engine, with 4cyl hybrid power in line for the next one.
The C63's twin-turbo 4.0-litre V8 may not have the overall charm of its forebear's normally aspirated 6.2-litre V8, but the way the 503bhp engine (a 469bhp non-S version is also offered) makes you cycle through adjectives – easy-going, enjoyable, enthralling, exhilarating - as your toe journeys toward the bulkhead is something else.
An Audi RS5 might be flashier, a BMW M4 more precise, but neither can match the overall appeal of Merc's perfecting of the traditional big-bonnet, big-hitting coupe blueprint.
Save money with new AMG C63 deals from What Car?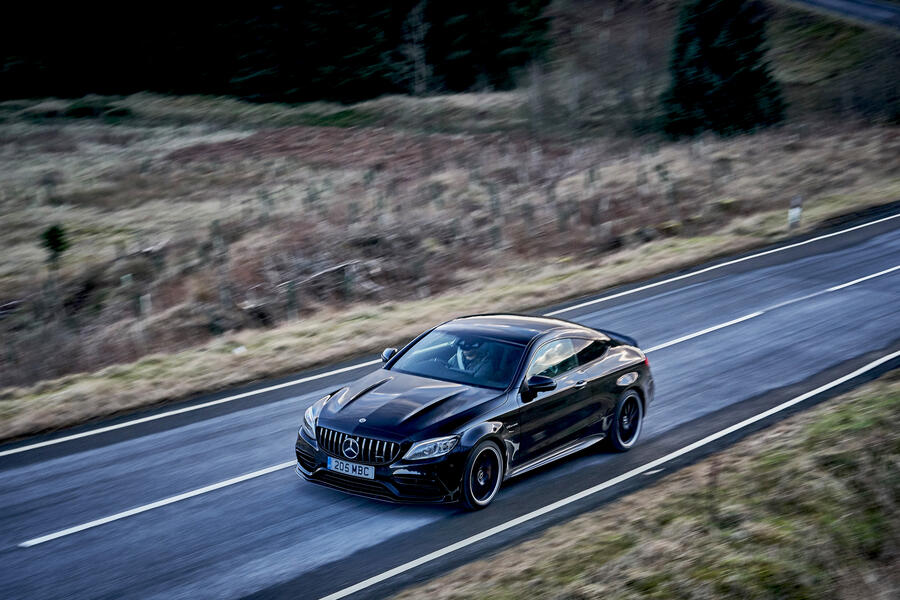 While production of the last-generation BMW 3-Series saloon is now long over, the related 4-Series coupe is still alive and kicking, and that means the M Division version of same - the wedgy, razor-sharp-handling M4 - lives on for the time being also. The limited-run CS version has now disappeared from BMW's online configurator, but the lesser 'Competition' version remains; and, even in advancing years, it remains a perfomance car to be reckoned with. 
Early M4s felt wayward and loosely controlled at the rear axle, which, combined with a shortage of traction, made them spiky and nerve-wracking to drive when push came to shove. Each subsequent version has got better, and while the Competition version doesn't quite hit the heights of the GTS or related CS specials, it's a more composed and predictable car to handle on the limit of grip than the M4 once was - and a very compelling one.
Performance is rampantly accelerative, the cabin's pleasant and usable, and the ride's stiff but not too stiff to live with - as long as you appreciate a sporting compromise.