It might not have been a winning drive, but it was most assuredly that of a champion. The Circuit of the Americas near Austin, Texas, is one of the finest recent additions to the Formula 1 calendar, a function of its location, design and ability to generate an atmosphere commensurate with a grand prix's status. An appropriate stage, then, for confirmed 'Americophile' Lewis Hamilton to celebrate becoming world champion driver for a sixth time, just one short of Michael Schumacher's career tally.
He did it in some style, too, rising from fifth on the grid to finish second while teasing sufficient speed from a set of well-worn Pirellis. He was unable to resist Mercedes team-mate Valtteri Bottas's quicker two-stop strategy, but it was a controlled, measured performance that secured what was probably the best finish he could have achieved in the circumstances.
His coronation triggered a number of articles underlining how a sixth title 'cemented his place among the all-time greats' or bestowed him with some kind of 'racing immortality', but in truth it changed very little. He has simply added more numbers to a racing CV that confirmed such status several titles ago.
Hamilton turns 35 in January (as an indicator of the way the sport's demographic has changed, Juan Manuel Fangio was 40 when he secured his first title and 46 when he annexed his fifth) but there is no indication that he plans to stop any time soon. Assuming that Mercedes doesn't suddenly become uncompetitive overnight, Hamilton is likely at some point within the next 18 months to establish himself as the most successful driver of all time in terms of F1 victories – he had 83 after Austin, 61 of those achieved during F1's current hybrid era, and thus requires only nine more to move ahead of Schumacher's 91.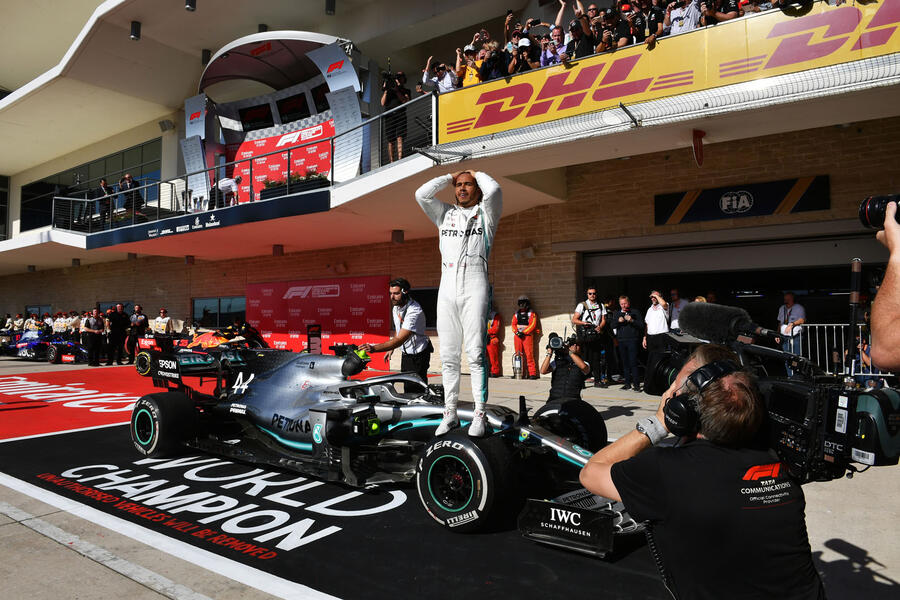 What's more, he has accomplished all of this without triggering anything like the level of controversy that accompanied some of the German's conquests. There have been a few awkward headlines here and there – including a very public row about qualifying protocol, with McLaren team-mate Fernando Alonso at Budapest in 2007 – and occasionally silly collisions (not least a couple with former Mercedes sidekick Nico Rosberg), but he has never been perceived as a disciple of the professional foul. Mercedes wasn't initially best pleased when Hamilton ignored team instructions to speed up during the 2016 Abu Dhabi GP – at the time he was trying to increase pressure on title rival Rosberg by backing him into rivals – but later conceded that it should not have tried to interfere with his naturally competitive instincts.
Some have questioned his lifestyle choices – for instance, spending time at fashion shows or flirting with the music business – but why should any of that matter if it doesn't compromise his on-track performances? Mercedes allows him a fairly long leash away from his professional duties and the results speak for themselves.