If Porsche is proof that motorsport improves the breed, then its output of racing cars last year suggests a very healthy company indeed.
In 2016, Porsche delivered an astonishing 600 racing cars, which its boss of GT and motorsport, Frank Walliser, reckons makes Porsche the biggest builder of race cars in the world.
Dallara, for example, might argue the point, but for a company whose main business is road cars, 600 race cars is a massive number.
There's also a direct link from the racing car department to road cars, Walliser said. For example, when the 919 World Endurance Championship team is wound down at the end of this year, its 200 engineers will be redeployed inside Porsche. "We'll keep the people, yes," he told Autocar at the Frankfurt motor show.
Most will go on to design the new Formula E car, a project that takes on new significance, after the VW Group's further commitment to electrification at a pre-show press gathering.
But others will go to work on "a few projects we have on the go".
On the direct link between GT and motorsport and road-car engineering, I think Walliser was only half-joking when he told Autocar last night: "When there's a new 911 or whatever being designed, the race department turns up and gives them a book of our specification."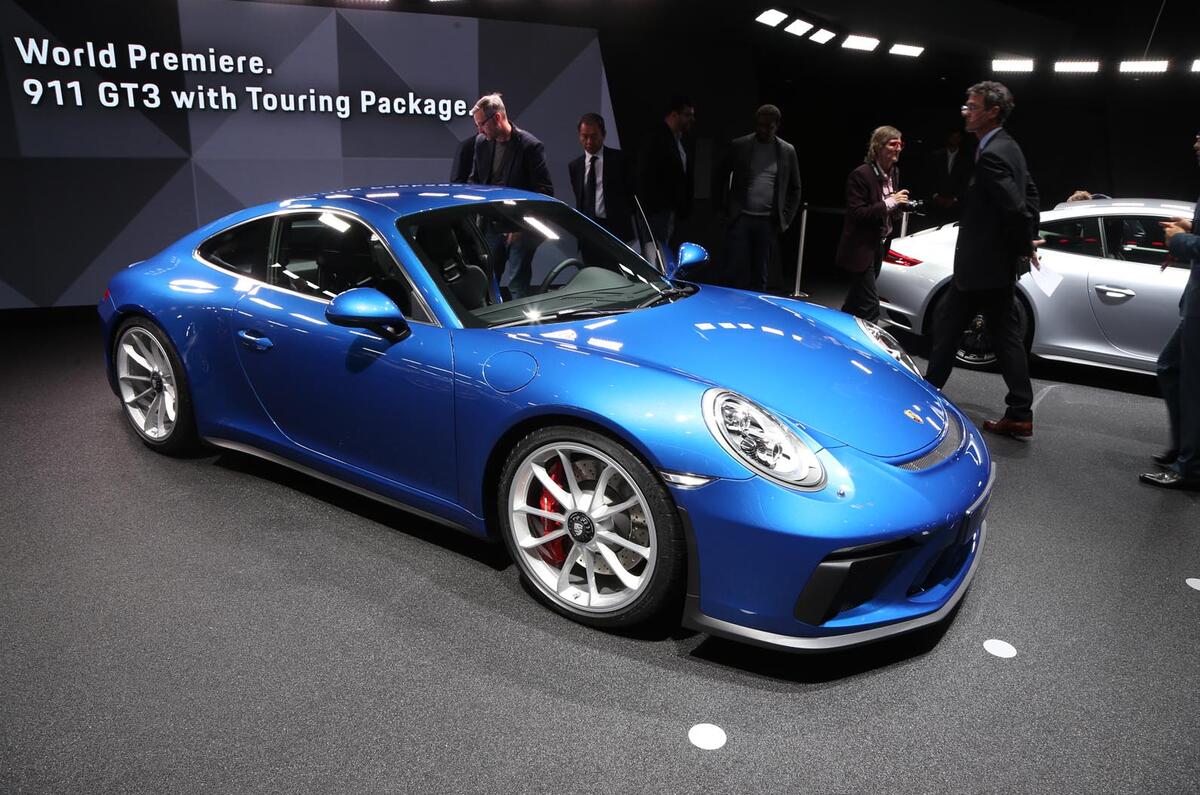 In practice, that comes down to details like wishbone design, which the race team can influence to their advantage, making the completed car more competitive.
Walliser was also interesting on the subject of GT cars, when he talked about the new £112k GT3 Touring (pictured above), essentially a new option pack for the existing GT3.
The idea came from Andreas Preuninger, 'Mr 911', who raised it at a 'water-cooler' meeting about 15 months ago.
Walliser said that a number of customers had also given feedback that the GT3's distinctive rear spoiler made the car difficult to use for business meetings.
The subtler look of the Touring will undoubtedly make it a fabulous daily-driver.
The GT3 Touring goes some way to address the insane demand for last year's 911R, whose used prices have rocketed.
Both are based on the GT3 'narrow body' rather than the GT3 RS 'wide body' and have a manual transmission and naturally aspirated six. The R's spec is a little higher with magnesium body panels, for example.
Walliser also made it clear the GT2 RS would be the only version of that car: "A 911 with the GT2 engine is already very aggressive, which makes it a natural RS. We won't do 'just' a GT2."
More content