What is it?
This is, in all senses, a big car. Rolls-Royce boss Torsten Müller-Ötvös acknowledges the Cullinan, the company's new 4x4 and a distinct diversion for the British luxury brand, is a controversial vehicle. I know: it's only a car, right? But I guess there are two reasons.
First – and let's get it dealt with – are there not hints of The Simpsons' 'Canyonero' about the Cullinan's appearance? Rolls has, like Porsche did with the first Cayenne, tried to put clear Rolls-Royce cues into the design. Maybe they just don't translate to an SUV, or maybe we're just not used to it yet. I think it probably grows on you, and that it won't matter if it doesn't: the Bentley Bentayga and original Cayenne discovered looks are unimportant.
Two, is this a vehicle Rolls-Royce should be making? To which the answer is 'obviously', because buyers want a Rolls-Royce they can drive daily, take the family in, take skiing, shooting or replace a Range Rover with. Dealers are only just now receiving demonstrators but the order book's already full for more than a year.
So here we are. Rolls's first SUV, although not the first Rolls-Royce to go routinely off-road, because its cars have been going everywhere since roads were rubbish. But it's its first from the brand with four-wheel drive.
The architecture is the bespoke aluminium spaceframe which arrived first in last year's Phantom and will eventually underpin all Rolls-Royces, distancing the 'cheaper' cars – Ghost, Wraith, Dawn – from the BMW group architecture origins they currently share.
It's a (figuratively, not literally) flexible architecture that allows different lengths and heights and here it's shorter (at 5341m) but taller (1835mm) than the Phantom, a hefty 2000mm wide and with revised air suspension that's beefier, has less friction than the flagship saloon's, and rises 40mm in off-road mode. There are double-wishbones at the front, a five-link setup at the rear, two front and one rear anti-roll bars, electrically active, and active rear-steer.
The same 6.75-litre twin turbocharged V12 as in the Phantom sits at the front, making 563bhp and tweaked for the greater low-down urge fit for an SUV. There's some 627lb ft of it from only 1600rpm.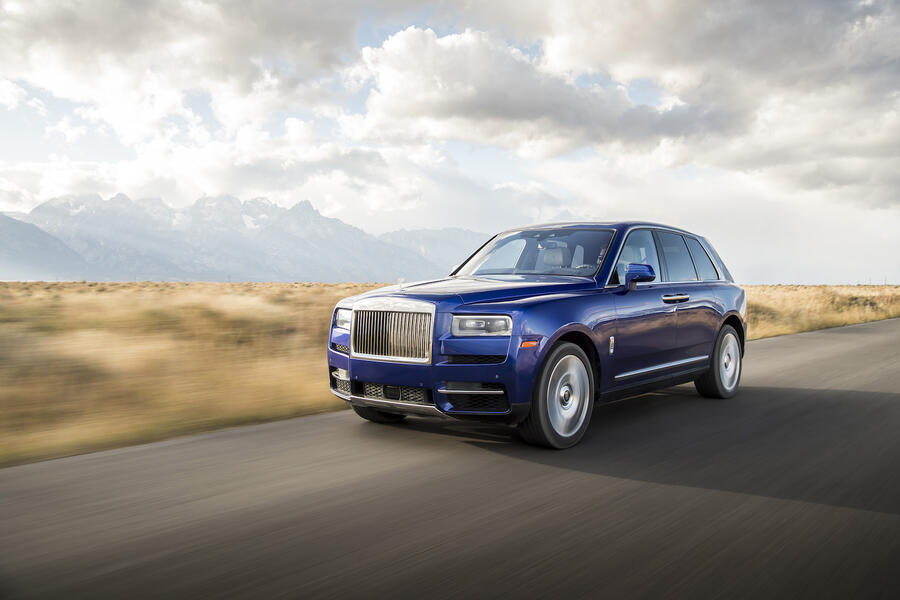 It drives through an eight-speed automatic gearbox on which you can't select gears yourself – the sat-nav assists gear selection – to all four wheels via a derivative/development (select a word that doesn't make Rolls engineers wince) of BMW's xDrive 4WD system. There are stronger components than in a 4WD 3 Series but the principle is the same: an electronically controlled clutch behind the gearbox can let up to 100% of power to the rear axle, or divert up to 50% to the front via a shaft and differential beneath the engine.