"We don't really do facelifts," said Polestar's people at the UK launch of the not-facelifted Polestar 2.
Instead, it does subtler model-year updates and keeps its cars fresh where it can with over-the-air updates. And it's true that the visual changes for 2023 are extremely minor. The fake grille has been filled in: Polestar now calls it the SmartZone because it houses the radar and camera for the driver assistance systems. And last year, the firm introduced some new wheel designs. The 20in option looks very snazzy indeed.
If this isn't a facelift, it's more of a gastric sleeve, because the big changes for 2023 are aimed at reducing the Polestar 2's appetite for kilowatt hours. Like the mechanically related Volvo XC40 and Volvo C40 Recharge, the Polestar 2 gets a new, more efficient inverter and motor, which is now mounted at the rear, driving the rear wheels instead of the fronts. With that also comes a substantial power bump. The long-range, single-motor version we're driving today is upgraded from 228bhp to 295bhp and can rapid charge at a speedy 205kW.
The result is a much more favourable WLTP energy consumption figure, rising from a rather poor 3.6mpkWh to 4.2mpkWh, which is actually better than Hyundai's Ioniq 6 streamliner. And that's despite the Polestar's 'hatchaloon' shape (0.28 Cd) being nowhere near as slippery as the Ioniq 6's (0.21). Add in a battery that's 4kWh bigger than before and the result is an official range of 406 miles. That's more than the Hyundai, the Tesla Model 3 Long Range, and the BMW i4 eDrive40. Quite the result.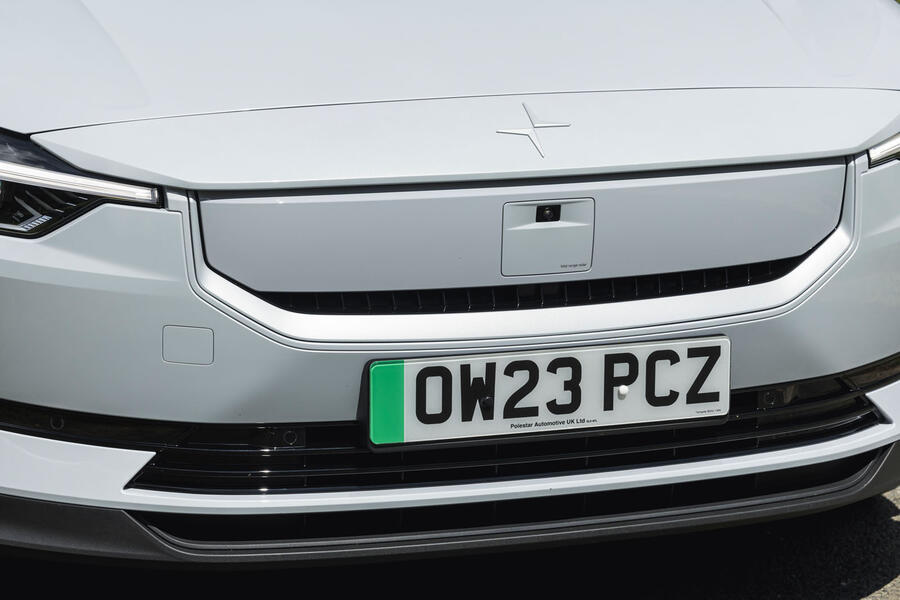 The Standard Range, the Long Range Dual Motor, and the Performance Pack versions return as well, also with better efficiency and more power, and we'll revisit them once we get our hands on them. It is worth mentioning that the entry-level car now has a claimed range of 331 miles, which could make it the sweet spot of the line-up.
All of which poses two main questions: can the revised Polestar 2 make good on its range claims in the real world, and does rear-wheel drive make it more engaging to drive?
To the first point, no EV actually matches its lab claims, and that includes the 2. After a route that included quite a few fast B-roads and motorway miles in very mild conditions, the car indicated 3.4mpkWh – not spectacular for something that isn't an SUV but entirely respectable, and good for 267 miles. That's on a par with the Ioniq 6, so job well done there.