What is it?
It's the latest iteration of the Noble M600, the Speedster. At least, a pre-production variant of it, also equipped with an automatic gearbox.
You don't see too many Nobles around. Should we call how few M600s leave Noble's Leicester factory 'a problem'? You might. Noble's managing director, Peter Boutwood, is a man who always seems content, and break-even numbers are said to be as low as 10 cars a year. But I get the impression that Noble is still suffering the hangover from people knowing about Noble cars of old: ones that were as fast as Porsches of the day, but cost around half the price.
Today's M600 is as fast as a modern Ferrari, but it costs as much as one, too, which makes it a hard sell: the M600 coupé costs £206,000 plus local taxes. This Speedster will be £247,000 plus locals, and the auto gearbox will add £15,000, meaning the £300,000 Noble is not far away.
That's a tough market for the M600, which is now half a decade old, especially given that when it was launched, there was no such thing as a McLaren 650S and even the Speciale version of the Ferrari 458 Italia had fewer than 600bhp. Now the Ferrari 488 GTB, at 661bhp, has 11bhp more than the Noble.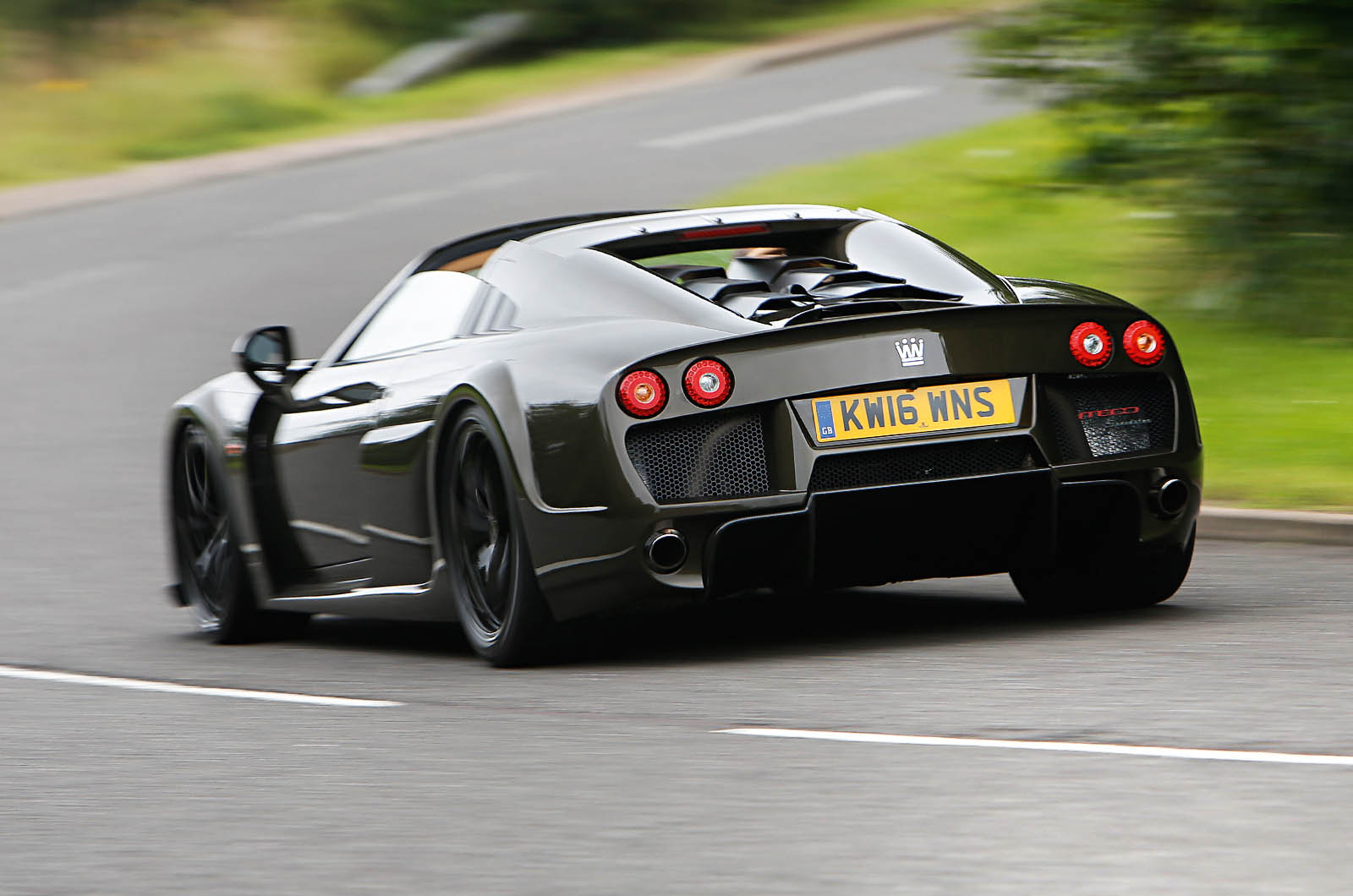 "How good would it be if it said Lola on the nose?" Boutwood wonders, about the lingering effects of the Noble name – founder and designer of those first Nobles, Lee Noble, ceased to be involved years ago – and he might be right because there's still so much to like about the M600.
It doesn't weigh a great deal, for a start: it has a fairly straightforward chassis by today's standards, with a stainless steel sheet tub augmented by a tubular spaceframe, but clothed in carbonfibre bodywork it weighs less than 1200kg.
It has a 4.4-litre Yamaha/Volvo engine in the middle. The name on the engine's box varies depending on how old the engine is, and Noble has a decent stock, but it doesn't really matter because as soon as the engine's needed, it heads off to Judd to get the makeover that gives it up to 650bhp at 6800rpm and 604lb ft at 3800rpm.
When it comes back it drives the rear wheels through a six-speed manual gearbox or, optionally, through the same 'box but with hydraulically actuated, clutchless shifts: it's a single clutch unit like Aston Martin's most recent offerings, or the Lamborghini Aventador, not a dual-clutch auto. And Noble is still working on the calibration.
It's still working on the interior finish for the removable targa panel in the roof, too. The roof panel? Well, it doesn't weigh much, and it doesn't take long to put it in. It slots at the front and clips at the back and our acquaintance – in some relatively heavy rain – suggests it doesn't leak. But it's not finished inside yet, you can't carry it in the car and it's a manual on-off job. But for the typical Noble buyer, maybe that doesn't matter.