What is it?
The third and final variant of the new Hyundai Ioniq hatchback is this, the plug-in hybrid.
Arguably the Ioniq's strongest asset in the fight against the Toyota Prius, the plug-in offers more performance than the regular hybrid and none of the range anxiety associated with the all-electric derivative. As such, the PHEV could very well be the sweet spot of the trio.
Our first go in an Ioniq Plug-in back in May was in Germany, a country known for its smooth roads. We've now driven it on Britain's rougher and bumpier roads, which often prove far more challenging for the suspension of heavy battery-powered cars.
The specification sheet of the Ioniq Plug-in includes bold claims of 247mpg fuel economy and CO2 emissions of just 26g/km. This means you can park in certain areas for less and slip through central London without paying the congestion charge.
The car uses a drivetrain that's essentially identical to that in the regular Ioniq Hybrid, mating a 104bhp 1.6-litre four-cylinder petrol engine to an electric motor, but the addition of a front-wing-mounted Type II charging socket enables the use of a larger 8.9kW battery and more potent 60bhp electric motor.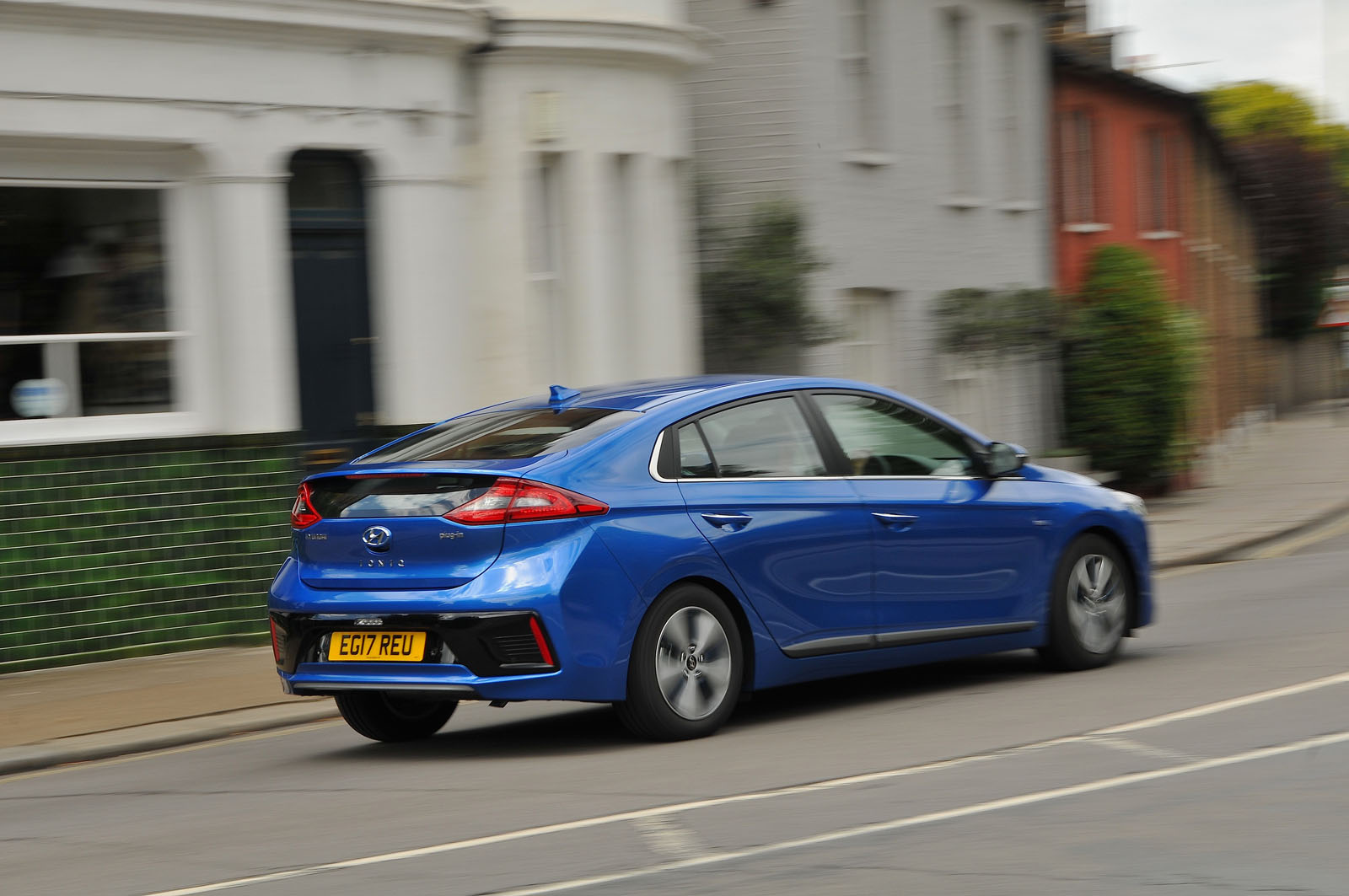 This enlarged electric system, which can be charged from a 16-amp driveway wallbox in just two hours and 15mins, can inject torque to the driveline for longer periods. So, despite having identical peak outputs of 139bhp and 195lb ft to the hybrid, and weighing an additional 125kg, the plug-in's quoted 0-62mph time is actually 0.2sec quicker at 10.6sec.
Those who dislike the revvy nature of a CVT gearbox, as used by the Prius Plug-in, will be happy to hear the Ioniq drives its front wheels via a six-speed dual-clutch automatic. There are also paddles shifters behind the steering wheel.
Our test car was the top-spec Premium SE, which comes with leather seats, steering wheel and a gearlever, and has soft-touch plastics on the top of the dashboard. There's also a 7.0in touchscreen infotainment system with HD graphics as standard on all plug-in models. This features Apple CarPlay and Android Auto smartphone compatibility.