Why we ran it: To find out if Alfa Romeo has regained its mojo with this BMW M3-bashing super-saloon
Life with the Alfa Romeo Giulia Quadrifoglio: Month 8
Saying goodbye to the Giulia Quadrifoglio
Finally, I get it. I now understand why the Alfa Romeo brand and its products inspire so much passion and garner so much loyalty from fans, sometimes contrary to all logic.
I can see what once prompted a certain former Top Gear presenter to insist that you can't call yourself a petrolhead until you've owned an Alfa Romeo. For the past nine months, I've been an honorary member of the Alfa owners' club, and in that time I've gone from being an ambivalent observer to a dedicated fanboy – all thanks to the seductive charms of the Giulia Quadrifoglio.
You can't help but be stirred on a deeply emotional level when you have a car like this on your driveway. Not only are its voluptuous looks enough to make you go weak at the knees, but it's also one of the most exciting cars of any price or type you're ever likely to drive. Here, at last, is a modern Alfa Romeo that'll fill you with pride rather than trepidation, getting your heart pumping with desire and making you lose all interest in BMW M3s and Mercedes-AMG C63s.
The Giulia may have four doors, but it drives like an out-and-out sports car – and we're not talking about the 4C here. In fact, given how skilfully it combines comfort with control and agility with high-speed stability, you'd swear that witchcraft was involved in its chassis set-up.
Initially the Giulia can feel a little skittish, especially in comparison with heavier, slower-steering German saloons, but you won't want to go back once you've had a taste of the Giulia's dynamic prowess.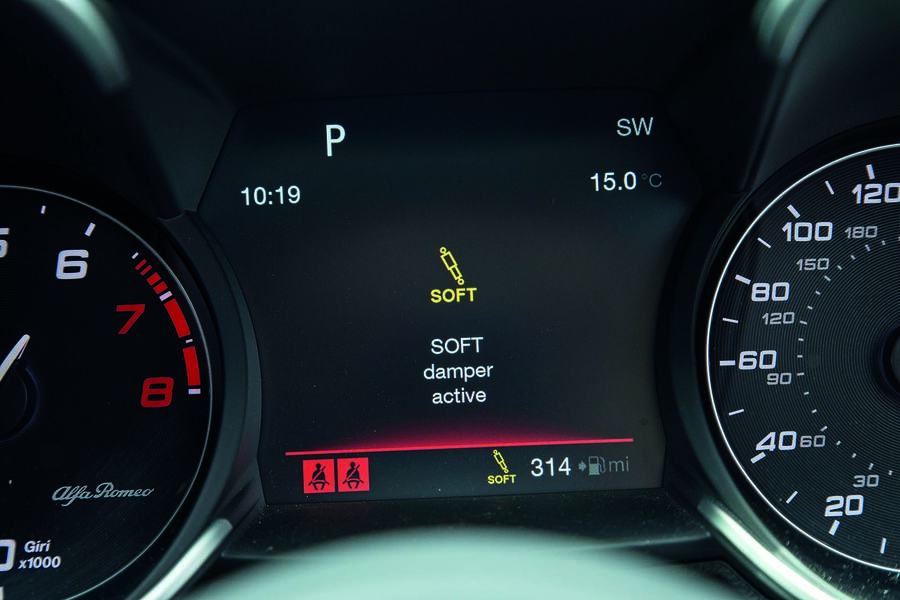 Performance is nothing short of mind-blowing too. Heavily boosted to produce 503bhp and 443lb ft, the Giulia's 2.9-litre six-cylinder engine is smooth, free-revving and energetic and even sounds pretty tasty by V6 standards, although some of us wished it was even more vocal, especially in Dynamic mode, to give it the character to match an AMG V8. High speeds are almost too easy to achieve, such is the avalanche of grunt that's continuously straining to be unleashed.