Our Verdict
Alfa Romeo returns to the super-saloon class, but does the Giulia Quadrifoglio have enough about it to dislodge the Mercedes-AMG C63 and BMW M3 off their perches?
First Drive

The super-saloon version of Alfa's long-awaited M3 rival has already wowed our road testers, but what was it like to live with?

First Drive

Range-topping Alfa saloon wields its rear drive platform to captivating effect. Other facets not quite as stellar, but overall a dynamic return to form
Why we ran it: To find out if Alfa Romeo has regained its mojo with this BMW M3-bashing super-saloon
Life with the Alfa Romeo Giulia Quadrifoglio: Month 8
Saying goodbye to the Giulia Quadrifoglio
Finally, I get it. I now understand why the Alfa Romeo brand and its products inspire so much passion and garner so much loyalty from fans, sometimes contrary to all logic.
I can see what once prompted a certain former Top Gear presenter to insist that you can't call yourself a petrolhead until you've owned an Alfa Romeo. For the past nine months, I've been an honorary member of the Alfa owners' club, and in that time I've gone from being an ambivalent observer to a dedicated fanboy – all thanks to the seductive charms of the Giulia Quadrifoglio.
You can't help but be stirred on a deeply emotional level when you have a car like this on your driveway. Not only are its voluptuous looks enough to make you go weak at the knees, but it's also one of the most exciting cars of any price or type you're ever likely to drive. Here, at last, is a modern Alfa Romeo that'll fill you with pride rather than trepidation, getting your heart pumping with desire and making you lose all interest in BMW M3s and Mercedes-AMG C63s.
The Giulia may have four doors, but it drives like an out-and-out sports car – and we're not talking about the 4C here. In fact, given how skilfully it combines comfort with control and agility with high-speed stability, you'd swear that witchcraft was involved in its chassis set-up.
Initially the Giulia can feel a little skittish, especially in comparison with heavier, slower-steering German saloons, but you won't want to go back once you've had a taste of the Giulia's dynamic prowess.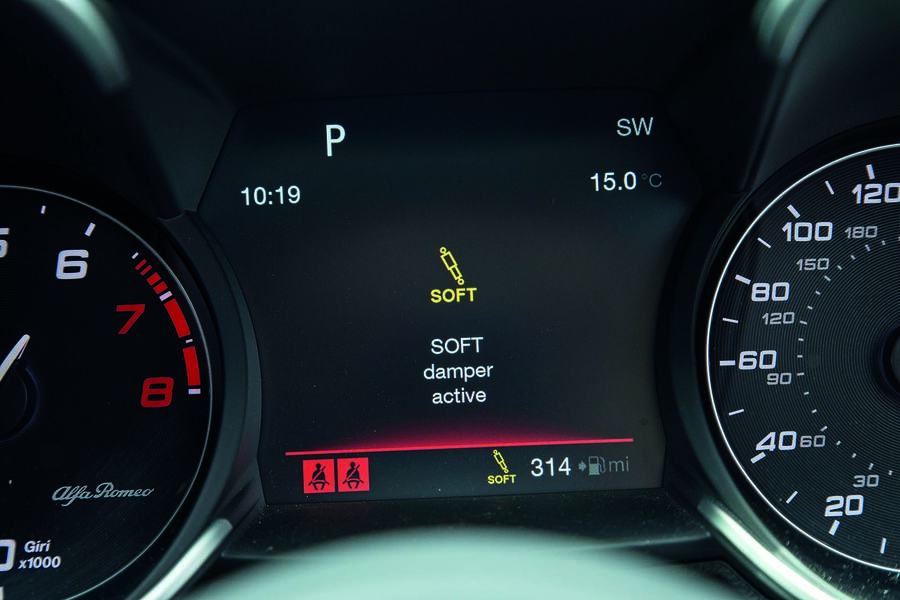 Performance is nothing short of mind-blowing too. Heavily boosted to produce 503bhp and 443lb ft, the Giulia's 2.9-litre six-cylinder engine is smooth, free-revving and energetic and even sounds pretty tasty by V6 standards, although some of us wished it was even more vocal, especially in Dynamic mode, to give it the character to match an AMG V8. High speeds are almost too easy to achieve, such is the avalanche of grunt that's continuously straining to be unleashed.
If there's a weak link in the Giulia's dynamic repertoire, it's the brakes. The optional carbon-ceramics fitted to our car were quite grumbly, tricky to modulate at low speeds and not even all that impressive in terms of sheer stopping power. Unless you're planning to do regular track days, I'd be inclined to save your money, although even the standard brake-by-wire system has its faults.
Perhaps Alfa could have made more of an effort with the infotainment system – especially the relatively basic, awkwardly shaped screen – but in general I really like the way the Giulia's cabin looks and feels, and in terms of functionality it's surprisingly hard to fault. Rattles and squeaks have been conspicuous by their absence, and the quality of the materials is of a reasonably high standard, with the exception of the low-rent (but still good-to-use) plastic gear selector. Notably, the long, tactile aluminium gearshift paddles are among the best you'll find anywhere.
The optional Sparco front seats proved to be an ideal combination of supportive and comfortable and, with their carbonfibre backs, really added to the cabin's sporty ambience. All the same, I'd have been just as happy if we'd stuck with the standard Recaro seats, which offer greater comfort, heating and full electric adjustment, unlike the more focused Sparcos. Either way, the Giulia's driving position is spot on.
This being an Alfa, there was always going to be a question mark over reliability. The Giulia has been… well, not flawless, but it hasn't done anything to be overly concerned about, either. On three occasions, the engine went into limp-home mode, reducing power and limiting the car's speed but never leaving us stranded.
Remedial work included fitting new turbo overboost valves and replacing part of the wiring loom. Oh, and the alarm was overly sensitive at first. That's pretty much it.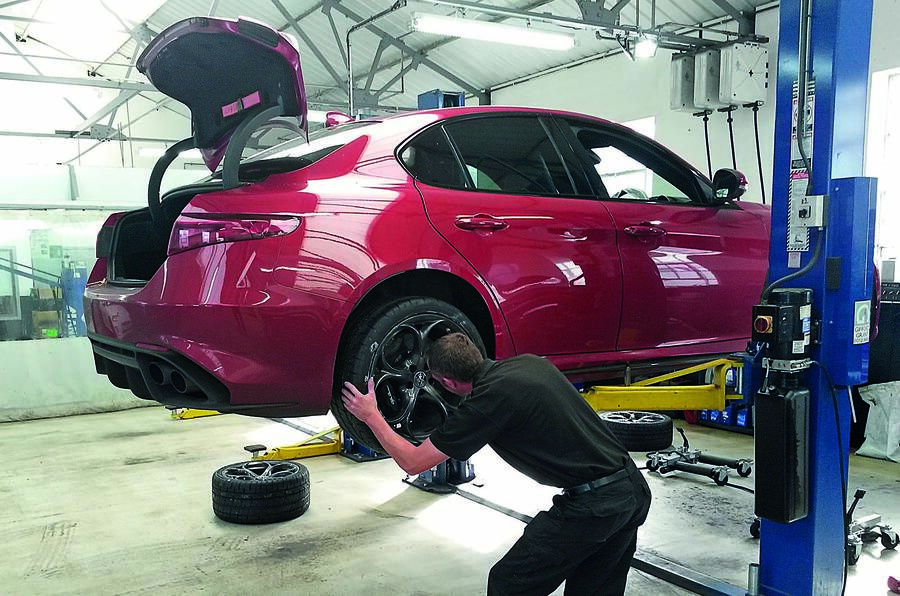 Our experience suggests that, to some extent at least, Alfa dealers' poor reputation isn't deserved, either. We called upon HWM in Surrey when the Giulia's tyres needed replacing and they gave us first-class service. Some other owners have reported similarly good experiences with their dealers.
The fact that we had to fit a new set of Pirelli P Zero Corsas after less than 5000 miles (at a cost of nearly £1300) suggests the Giulia has something of an appetite for them – especially the front pair. Careful owners might be able to stretch 8000 to 10,000 miles out of a set, but there's no denying that between tyres, depreciation and the car's thirst for petrol, running costs are going to be steep.
The Corsas aren't great in cold weather, either; this is a car that would benefit from having winter tyres fitted when the temperature hits single digits. Some owners have ditched the Corsas for Michelin Pilot Sport 4 tyres and report excellent performance as well as a reduction in the disconcerting tyre skipping from which the Giulia suffers on a tight lock at very low speeds.
Yes, the Giulia has its flaws, but none of them is a deal-breaker for me. Alfa has got all of the important things so right that I wouldn't look anywhere else if I were in the market for a new super-saloon. That's how much I adore this car.
Like it:
RAVISHING LOOKS Centro Stile Alfa Romeo gets 10 out of 10 from us for the Giulia's seductive styling.
PRODIGIOUS HANDLING Perhaps its best quality, with the poise and agility of a true sports car. And that pointy front end… wow.
RIDE COMFORT Being able to soften up the dampers independently of driving mode is a boon; the ride is remarkably supple.
BLISTERING PERFORMANCE This is a really fast car, and throttle response is surprisingly urgent for such a heavily boosted engine.
Loathe it:
GROUND CLEARANCE The sound of the low-slung nose scraping along the road was all too frequent over sleeping policemen
Second Opinion
I drove the QV some time after reading all the gushing praise and a bit of me thought: "Really, is it that good?" Turns out that for chassis balance, agility and ride, yes, every bit. It's a tough one but I'd still take the Mercedes-AMG C63 S for the V8 soundtrack alone. I think…
Jim Holder
Final report mileage: 15,016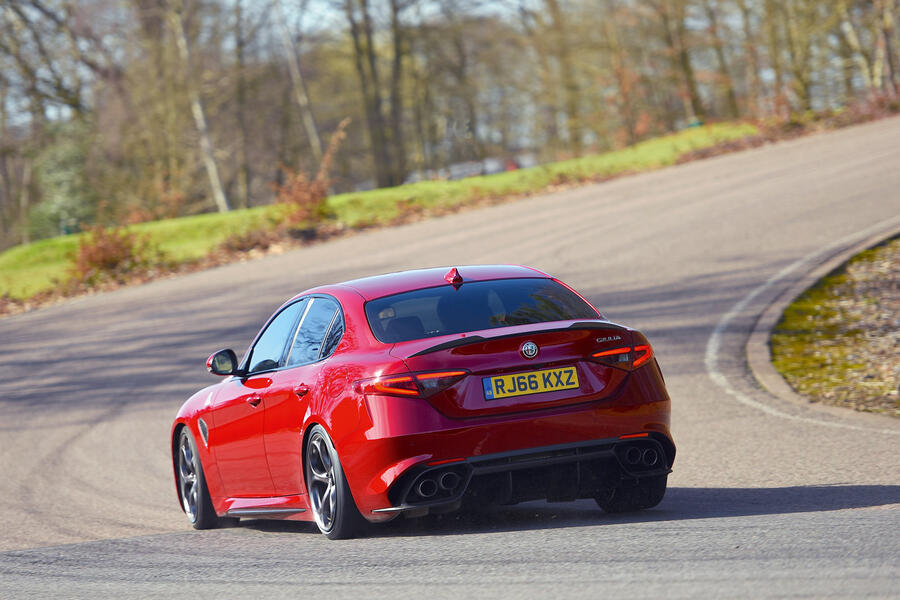 Life with a Giulia QV: Month 7
Steering wheel complaints - 14th February 
As much as I love the look and feel of the steering wheel (a £225 optional item), it would be even better if fewer materials were involved. As it is, there's leather, Alcantara, a carbonfibre insert on the lower portion and a faux metal bottom spoke. If the rim were wrapped entirely in Alcantara, the wheel would be perfect.
Mileage: 14,980
Life with a Giulia QV: Month 6
Daily use continues to show what a remarkable car this is, despite the odd quirk - 31st January 
My plan to switch the Giulia to winter tyres after our annual Britain's Best Driver's Car bash (in which the Italian super-saloon was cruelly robbed of victory, in my opinion) has failed to get past the stage of talking about it in a previous update. It seemed like a prudent idea, given that the Giulia was beginning to feel rather wooden in cold conditions on its standard Pirelli P Zero Corsa tyres and had the potential to be a bit of a handful if and when the roads got properly slippery, but I was unable to source an appropriate set of winter tyres before Christmas, so I persevered with the existing Corsas over the holiday period.
And you know what? It was fine. Where I live in London, there wasn't enough snow and ice on the roads to cause the Giulia a problem, although in other parts of the country, I might have been inclined to park it up for safety's sake. Extra care was definitely required when accelerating out of wet roundabouts, for example, but the electronic driver aids on this car are excellent, reining in the rear wheels' tendency to want to spinup with little more than a twitch from the tail. As long as you're going quickly enough to generate some heat in the tyres, the Giulia continues to provide reasonable grip and feel, even on a water-logged motorway.
The Giulia's most obvious quirk – the front tyres' habit of skipping sideways when making a tight turn or manoeuvring around a car park at very low speeds – is even more exaggerated when you throw a wet surface into the equation, though. The front tyres crunch and slip so dramatically as the car moves forwards on a tight lock that you'd swear the Giulia was the most understeer-prone thing on the roads – an impression quashed as soon as your speed rises above about 10mph.
I'm guessing that the skipping is caused by a combination of cold tyres, fairly aggressive steering geometry and possibly some push from the limited-slip diff. The Giulia is far from being the only car that exhibits this trait, but it's worse than most.
To be clear, though: the skidding may be a little disconcerting when it happens, but it's not what I'd call a fault or a problem. Most likely, it's the trade-off for having such quick steering and amazing front-end grip at higher speeds.
In the run-up to Christmas, I hardly saw the Giulia for several weeks, because it was in constant demand from road testers and photographers from Autocar and sister title What Car?, first for Britain's Best Driver's Car and then for inclusion in the 2018 What Car? Awards, in which the Giulia claimed victory in the sports car category, beating the Porsche 718 Cayman and McLaren 540C. I didn't really expect the Giulia to win BBDC – not when it was up against a Porsche 911 GT3 – but the fact that it came equal fourth, behind three far more expensive, less practical cars, emphasised to me what great value for money it is.
The subject of reliability has reared its head again, though, because the Giulia developed another engine fault, once again going into limp- home mode while cruising along a motorway. This time, the fault was traced to the wiring loom, a section of which was replaced under warranty.
Of course, it's irritating when these things happen, but no one was left stranded and the problem was fixed quickly, so I'm still prepared to defend the Giulia's reliability from the doubters at this stage. As I've no doubt said before, it will take a lot more than a couple of engine faults and some tyre skipping to make me think any less of this incredible car.
Mileage: 13,730
The problem of the low-slung Giulia QV – 03 January 2018
With the Giulia up on a hoist to have its tyres changed, I had a chance to see the full effect of inadvertently and all too frequently scraping the low-slung carbonfibre front splitter over speed humps.
It isn't pretty. The bottom corners of the bumper are missing quite a bit of paint, too.
Luckily, I can't see the scuffs when the car is on the ground.
Mileage: 13,080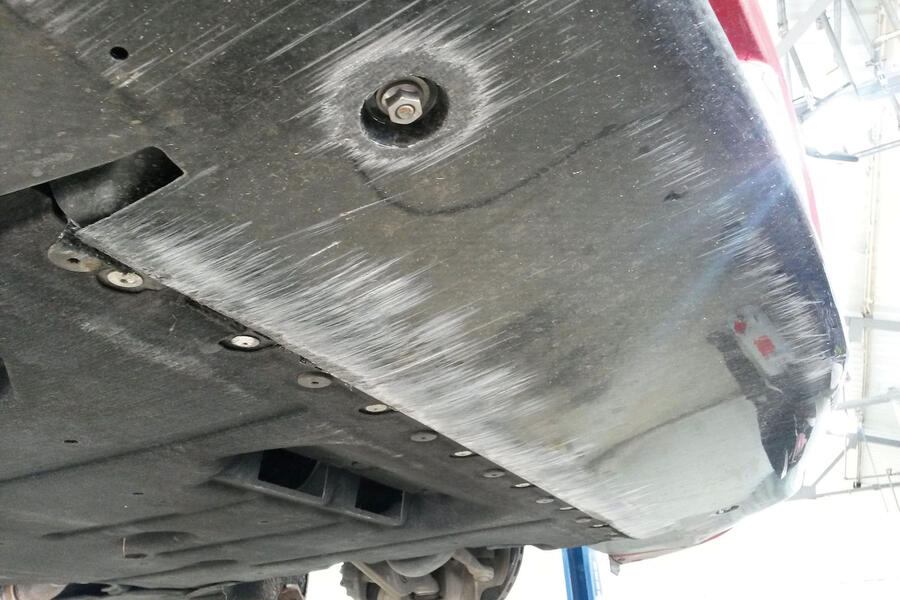 Life with a Giulia QV: Month 5
Giulia QV's fuel gauge quirks – 06 December 2017​
The Giulia's fuel economy gauge always seemed back to front to me, but a software update has put that right.
Originally, the graph started at 75mpg and descended towards zero with each prod of the throttle, seemingly emphasising how thirsty the car was.
Now it reads upwards. The dot that shows the average is still close to the '0' end, though. 
Mileage: 12,440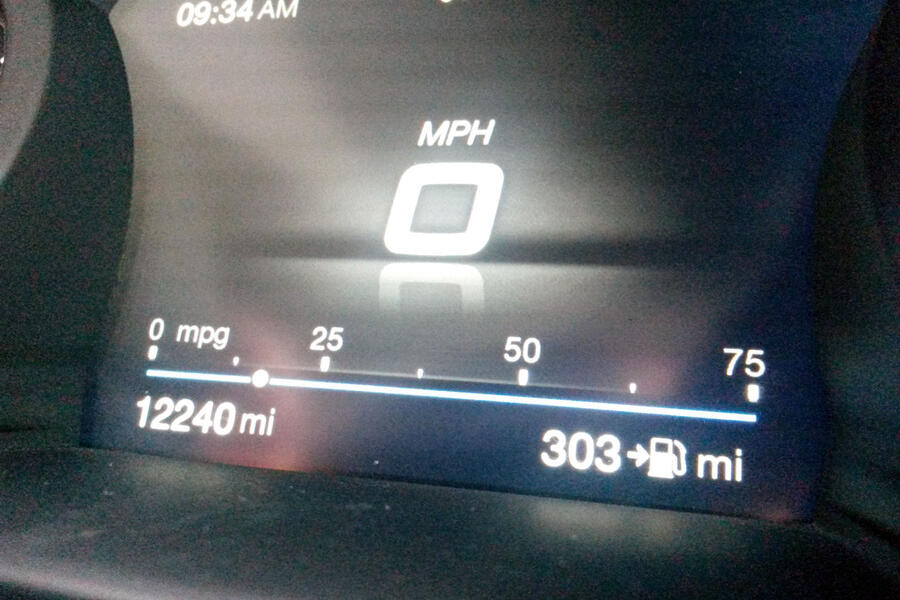 Getting the Guilia QV booted and suited – 22 November 2017​
The low tyre pressure warning that was mentioned in the previous report turned out not to be caused by a slow leak, as we first thought, but by a faulty sensor on the Giulia's nearside rear wheel.
I discovered this when I took the car to Alfa Romeo dealer HWM to get all four tyres replaced.
I'd been looking for an opportunity to find out what sort of aftersales care we could expect from HWM – not only our nearest Alfa dealership but also the world's oldest Aston Martin dealer and a former racing car constructor – and the need to fit new tyres gave us a good excuse to visit its service centre in Hersham, Surrey.
Given HWM's history, I suspected it would be an interesting experience, and I wasn't disappointed. While the work was being carried out on the Giulia, I got to have a good look around the workshop, where a number of lovely customer cars are kept in storage and which is also home to a 1950s HWM Formula 2 racer that's still owned by the company.
If you're an Alfa owner, the chances are you'll enjoy the opportunity to loiter there while your car is being worked on, if you want to.
The fact that the Giulia's tyres needed replacing after just 4000 miles in our hands – all on the road – might seem like a shocking rate of wear, but bear in mind that the QV wears sticky, high-performance Pirelli P Zero Corsa tyres, developed specifically for the car, so you can't expect them to last as long as more everyday ones. Nor would you want anything less on a car of this calibre – in warm conditions, at least.
The other mitigating factor is that the tyres weren't brand new when we took delivery of the car, which already had 7000 miles on the clock at that point. The tyres had already been replaced at least once, earlier in the year, so it would appear that the set we've just taken off had actually covered between 6000 and 7000 miles.
That's still a pretty severe wear rate, but I suspect most QV owners will be able to better that in normal road use. Curiously, the front tyres were looking more shot than the rears, with severely scuffed shoulders, suggesting that there's a price to pay for having such quick steering and phenomenal front-end bite.
The bill from HWM came to £1276, but a bit of online research revealed that it could be reduced by more than £100 by going to a tyre dealer such as Black Circles. Although the job took a little longer than expected to complete (the new tyres were reluctant to seal properly on the rims) and the faulty sensor couldn't be sorted on the day, the experience was entirely a positive one for me. I'd be more than happy with the standard of service if I'd bought the car from HWM in the first place.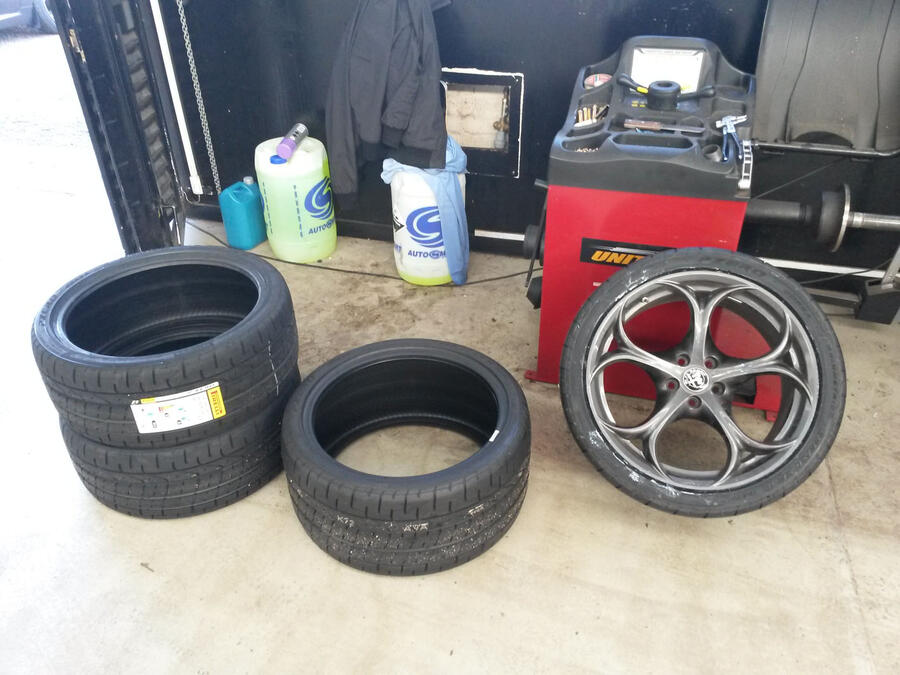 The Corsa tyres may be the business when they're hot and sticky, but they're less happy in colder, wetter conditions. To be fair, there's still plenty of grip, but the electronics have to work overtime to rein in the rear wheels' eagerness to spin up, and the car feels stiff-legged when the tyres can't get enough heat in them. The rear end tends to react more to bumps with a sideways kick, too.
Since the Giulia is about to take part in our annual Britain's Best Driver's Car extravaganza and will therefore be crying out for yet another set of tyres immediately afterwards, that might be the ideal time to try it on winter rubber, hopefully making it feel more comfortable as the temperature gauge heads into single figures.
I wouldn't normally bother, but I suspect the Giulia will respond well to such a move.
Best of all, Pirelli's Sottozero winter tyres are available in the right sizes to go onto the QV's lovely 19in alloys, so I don't have to mar the car's brooding good looks.
Mileage: 11,230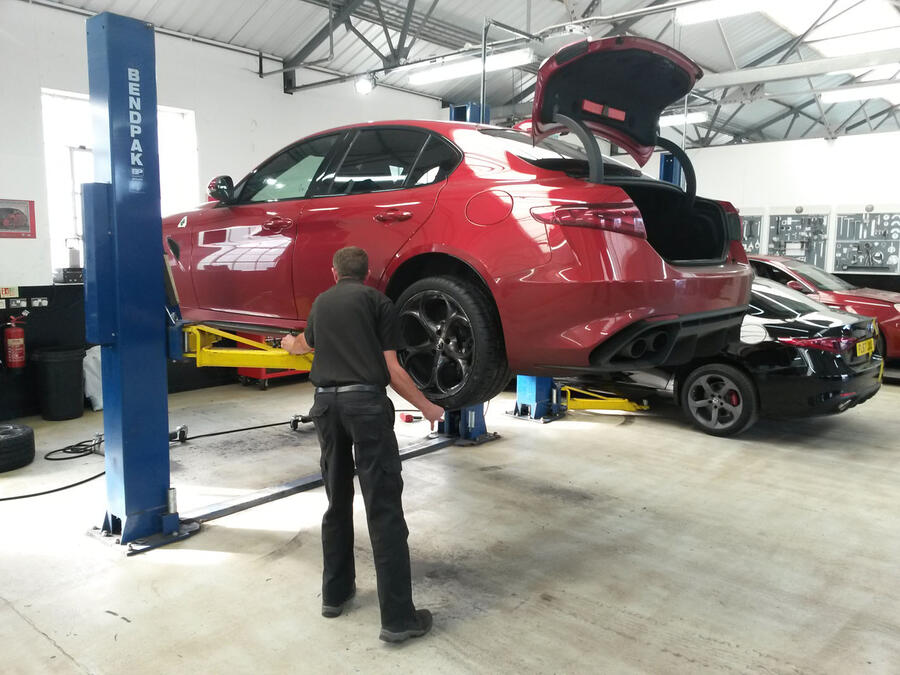 Life with a Giulia QV: Month 4
Tyre aid for the Guilia Quadrifoglio – 11 October 2017
A low tyre pressure warning popped up on the dashboard last week — although the reading on the offending Pirelli P Zero Corsa was no different from that of its opposite number.
I added a little more air all round and the warning went away, but I suspect there might be a slow leak in the nearside rear.
The tyres are all very worn, which didn't take long, so they'll be replaced soon anyway.
Mileage: 10,525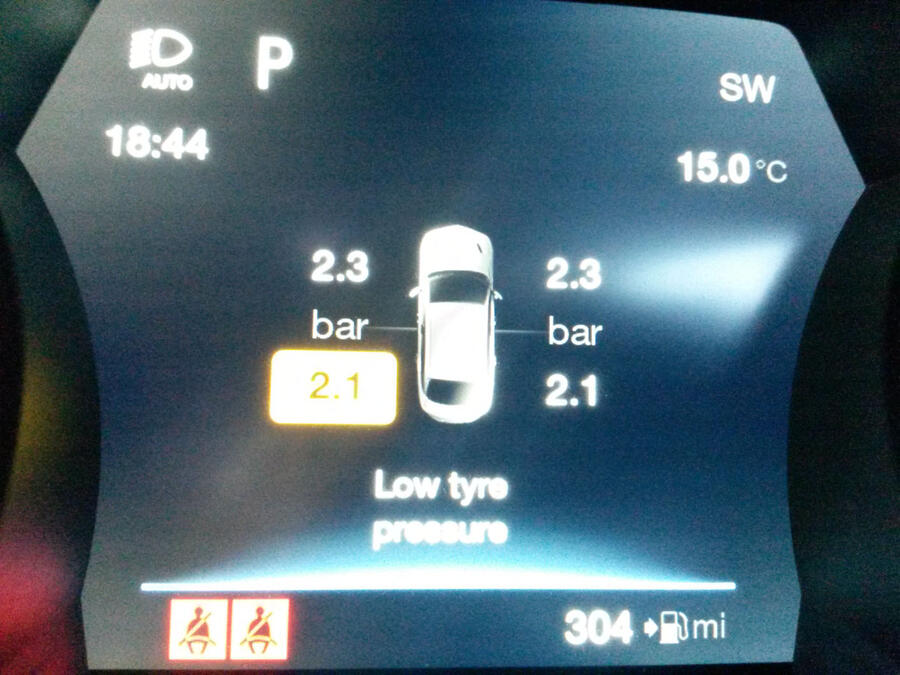 Life with a Giulia QV: Month 3
Alfa Romeo's dealership service – heaven or hell? – 27 September 2017
An email from a reader on the subject of Alfa Romeo dealers prompted me to pay one a visit recently – not because there was anything wrong with our Giulia QV, I hasten to add, but simply out of curiosity.
Our reader said he wouldn't consider owning an Alfa, largely on the grounds that, come servicing time, he wouldn't want to be directed to a "Portakabin at the rear of a Fiat dealership".
Dealer performance plays a big part in how satisfied most people feel about owning any brand's cars, of course, and I'm well aware that Alfa dealers have a poor reputation, but I have a hard time believing they're all that bad. Our nearest Alfa dealership is HWM in Walton-on-Thames, Surrey – a well-known racing car constructor in the 1950s and also the world's longest-established Aston Martin dealer – and it's far from shabby.
HWM's focus, as far as Fiat Chrysler Automobiles is concerned, is clearly on the premium Alfa and Jeep brands; Fiat logos are conspicuous by their absence, although you'll see a few Abarth 500s on the forecourt.
Its service centre is a few miles away in Hersham; yes, it's located in the corner of an industrial estate (common practice for bigger dealerships of any brand), but it doesn't look much like a Portakabin.
The proof of the pudding, though, is obviously in the standard of aftersales care that owners can expect – something we have yet to put to the test, although I'm now looking for an excuse to do so.
Do Alfa dealers deserve the reputation they've acquired, or is it outdated?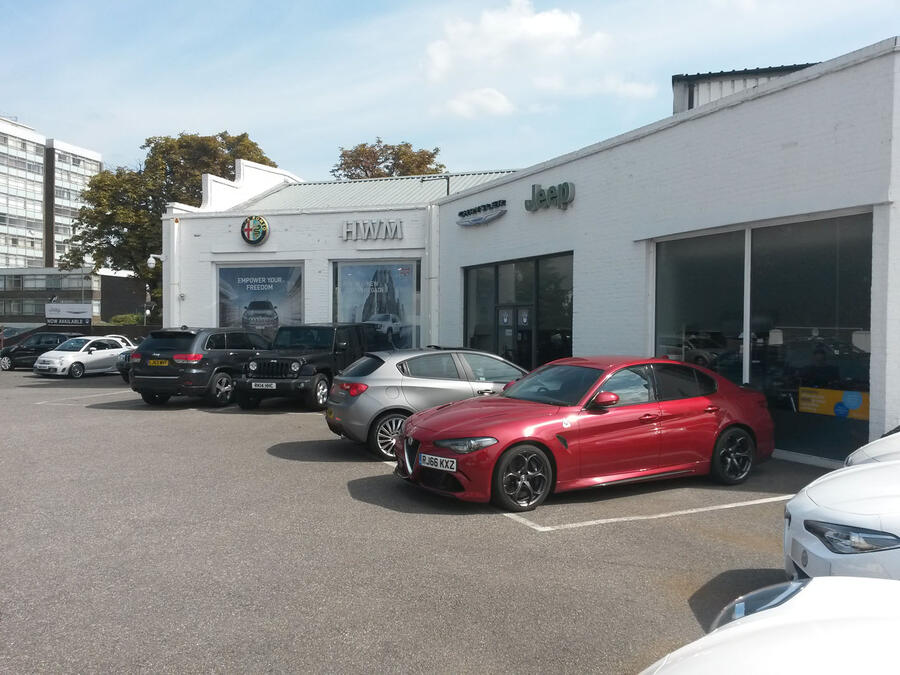 Even if there's still some truth to it, it hardly seems like a good enough reason to deny yourself the pleasure of owning such a richly rewarding car as the Giulia.
I had a frustrating experience with a Land Rover dealer when we were running a Discovery Sport last year, but that wouldn't put me off owning one. 
The only excuse I can think of right now for getting our car looked at by a dealer is that the alarm is still a little on the sensitive side, despite what I said in a previous report about it having been sorted.
In fact, it's fine except for one thing: it's prone to being set off – usually several times in a row – when I warm up my motorbike nearby. Between the car alarm and the booming sound of a big V-twin bike exhaust, I hate to think what my neighbours must be saying about me sometimes…
Otherwise, the Giulia is behaving exactly as it should do and continues to provide a great deal of driving pleasure every single day, no matter how long or short the trip may be. I have every confidence that it will remain that way too.
I admit that I had a moment of doubt about reliability when, as previously reported, the Giulia went into limp-home mode on the M3 motorway (a fault traced to the turbos' overboost valves). But now, with the Giulia feeling as robust and trustworthy as anything I've ever run,
I'd have no qualms about taking it on a long-haul trip across the Continent. No doubt I'm going to regret saying that…
Mileage: 10,220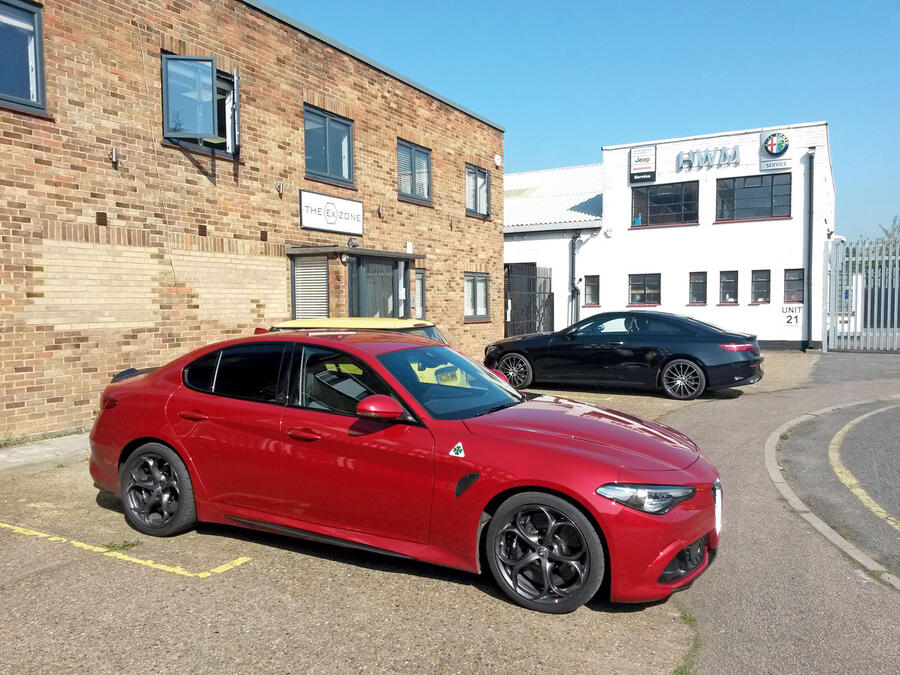 Life with a Giulia QV: Month 2
Finally getting to unleash the Giulia QV properly – 23 August 2017
The Giulia QV is so rapid, and so laughably easy to drive quickly, that I have to keep telling myself to calm down (spoken in a comedy Scouse accent, thanks to Harry Enfield and Friends) and not behave like a complete berk.
Far be it from me to blame the car for being too fast, but if I don't continue to show self-restraint, my driving licence is going to be taken away from me.
Although the Giulia isn't a particularly highly strung car, being perfectly capable of settling into a relaxed, composed cruise when required, you can always tell that it's raring to explode into action.
The urgency with which it responds to a prod of the accelerator – akin to a dam bursting – suggests the QV's 191mph top speed isn't just a hypothetical figure. Slower-moving cars can be dispatched in an instant, but then you glance down at the big digital speedometer between the dials (the conventional one isn't easy to read) and have to rein yourself in pronto – and that's harder to do.
When accelerating hard, it's all too easy to snag the 7300rpm rev limiter if the gearbox is in manual mode. I sometimes wish the Giulia's twin-turbo V6 had a more Ferrari-like cut-off of 8500rpm or 9000rpm.
It gets to the red zone so swiftly that it makes the rev band seem frustratingly narrow at times, even though it isn't. The solution, of course, is to flick the gear selector back to auto mode if you want to accelerate from a low to a high speed, in which case the surge is smooth and unrelenting.
My other excuse for continually wanting to explore the Giulia's limits is that its engaging handling inspires great confidence. Stroking the Giulia along a twisty road is never anything less than a treat, but there's always the temptation to push harder to make the experience even more exciting.
Having been given a check-over by Alfa Romeo following the issues we reported in the previous update, the Giulia now seems to be behaving perfectly.
Bon weekend ahead pic.twitter.com/uPEjOJOT7t

— Mark Tisshaw (@mtisshaw) July 21, 2017
The fault with the engine going into limp-home mode was traced to the turbo overboost valves, which were replaced under warranty on both banks of the V6.
The alarm's ultrasonic sensors were also replaced and the sensitivity was turned down, seemingly bringing an end to the continual 'break-in attempt detected' messages.
On the first weekend after we got it back, the QV ferried me comfortably from London out to Oxfordshire while I entertained the notion of buying a new motorbike, its adaptive dampers dealing really well with the bumpy country roads, then down to West Sussex via some of my favourite B-roads (calm down, calm down) to a country pub for Sunday lunch. I couldn't think of many cars in which I'd rather be doing either trip.
The following weekend, editor Mark Tisshaw went to Brands Hatch in the Giulia to watch some superbike racing and came back saying he thought it was the most well-rounded and special-feeling car he'd driven since the McLaren 570S.
He and his fiancée also praised the optional Sparco front seats for their exceptional blend of sportiness and comfort.
There are a couple of small areas of criticism, though. On the sat-nav, there's no 'north up' option for the map orientation, so the map spins wildly to stay pointing in the direction of travel. That's okay if you're being guided by the reasonably effective and easy-to-use sat-nav, but it can be distracting and disorienting if you're not.
Meanwhile, the letterbox-shaped infotainment screen can be tricky to see properly if you're wearing polarised sunglasses, because parts of it are covered by dark, bruise-like blotches, unlike anything I've seen before.
Nevertheless, I'm having a blast with the Giulia and growing more and more attached to it. I just hope I remain attached to my licence as well.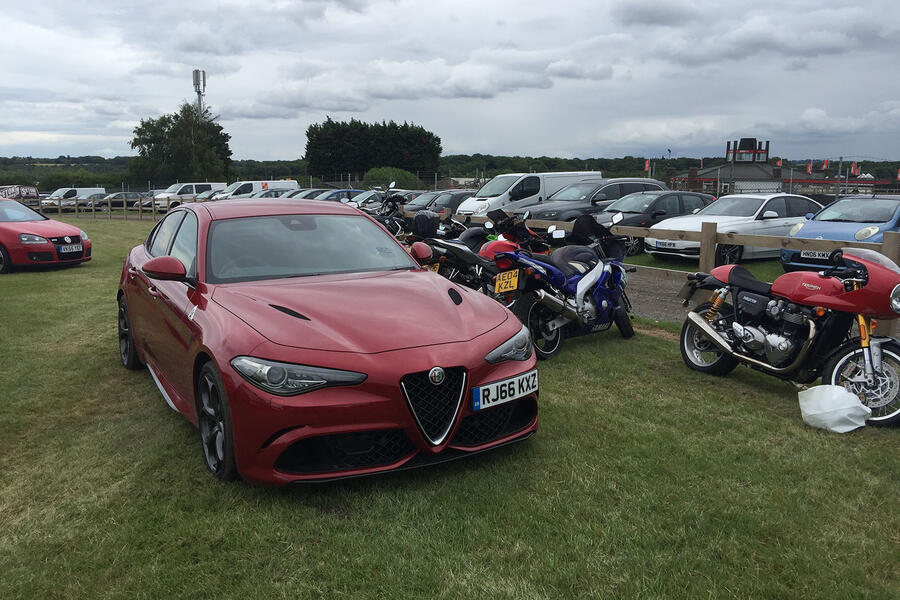 Mileage: 8905
Early niggles and pains with the Giulia QV – 02 August 2017
This being an Alfa Romeo, the odd foible was probably to be expected, and the Giulia hasn't disappointed in that respect so far.
However, I'm already so charmed by Alfa's new super-saloon that it's going to take something major to make me think any less of it.
The alarm sometimes goes off for no apparent reason and gives 'break-in attempt detected' warning messages after the car has been sitting outside overnight (six times in a month).
The brakes aren't easy to modulate at low speeds, making the simple act of coming to a smooth stop surprisingly challenging. And the engine went into limp-home mode in the 50mph average speed zone on the M3 motorway one Sunday, which led me to switching it off and waiting on the hard shoulder for a few minutes.
Obviously, I don't ever want to be stuck on the side of the road, so we're getting the QV checked over just to be on the safe side, but these issues haven't fundamentally changed my view of the Giulia. In short, I'm completely smitten with it.
This car is still sensational. Honestly, the drive I've had back from Wales. I can count on one hand cars on sale that would do it better. pic.twitter.com/HhHRjrVx0M

— Matt Prior (@matty_prior) August 3, 2017
I've been asked whether the QV makes a good daily driver, and the answer is yes. Around town and on the motorway, it's perfectly refined and comfortable, with a surprisingly compliant ride. It's far from being the noisy bone-shaker that people seem to be expecting.
Crucially, it's also engaging and fun, at any speed. The way it arrows into corners and its poise and adjustability are quite breathtaking, especially when you remember that it's a four-door saloon, not a supercar. Honestly, I savour the prospect of driving anywhere in the QV – even to work on a Monday morning.
With a few road trips in the pipeline, I'll get a chance to form a better opinion of the optional Sparco front seats. I was a little worried about how comfortable they'd be, but so far they've been fine, although I do have to wriggle around a bit to get settled, and there isn't a lot of space for air to flow around my posterior.
They aren't as adjustable as the standard ones, though, and can't be heated, so I'm yet to be convinced. They do look great, though.
Mileage: 7910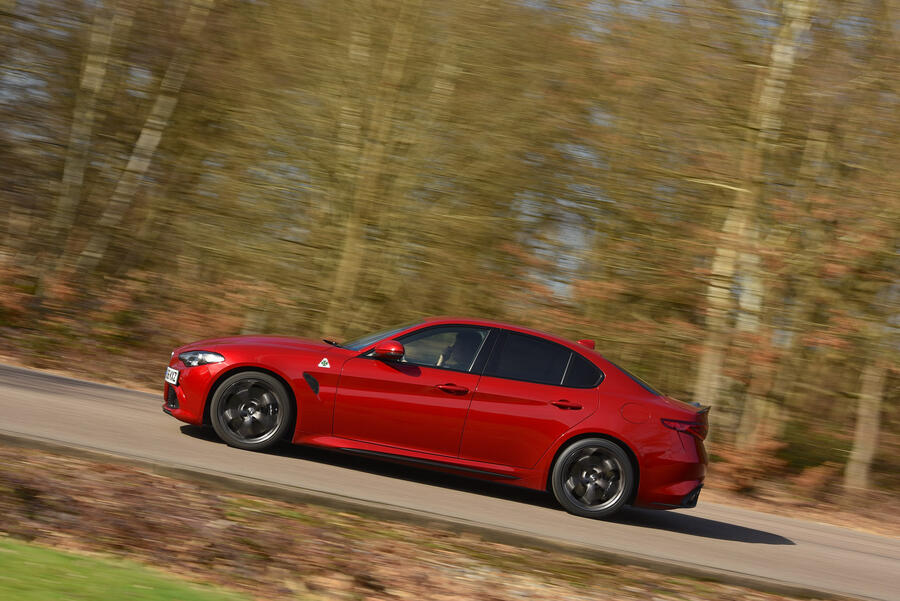 Life with a Giulia QV: Month 1
Welcoming the Guilia QV to our fleet – 12 July 2017​
With a track record as erratic as Alfa Romeo's, it's hardly surprising that the past keeps coming back to haunt it whenever the prospects for the new Giulia saloon are weighed up.
It's understandable that you might be tempted to recall the underwhelming products that the brand has produced in the past two or three decades and be sceptical as to whether it is really capable of taking on the likes of the BMW 3 Series.
But I, for one, have had enough reminders of how long it has been since Alfa last had a hit on its hands. What matters is what it's doing to rectify the situation now.
We already know that the Giulia is in a completely different league from any of the predominantly front-wheel-drive, Fiat-based cars that Alfa has produced for so long.
So it seems fair to give the iconic Italian brand the benefit of the doubt for now, acknowledge that it has done a convincing job of creating the Giulia – even if it did take a long time to perfect – and get on with finding out what the car is like to live with. To that end, we've got a lovely red Giulia Quadrifoglio to run for at least the next six months.
Our Quadrifoglio – henceforth known as the QV, which is apparently an acceptable abbreviation and less of a mouthful – has come to us with 7000 miles on the clock already.
In fact, it's the very same car that we road tested in March, so we know that it has been driven with some enthusiasm already – but you'd hardly expect anything else when you're dealing with a 500bhp-plus, rear-wheel-drive super-saloon.
In the metal, the QV is stunning, even by Alfa's usual high standards of design. Aggressive and sensuous at the same time, it makes other compact sports saloons look quite ordinary. That curvaceous body is adorned with air vents and fillets of go-faster carbonfibre trim, as well as heavily flared sills and a purposeful rear diffuser.
And the triangular four-leaf clover badges – signifying motorsport success and later the brand's performance models – look at home on the wings and immediately make the car seem special.
The Giulia seems to look great in any of the seven colours on offer, but the standout paint job is undoubtedly our car's tri-coat Competizione Red (a £1750 extra).
It makes the car look as exotic as a Ferrari, especially when matched with dark-finished, five-hole 19in alloys (a £350 upgrade) that appear to be a modern interpretation of Alfa's classic 'teledial' alloys. The standard Y-spoke wheels, in the same size and with the same choice of light or dark finish, look great too, so you can't really make a bad decision.
Underneath, the Giulia features a bespoke rear-wheel drive platform with multi-link rear suspension, a torque-vectoring rear diff and adaptive dampers, all of which instantly distinguish it from previous Alfas. The electrically assisted steering is razor-sharp, at just over two turns lock to lock.
This, i've decided, is optimal spec for your new Alfa Cloverleaf. Vulcano Black, dark alloys, black calipers, tints. Murdered out mafiosi pic.twitter.com/EzY80UVWi9

— Matt Saunders (@TheDarkStormy1) March 14, 2017
A carbonfibre bonnet and an active front splitter that extends to improve stability at high speeds are further proof of Alfa's commitment to making a car capable of beating the BMW M3 and Mercedes-AMG C63 (as well as the next Audi RS4) at their own game.
And, of course, there's Alfa's new twin-turbo 2.9-litre V6 engine, which makes 503bhp and 443lb ft and gives the QV a scorching claimed 0-62mph time of 3.9sec and a 191mph top speed. With a flat-plane crankshaft design, the V6 is notably smooth and free-revving as well.
The fact that we don't get a manual gearbox option for the QV in the UK doesn't bother me for a second; the standard eight-speed ZF automatic would be my first choice anyway, and it works a treat, especially when operated by the long, tactile aluminium paddle shifters that are fixed to the steering column.
Inside, there's a choice of five variations on the same theme, with black leather and Alcantara upholstery in each case and carbonfibre trim; what changes is the colour of the lower dash, door panels and stitching. We've got all-black trim with green and white stitching that echoes the Quadrifoglio badges on the wings.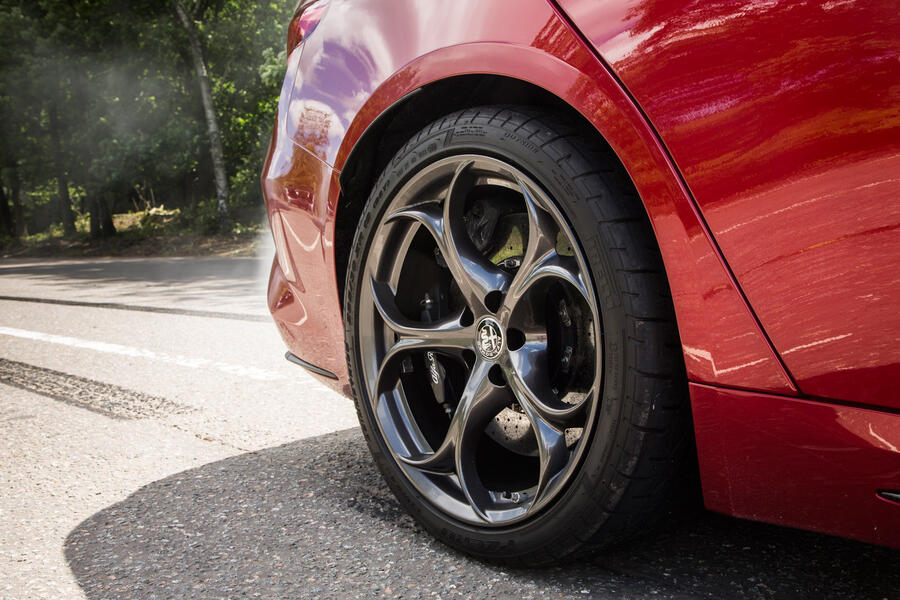 The standard front seats have been swapped for carbonfibre-shelled Sparco sports seats (£2950), while a leather and Alcantara steering wheel with carbonfibre insert (£225) has replaced the regular leather-covered one. Our car is also equipped with carbon-ceramic brakes (£5500) to allow us to fully exploit the QV's huge performance, as well as a 14-speaker Harman Kardon sound system (£950), dark-tinted rear windows (£275) and a Convenience Pack consisting of keyless entry, exterior door handle lights and extra cabin storage (£425). That lot elevates the QV's £61,300 list price to a hefty £73,805.
First impressions are that the reviews have understated how terrific this thing is to drive. Its handling immediately stands out, with a front end that's Ferrari-like in its incisiveness, while the ride is surprisingly comfortable with the dampers softened off.
Meanwhile, thrusting performance is matched by a wicked soundtrack. The cabin is mostly attractive and the driving position is excellent, so it's hard not to be immediately smitten.
That's all very well, you're probably saying, but would you really spend more than £61,000 on an unproven new Alfa?
I may well change my tune if the QV turns out to be in any way unreliable or bits start falling off, but right now I'm just excited that, at last, there's an interesting and desirable alternative to the usual German suspects, with the character, looks, performance and dynamic talents to make you think twice about wanting an M3 or C63.
This Alfa shows every sign of being something special and therefore worth the risk. One thing's for sure: our time with the QV won't be boring.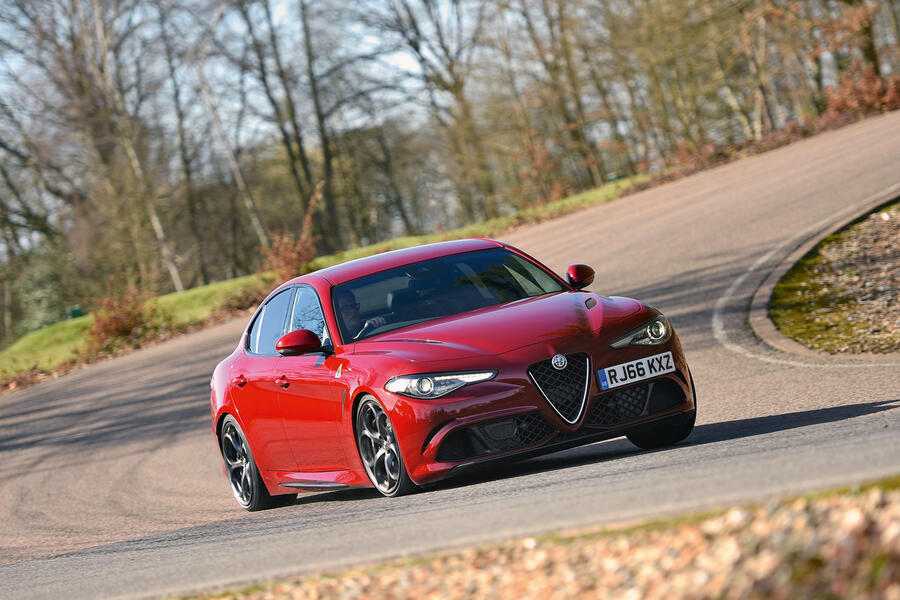 Alfa Romeo Giulia Quadrifoglio specification
Prices: List price new £61,300; List price now £61,595; Price as tested £73,805; Dealer value now £49,200; Private value now £43,750; Trade value now £42,650
Options: Carbon-ceramic brakes £5500, Sparco Carbonshell sports seats £2950, tri-coat paint £1750, Harman Kardon sound theatre £950, Convenience Pack £425, dark five-hole alloys £350, dark-tinted rear windows £275, leather/ Alcantara steering wheel £225, smoking kit £80
Fuel consumption and range: Claimed economy 34.4mpg; Fuel tank 58 litres; Test average 23.6mpg; Test best 28.9mpg; Test worst 16.6mpg; Real-world range 300 miles
Tech highlights: 0-62mph 3.9sec; Top speed 191mph; Engine V6, 2891cc, twin-turbo, petrol; Max power 503bhp at 6500rpm; Max torque 443lb ft at 2500-5000rpm; Transmission 8-spd automatic; Boot capacity 480 litres; Wheels 8.5Jx 19in (f), 10Jx19in (r); Tyres 245/35 ZR19 (f), 285/30 ZR19 (r), Pirelli P Zero Corsa AR; Kerb weight 1580kg
Service and running costs: Contract hire rate £849.82; CO2 189g/km; Service costs None; Other costs Four tyres (fitted) £1276; Fuel costs £1840; Running costs inc fuel £3116; Cost per mile 39.1 pence; Depreciation £18,650; Cost per mile inc dep'n £2.73; Faults Engine limp-home mode activated, overly sensitive alarm, faulty tyre pressure sensor