The Alfa Romeo Giulia Quadrifoglio super-saloon has met with little but glowing praise since its launch in 2016. It came like manna from heaven for a great many car enthusiasts who'd longed to see the Italian marque make a performance car you could compare with the very best in class. The agility and purity of the car's rear-driven handling, its handling fluency and compactness on the road, and the idiosyncratic fierceness of its Ferrari-derived V6 engine all won it instant recognition.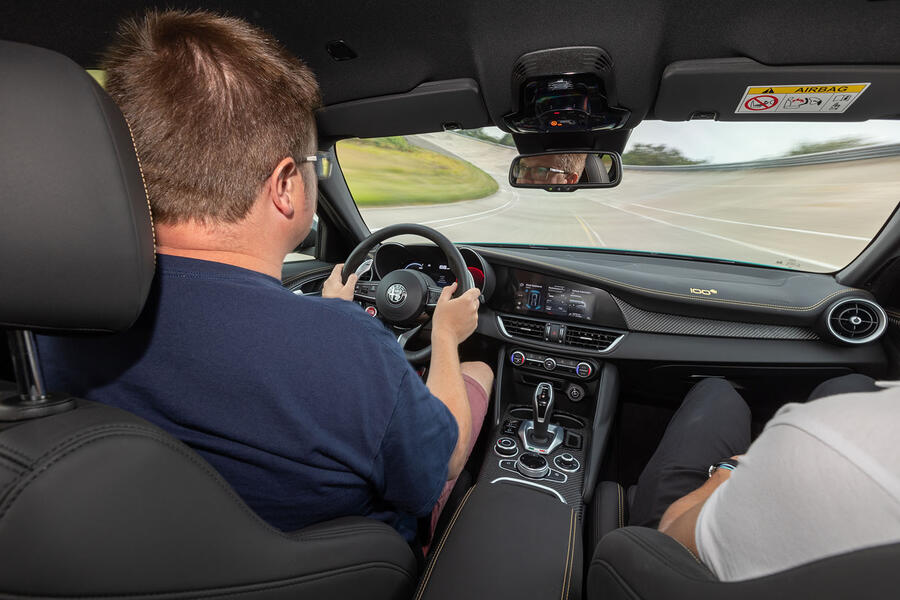 Now, in a rare move in today's performance car market, Alfa has sought to make the car better by actually making it simpler. The car gets the same mid-life tweaks that were deployed on the regular Giulia earlier this year - new headlights, a new 'Trilobo' radiator grille, new digital instruments and an updated infotainment system. But specific to the Quadrifoglio version is a hike in peak power to 514bhp, and a recalibration of the suspension and driveline specification intended to give the car what Alfa performance engineering lead Domenico Bagnasco calls a "mini-GTA feel".
Alfa's 100 Anniversario version (which we tested and celebrates the centenary of Alfa's green cloverleaf iconography) gets gold-edged badging and detailing. Only 100 will be produced for the global market - and all UK ones are already sold.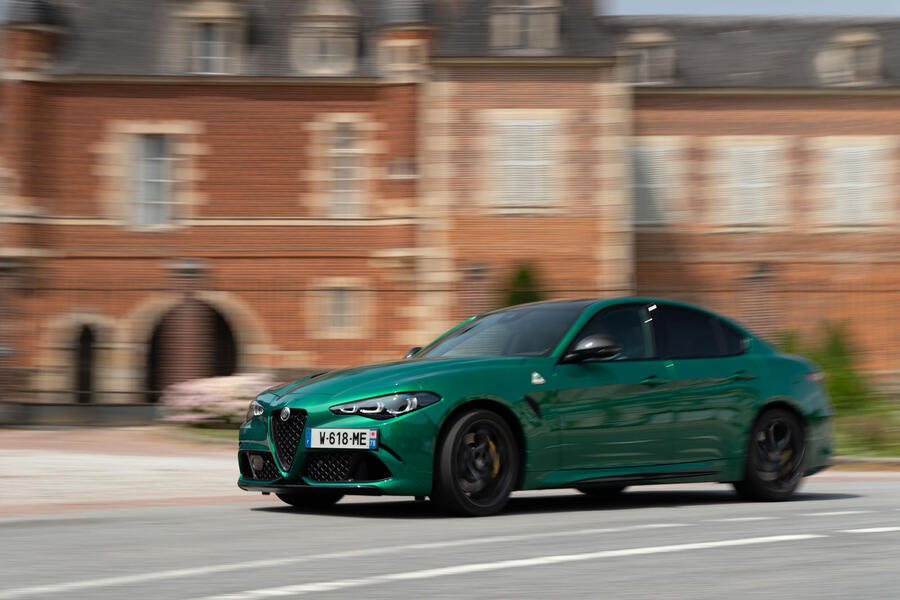 With the aim of dialling out a little of the on-track frailty and dynamic scruffiness that the Giulia's old damper calibration and torque-vectoring rear differential could create (the latter especially, which was prone to overheating when given lots to do), fairly bold decisions were taken about this car's mechanical specification. For one, that electronically controlled eDiff was chucked in the bin, replaced by a more conventional mechanical limited-slip differential with a locking ratio of up to 35% under power and 50% on the overrun.
"We wanted more predictability, quicker chassis response, and more old-school handling feel from the car," says Bagnasco, "and so we also increased anti-roll bar stiffness on both axles, and firmed up the calibration of the electronic dampers when working at their firmest. The feeling of the rear axle - how quickly it follows the direction in which you're steering - is now improved and limit handling with the ESC switched off, a possibility we feel we have to include on an Alfa Romeo performance car, is more consistent."
The Giulia's low and well-supported driving position, simply arranged cockpit and controls, and sense of compactness and litheness on the road all still appeal as much in 2023 as they did in 2016. It doesn't feel like a car seeking a higher-strung temperament either, as that 'mini-GTA' billing might have suggested. The ride and damper calibration remains gentle when you stick with the 'Natural' driving mode, the steering feels light but direct and the engine and gearbox are mostly docile enough to rub along with in normal traffic, albeit with occasional moments of low-speed driveline shuntiness from the transmission.