Civic Renaissance Experimental is the accepted definition of CRX, the name of Honda's compact coupé that ran for three generations spanning 1984 to 1998.
It's the Mk2 version that's under the microscope here. The little 2+2 lasted all too briefly from 1988 to 1991 but made the sort of impression that today sees the best cars command prices approaching £20,000. An example is the immaculate CRX with just 15,000 miles on the clock that made £19,000 at auction recently.
Such motors are rare, of course (in fact, with only around 150 CRXs remaining on the roads, the model is rare, full stop). Instead, good, well-cared-for examples with highish mileages can be bought privately for around £6000. Or try your luck at the auctions where, recently, the same figure bagged a tidy 1990-reg with 46,000 miles. Dealers add at least another £2000, aware that prices for good Peugeot 205 GTIs and Renault 5 Turbos have moved out of reach.
Click here to buy your next used car from Autocar
What's all the fuss about? Light (it weighs around 900kg), properly suspended by four double wishbones and powered by a choice of revhappy engines, the CRX was a hoot to drive. The best motor of all was the 1.6-litre VTEC producing 148bhp and redlining at 8200rpm. Below it was a non-VTEC, 128bhp twin-cam 1.6 whose redline was a still spine-tingling 7200rpm. Both featured Honda's long-established and advanced PGM-Fuel Injection system. The third engine was a non-VTEC 99bhp single-cam 1.5. Not surprisingly, it's rare.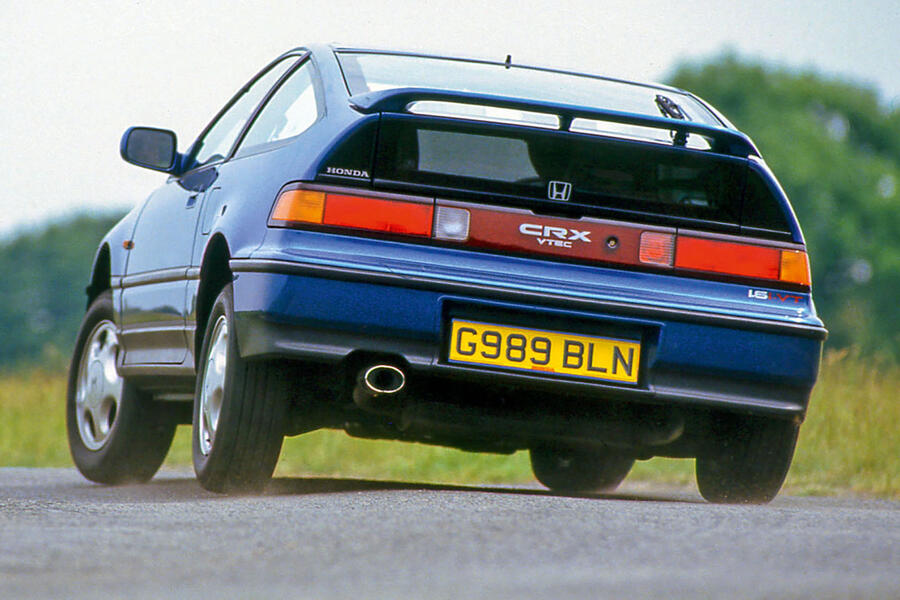 Alloy wheels, electric windows and front bucket seats complete with CRX logo provided the finishing touches. Options included a limited-slip diff and a sunroof.
Honda specialist Julian Spender loves the CRX. "Assuming they're properly serviced, the engines are bombproof," he says. "The key to enjoying them is revs, and lots of them. Pootle around and they're quite lifeless."