Small SUVs don't come much funkier-looking than the Toyota C-HR. The car's bold, sporty and somewhat futuristic styling certainly helps it stand out from the cut-from-the-same-cloth crossover crowd, even if that attention-grabbing exterior design won't appeal to everyone.
The C-HR is by no means a case of function following form, though. Sharp looks aside, there is much to hold your attention here, as well as plenty for used buyers to take in. When the C-HR was first launched back in 2016, the powertrain options were a 120bhp 1.8-litre petrol-electric 'self-charging' hybrid or a 114bhp 1.2-litre petrol.
The 1.2 is pretty efficient, with a combined economy figure of 47.1mpg, albeit under the old NEDC tests. The hybrid fared better, though, with a claimed combined 74.3mpg, dropping to 58.8mpg under the newer WLTP regime.
Click here to buy your next used Toyota C-HR from Autocar
A facelift in 2019 signalled the end of the 1.2 and introduced a 2.0-litre hybrid to sit above the 1.8. As well as enhanced steering and suspension tweaks to help cope with a small increase in mass of the larger engine, this 181bhp 2.0-litre set-up offers improved performance, along with a claimed WLTP figure of 54.3mpg.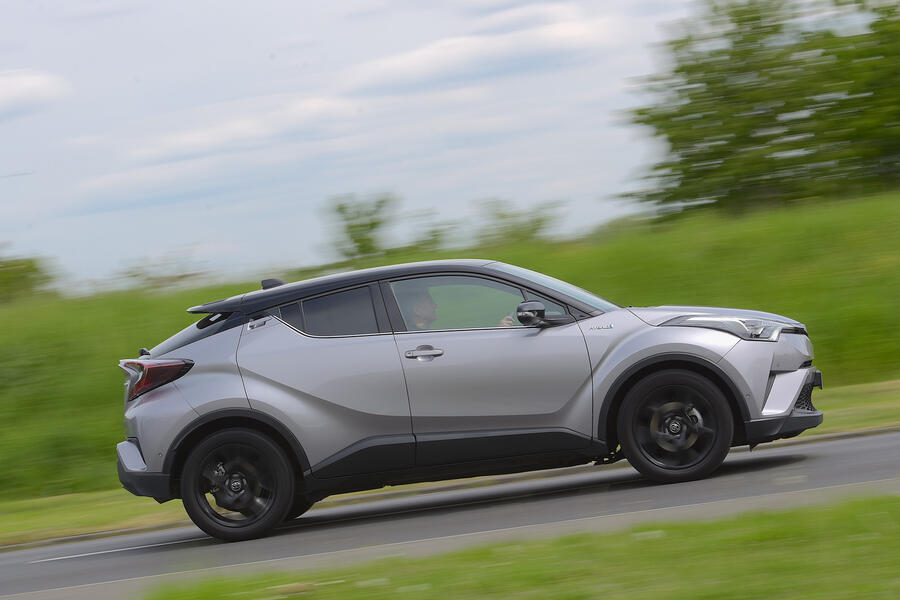 The C-HR is a decent steer. It rides well – it's not soft and wallowy like some crossovers – and there's minimal body movement along undulating roads. No variant is particularly rapid – the 2.0-litre hybrid is the nearest you'll get to a quick car – but nor does any powertrain option feel inadequate.
The 2019 update also brought with it a new front bumper design, new rear-end styling and a revised dashboard design and multimedia system that offered Apple CarPlay and Android Auto connectivity as standard on all models.