The Renault Sport Renault Clio RS16, the fastest model in Renault Sport's 40-year history, will not make production.
The decision not to take the car to production is said to have been a strategic one; the Clio RS is built at the Alpine Dieppe plant, which specialises in low volume, hand-built production cars, including the Clio Cup and Formula Renault race cars, plus the Renault Clio V6 and Renault Spider in the past. With the plant now gearing up for production of the new Alpine sports car, company bosses are said to have been concerned about diverting attention away from that project.
"The option of delaying RS16 until after the start-up of Alpine was considered but this would have meant launching the car in the first half of 2018, which is too long for customers to wait," said a spokesman. The Alpine project is said to have taken priority because of Renault's plans to use the sports car to kick-start a family of potentially lucrative Alpine models.
Read: 2016 Renault Clio RS16 review
Renault Clio RS16: project history
The RS16, was launched officially as a concept, and combined the 2.0-litre turbo engine and manual gearbox of the Mégane RS 275 Trophy-R - the firm's quickest car to date and a recent Nürburgring front-drive record holder - with the lighter and smaller Clio RS body, adding a selection of exotic RS running gear, including some from its range of competition cars. At launch, Renault officials talked up their hopes that the car would be as prominent in RS history as the mid-engined Renault R5 Turbo and the more recent Clio V6 - now that will not happen.
Read: Will Renault put the RS16 into production?
Renault Sport Cars managing director Patrice Ratti said the "somewhat crazy" idea to build the RS16 - which was developed under the codename KZ 01 - was first discussed in October 2016, but the go-ahead wasn't given until December, leaving five months to build two prototypes.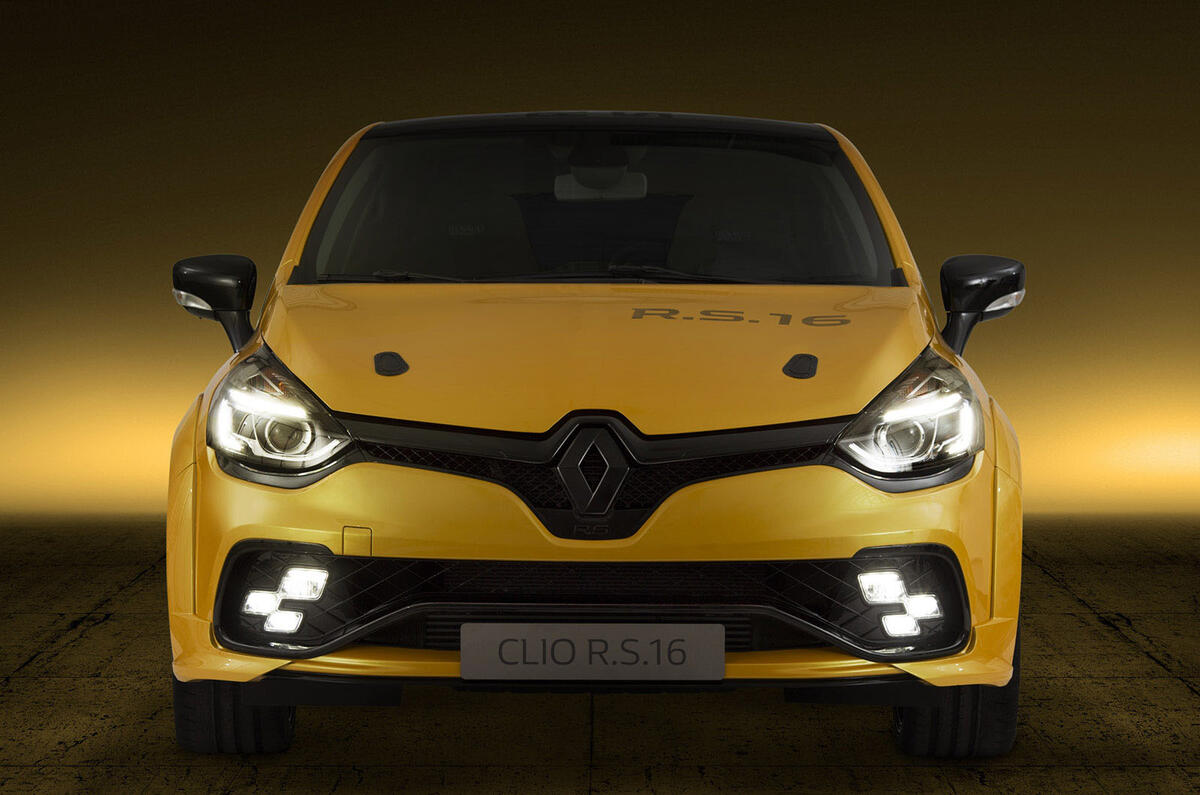 Had it made production, there would have been little doubt that the RS16 would threaten the Nürburgring front-drive record (currently held by a Volkswagen Golf GTI Clubsport S). The Mégane Trophy-R produced 209bhp per tonne, whereas the Clio prototype, believed to be about 100kg lighter, had nearer 225bhp per tonne, plus extra agility and a smaller frontal area.
The decision not to make a production version of RS16 is also a blow for Renault Sport because it was seen internally as a car that could protect its reputation for making desirable high-performance Clios. The current Clio RS 200 has found less favour with UK buyers than previous models, mainly because the traditional normally aspirated 2.0-litre engine and six-speed manual gearbox have been replaced by a softer 1.6-litre turbo engine and a six-speed dual-clutch automatic gearbox.