Just another week, just another hot hatchback group test, eh? Arf.
The Porsche Panamera, you'll have noticed, isn't your typical hot hatchback, what with it being a five-metre-long, many-doored luxury coupé. Albeit a hot one. Which makes this an unusual triple test even by the standards of an increasingly diversified car market.
The second-generation Panamera reports for this test in fast-as-it-gets Turbo form. The first Panamera was a hard car to pigeonhole but an easy one to like, being part sports coupé and part super-saloon, with Porsche keen to make it feel like a true Porsche – which meant weighty steering and areas where refinement was sacrificed to dynamics.
Less so this time around, apparently. The brief for the secondgeneration car feels broader. It's "the first true luxury car in Porsche history", we said when we drove it in Germany last August. In Turbo specification, the new Panamera has a 4.0-litre V8 engine producing 542bhp and mated to a responsive eight-speed dual-clutch automatic gearbox, through which it drives all four wheels. All of that lives under this vast five-door, four-seat body, with individual chairs in the rear aping those in the front. They look more like lightweight sports seats than they are. There are lots of comfort-enhancing features everywhere – enough to take the air-sprung Panamera's kerb weight to 2070kg and its price, before options, to £113,075.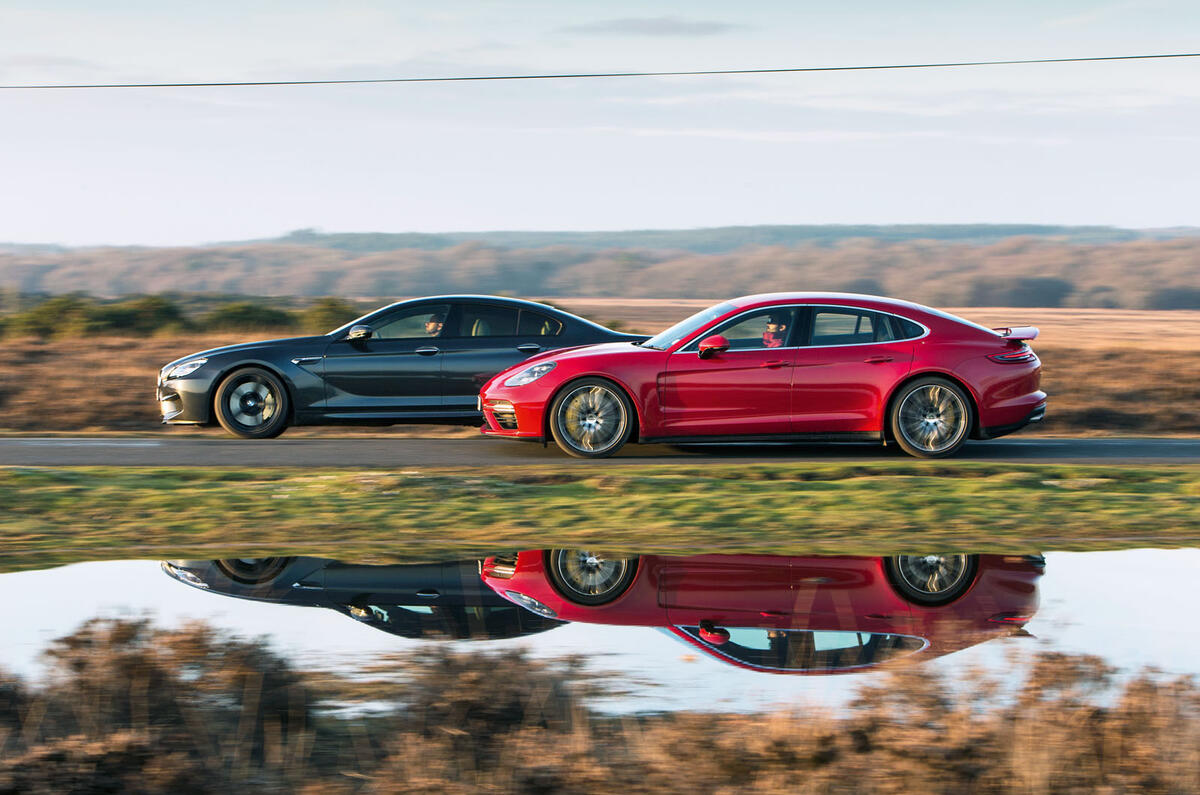 Which prompts the question: what do you test it against? Hundred-and-a-bit-grand luxury five-door coupés are, perhaps unsurprisingly, remarkably thin on the ground, as evidenced by the number of times you don't see a Panamera on the road. The action for super-saloons with the kind of grip and handling we know the Porsche offers tends to take place below this stratosphere. I suspect a Mercedes-AMG E63 saloon would give the Porsche a hard time dynamically, if not from a luxury standpoint, but it hasn't arrived in the UK yet. And contemporary luxury saloons tend to be just that: overdosed on luxury and undernourished dynamically for a test in this company.
Which means we've thought a little more broadly and make no apology for the fact that the Mercedes-AMG S63 Coupé you see here has two fewer passenger doors than the Panamera. Although the S-Class Coupé is shorter and lower than the equivalent saloon, its length is just half a centimetre shorter than the Porsche's, while Mercedes-Benz has vast experience at making fourseat, two-door luxury cars, absurdly powerful or otherwise, and they're mostly entirely satisfying.
This is one of those absurdly powerful ones. The S63's 5.5-litre AMG V8 makes 577bhp, which it applies, via a seven-speed automatic gearbox, to the rear wheels only (a right-hand drive anomaly; in left-hand drive markets the S63 is fourwheel drive). There are air springs, whose functionality includes an active ride control system that can even tilt the body into a corner, and the asking price is £127,675.