A reborn Toyota Celica is being debated as part of a new era of electric sports cars from the Japanese manufacturer that will also include the return of the MR2.
A more diverse range of new Toyota and Lexus models, encompassing everything from small 'mid-engined' sports cars to vast crossovers, has been made possible by a remarkable new modular electric car architecture that brings with it a level of flexibility never before seen in the industry.
The first model to use the new architecture will be a low, sleek Lexus saloon, which is due in 2026 and was previewed by the recent LF-ZC concept car at the Japan Mobility Show in Tokyo.
Alongside it at the show were three other concept models, each illustrating just how versatile this as-yet-unnamed architecture is. Included was the Toyota FT-Se concept, a 4.4-metre-long sports car that previews a new 'mid-engined'-style sports car in the mould of the MR2; an imposing 5.2-metre-long luxury flagship Lexus crossover concept called LF-ZL; and the Toyota FT-3e, a more conventional large SUV that sits a class above the existing Toyota RAV4.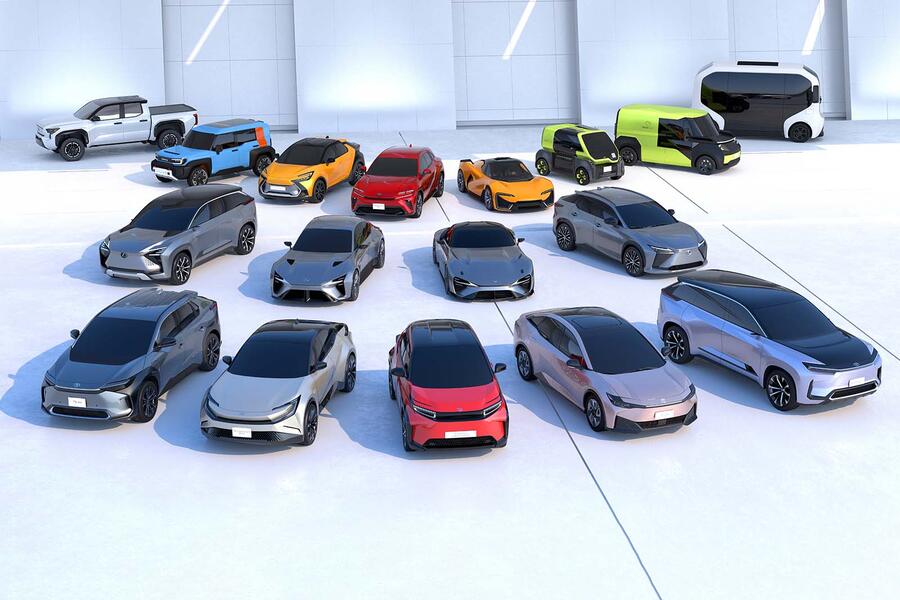 Late in 2021, Toyota chairman and then CEO Akio Toyoda showed glimpses of 15 of the 30 EVs Toyota aims to have on sale by 2030 as part of its plan to sell 3.5 million EVs globally per year from then.
The unveiling of so many new cars at once – part of an 11-digit investment in EVs by Toyota – was in response to claims at the time that the firm had been slow off the mark in developing electric cars.
The four cars at the Tokyo motor show are part of that future 2030 line-up, as are others seen at the 2021 unveiling, including everything from small cars to pick-up trucks, and from coupés to large SUVs.