The Ferrari 812 GTS is the world's most powerful production drop-top on sale – revealed 50 years after the debut of the last Ferrari V12 spider, the 365 GTS4.
The arrival of a convertible sibling to the 812 Superfast is a relative surprise, given the hardcore nature of the car and that its F12 predecessor did not offer a production-series drop-top.
The GTS echoes the Superfast's specification, using a naturally aspirated 6.5-litre V12, delivering 780bhp at 8500rpm and 530lb ft of torque at 7000rpm with a top speed of 211mph.
Ferrari says performance levels are "very close" to those of the berlinetta, claiming a 0-62mph time of less than three seconds compared with the Superfast's 2.9sec.
The Italian supercar maker describes the 812 GTS as not only "the most powerful production spider on the market, but also the most versatile, thanks to its retractable hard top". Deliveries are due to begin in mid-2020.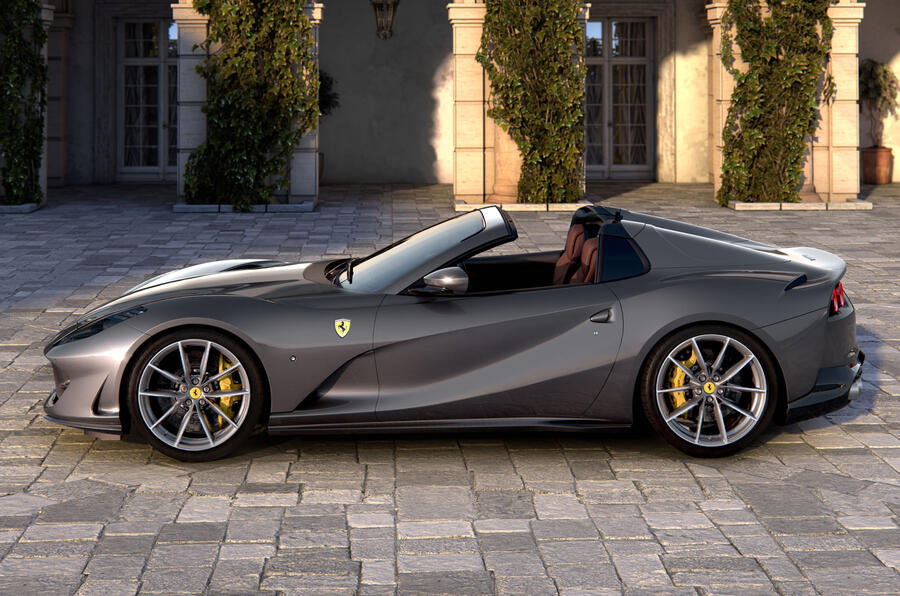 The folding metal roof opens in 14 seconds at speeds of up to 28mph and does not affect interior dimensions, claims Ferrari. The electric rear screen – the wind-stop – can be also be left open with the top up, so occupants can enjoy the V12's sound even more. The rear of the car has been redesigned, resulting in the rear wheel arch losing its aerodynamic duct. That disadvantage has been compensated for by the addition of a flap on the rear diffuser.
Other tweaks to ensure the same performance as the coupé include using the air vents on top of the rear flank to channel excess air pressure out of the wheel well.
Ferrari says it has also focused on top-down refinement so that occupants can talk even at high speeds. As with the LaFerrari Aperta, two small L-shaped flaps on the upper corners of the windscreen create a vortex above the rear screen, avoiding excess pressure behind occupants' heads.