BMW has revealed the Vision iNext concept, which previews an electric SUV with advanced autonomous systems that will go on sale in 2021 and will provide the "building blocks" for the BMW Group's future.
The Vision iNext, which is similar in size to the X5 SUV, is a showcase for BMW's autonomous, electric and connected vehicle technologies. It is referred to by the firm as 'Project i 2.0', a reference to the firm's original 2007 electric concept car that previewed its electric i range.
UPDATE: BMW has revealed the iNext will be the first car on a bold new platform at the LA motor show
BMW says the Vision iNext was developed to address key questions for the future of motoring, with a focus on electrification, connectivity and autonomy. BMW Group chairman Harold Kruger said: "The iNext project will provide our building blocks for the future, from which the entire company and all of its brands are set to benefit."
The Vision iNext was described by BMW development boss Klaus Frohlich as a "brand leader" that will sit outside the growing i range. It is an SUV roughly similar in size to the X5, although it is substantially bigger inside due to its EV architecture, with front and rear motors and underfloor batteries.
BMW to expand i range with electric SUVs
The iNext features slim headlights and a bold version of BMW's kidney grille, which is used as an 'intelligent panel' to house many of the sensors required for autonomous driving. Up close, the panel features a 3D-printed pattern, with a semi-luminescent covering designed to hint at the systems it contains.
The panoramic roof is designed to make the interior airier, with sharp curves down the clean sides. The iNext has opposing doors with no B-pillars, to provide unfettered access to the interior. The concept was presented with a copper paint scheme that gradually changes in shade along the length of the vehicle.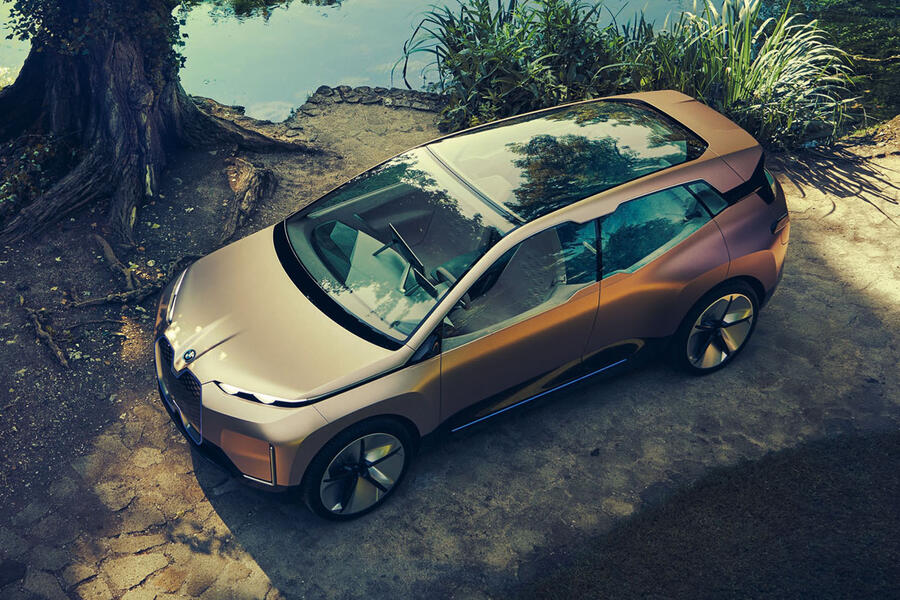 The interior features a minimalist, wood-based dashboard with digital displays and minimal switchgear, with the two front seats split by a coffee table-style centre console. The large rear seat is designed to fit up to four people.
The seats feature an unusual cloth upholstery, with the concept showcasing hidden 'intelligent material' touch controls built into the seats, which BMW refers to as 'shy tech'.
While few technical details of the production car have been released, it will use BMW's fifth-generation electric powertrain, which will make its debut in the iX3 that is due in 2020. In the iNext, Frohlich said it would offer a 0-62mph time of around four seconds, with a range of around 380 miles.
BMW development boss: Our cars will always have steering wheels