A facelifted Mercedes-AMG S 63 development car has been filmed testing in Germany by YouTube user Walkoart ahead of the hot model's anticipated launch later this year.
The latest sighting shows the car will get redesigned bumpers at the front and rear, as well as new headlight clusters. Earlier sightings of the car running at the Nürburgring (pictured below) suggest there will also be tweaks to the car's chassis and drivetrain.
As with its Mercedes-AMG S 63 Coupé sibling, which is also soon to be facelifted, power is set to increase from the current 577bhp. The current S 63's 5.5-litre V8 motor also outputs 663lb ft, which arrives at 2250rpm and plateaus until 3750rpm, so a performance increase here should see the luxury saloon capable of sprinting from 0-62mph in a little over 4.0sec - impressive figures for a car that weighs more than two tonnes.
The refreshed S 63 will arrive with an updated S-Class range that will get significantly more advanced autonomous systems. Autocar has already sampled the technology, which will almost certainly also be employed on the S 63 performance model.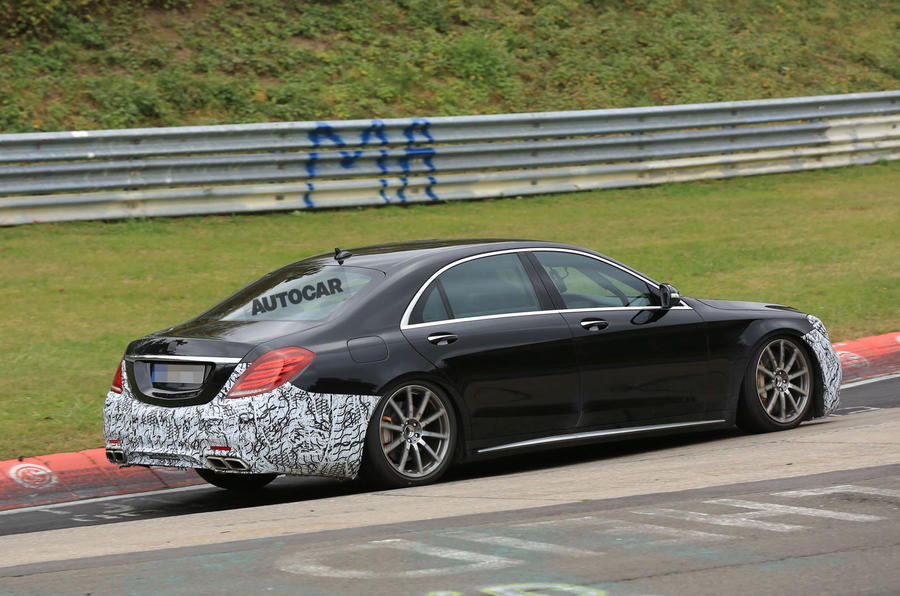 These systems include a newly developed Active Distance function that provides fully autonomous acceleration and braking over any given journey programmed into its sat-nav, in conjunction with an updated Active Speed Limit Assist system.
A distance cruise control system will also be able to autonomously adjust speed according to the route, braking for corners, decelerating when approaching motorway exits and stopping when the driver indicates to turn across the path of oncoming traffic.
The current S 63 costs from £130,680. With the big technological strides made to the facelifted model, it's likely that prices will increase slightly.