The Lotus Evora 400 is now available with lightweight options that include a new carbonfibre pack, lithium ion battery and titanium sports exhaust.
The options can reduce the weight of the car by 42kg to 1353kg when buyers also opt to remove the air-con unit and the rear seats of the standard 2+2 layout.
The carbonfibre pack costs £6500 and features the use of carbonfibre for the front splitter section, roof panel, rear wing centre, rear diffuser finisher, front access panel and wing mirror caps, saving 5kg. The titanium sports exhaust saves 10kg and costs £1350, and another 10kg is saved by the £5500 lithium ion battery.
Jean-Marc Gales, Lotus boss, said: "The Lotus Evora 400 is already the lightest car in its segment, with supercar performance, benchmark handling and the purity of the driving experience expected of a Lotus. We are now giving customers an opportunity to drive an even lighter and more responsive car."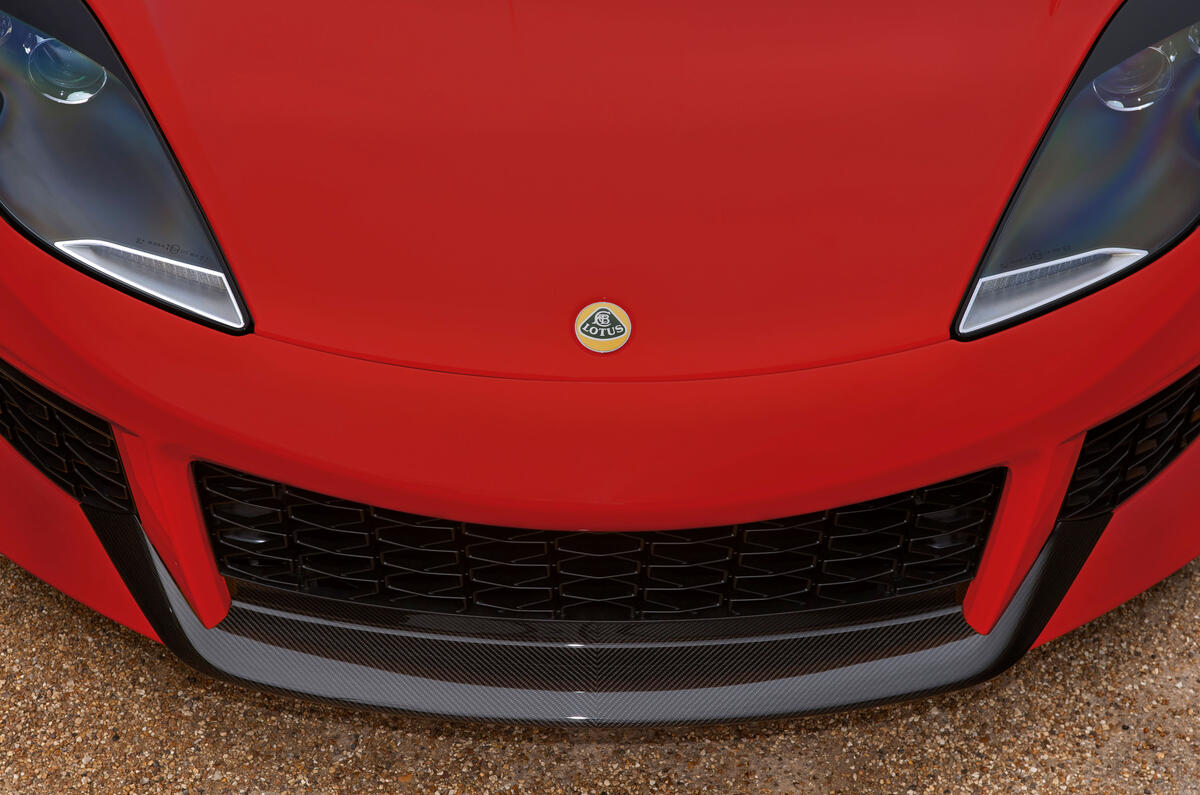 Lotus has also fitted a cupholder and storage tray to its Evora models, which is an option for cars in the EU.
Customers can already opt to remove the air-conditioning and rear seats to reduce weight.
The Evora 400 costs from around £73,000 in the UK and is powered by a 400bhp 3.5-litre V6 engine that enables a 0-60mph time of 4.1sec.
Lotus has recently been producing more lightweight, driver-focused models, such as the Lotus Elise Race 250, which is the fastest racing Elise yet produced.
used Lotus cars for sale
Peugeot 2008 1.2 PureTech Allure Euro 6 (s/s) 5dr
Ford Puma 1.0T EcoBoost MHEV ST-Line X Euro 6 (s/s) 5dr
Mercedes-Benz A-CLASS 2.1 A200d AMG Line (Premium) 7G-DCT Euro 6 (s/s) 5dr
Ford ECOSPORT 1.0T EcoBoost Titanium 2WD Euro 5 (s/s) 5dr
Tesla Model 3 (Dual Motor) Long Range Auto 4WDE 4dr
BMW 3 Series 2.0 330e 12kWh M Sport Touring Auto Euro 6 (s/s) 5dr
Jaguar I-PACE 400 90kWh S Auto 4WD 5dr
Mercedes-Benz C Class 1.5 C200 MHEV AMG Line (Premium) Cabriolet G-Tronic+ Euro 6 (s/s) 2dr
Ford Fiesta 1.5 TDCi Zetec Euro 6 5dr
Powered By