Can it really be 20 years since the Lotus Elise was born? Back in 1996 there was a bloke called John Major in Downing Street, Charles and Diana were still married, Max Verstappen was not even a glint in Jos's eye and no one had even heard of Harry bloody Potter.
And yet that drive in the original Elise remains hardwired into my brain as if it were yesterday. Even following on from supercars such as the Jaguar XJ220, McLaren F1 and Bugatti EB110GT as it chronologically did, it's remarkable that it was there at all, for this was not a normal era. I remember the poise and the extraordinary steering but most of all the joy borne from the certain knowledge that the Elise was going to do what all those bigger, faster, more expensive models of Lotus's recent past had failed at: it was going to save the company. Little did I suspect that, 20 years later, it would still be at it.
Best used Lotus' from £12k: used buying guide
Of course, today's latest Elise, this Cup 250, is a very different machine from the one I swooned over two decades ago. The base philosophy is the same – a mid-mounted four-cylinder engine driving the rear wheels alone though a manual gearbox, powering a chassis made from extruded, bonded aluminium sections and clothed in simple glassfibre bodywork – but the details are completely different. Where the original Elise came only with Rover's light and clever 1.8-litre K-series engine developing 118bhp, today's quickest Elise has a similar-sized Toyota motor, but supercharged up to 243bhp at 7200rpm – more than twice the power of the original.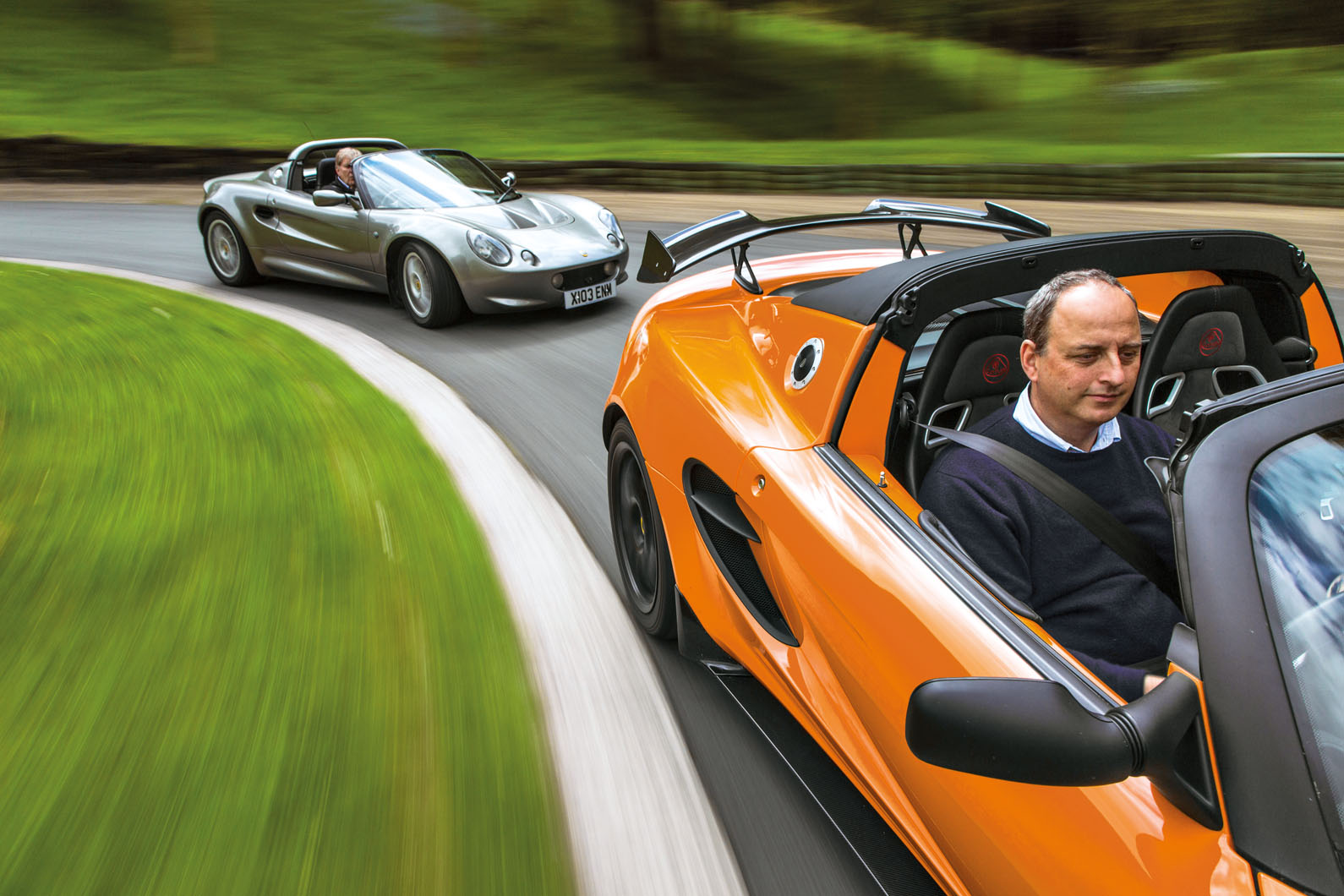 Ah, but what about the weight? There is a common misconception that today's Elise is a bit of a bloater compared with the original, which is well but erroneously remembered as weighing around the same as a box of air. Well, the first Elise was very light but, when measured at the kerb, not quite the 700kg sylph of popular perception; and that was with the aluminium brake discs that quietly disappeared from the spec sheets within two years of the car going on sale. Consider that today's Elise has a supercharged engine, a six speed gearbox, airbags, electronic traction control, necessarily beefed-up suspension, bigger (iron) brakes, fatter tyres and rather better construction quality, and perhaps the biggest surprise is that the fully tooled-up Cup 250 doesn't weigh more than 921kg unladen. To get there, it has a lithium ion 12V battery, lighter wheels, carbonfibre seats and an optional carbonfibre aero pack.
But first to our very own Steve Cropley's very own Series 1 Elise. It isn't one of the oldest around, but is broadly representative of the car in its first incarnation. The only variations from standard are its engine chip, thought to tickle engine output up to a little over 130bhp, and slightly wider front tyres. It's done more than 70,000 miles but still feels supremely fit. Experience with our long-termer at the time and that of many owners since shows that properly maintained early Elises can be exceptionally reliable high-mileage machines.