Nostalgia: according to one dictionary, it's 'a wistful or excessively sentimental yearning for a return to or of some past period or irrecoverable condition'.
However you define it, there's no denying there's a lot of it about these days, from politicians selling us bucolic visions of the past to music and fashion industries that, at the moment at least, appear to be knee-deep in the 1990s.
Yet nowhere is the feeling more pervasive than the automotive sector, where the urgency of the climate crisis and the looming all-in adoption of electric cars is making many buyers keen to recapture motoring memories that were filled with a greater sense of freedom and environmental innocence, when hydrocarbons were happily hurled about, the road ahead was always open and the future always seemed brighter.
You can see its effect in the steadily rising values of 1980s and 1990s 'modern classics', but its influence is most obvious in the skyrocketing popularity of the 'restomod'.
These restored but tweaked and modified machines aim to infuse the retro appeal of their original subjects with a sheen of modernity that should make them go, stop and steer like a much newer machine – because, let's face it, on the whole old cars tend to be dynamically, um, suboptimal.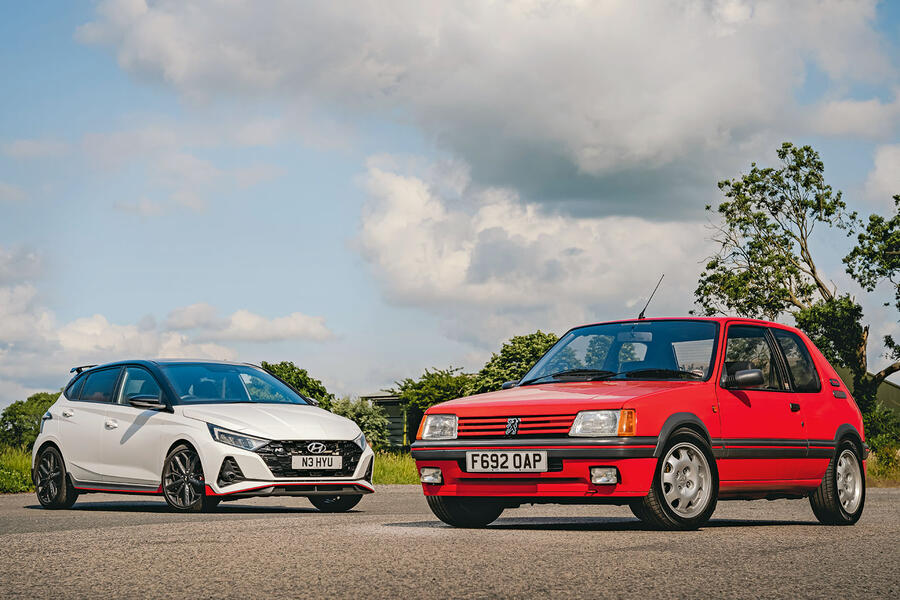 However, there's no escaping the fact that many of these cars are aimed at clientele with considerable means, with cars such as the Singer DLS Turbo perhaps best highlighting this excess-all-areas approach to conspicuous consumption.
But, between the Reebok Hyundai i20N and brogues-on-steriods Tolman 205 GTI, which is best? Read on to find out...
Introducing the Tolman 205 GTI and Hyundai i20N
Quick links: Design - Powertrains - Interior - Driving dynamics - Verdict - Specs
If Singer isn't for you, the old and new can still be melded in a less-than-ostentatious way, which brings us to the door of Tolman Engineering, on a small industrial estate just outside Rugby in Warwickshire.