The camouflage isn't really fooling anyone. Indeed, Audi has actively courted people taking pictures of its new electrified SUV for social media, because the plug-in e-tron is a hugely significant model for the four-ringed brand.
Size-wise, the e-tron sits between Audi's huge-selling Q5 and the Q7, it riding on a unique platform that'll be used on future battery-electric models. Built in Belgium, at a dedicated Audi production line, the e-tron will be on sale in the UK early in 2019.
The 95kWh battery pack, in combination with a pair of motors with a combined output of 265kW, promises both good performance and range. The 0-62mph sprint should take under six seconds, and a top speed of around 124mph is achieved when switching to Sport via the automatic transmission selector, for maximum acceleration at a momentarily increased 300kW.
Other drive modes follow Audi's usual offering via the Drive Select system. What is interesting is that the e-tron retains settings for Offroad and Allroad, among the more familiar Comfort, Efficiency, Dynamic and Individual modes. Audi's electric SUV might be intended to head off-road, but that definitely wasn't a part of our passenger route.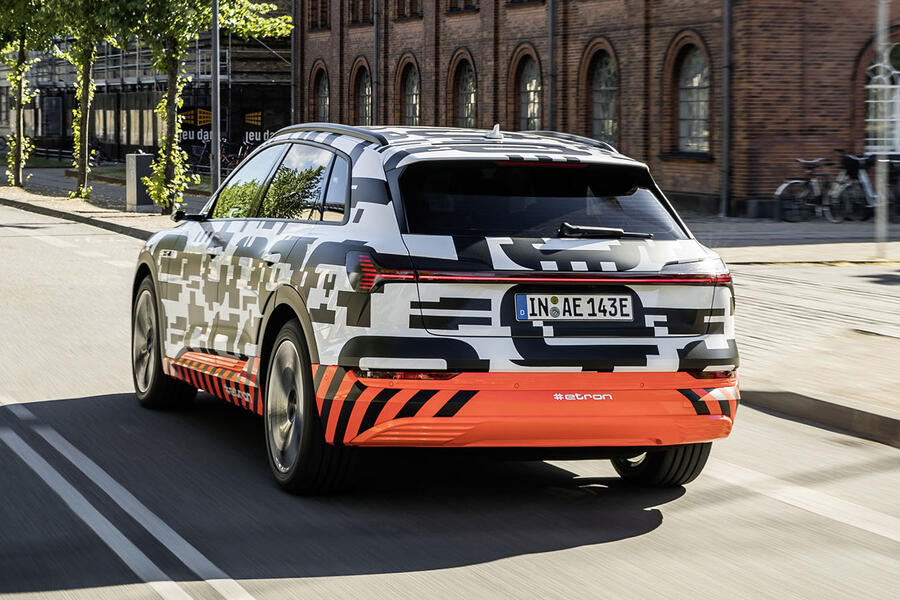 That Individual mode will be configurable, as will the electric drivetrain. The regenerative effect on the motor will also be variable, allowing sailing modes at speed, or heavy regeneration in town traffic and the possibility of driving with one pedal. There's also a Hill Descent mode, underlining that off-road potential, while the air suspension raises if you need to straddle ditches, or lowers to be as economical as possible on your drive home.
The aerodynamics play a key role in the e-tron's quoted 248-mile potential range, its 0.28 coefficient drag figure facilitated by the fitment of cameras in place of conventional exterior door mirrors. They will be optional, and in some countries not allowed for legal reasons, though Audi says it's working on getting this new tech made legal worldwide. They use a pair of OLED screens positioned in the doors, warning of blind spots and displaying the indicators to the driver as well as acting as mirrors.