Officially, the Volkswagen Atlas Tanoak concept is intended to show the versatility of the firm's MQB platform, how the highly versatile architecture can be used for models ranging from the Polo up to a mid-sized pick-up.
But the dual cab concept also hints at how Volkswagen intends to further raise its presence in the North American market and the increasingly lucrative pick-up segment. That means taking on a raft of rough-and-tumble rivals including the Toyota Tacoma, Ford Ranger and Chevrolet Colorado.
If it goes into production, the Atlas Tanoak would be an addition to VW's pick-up line above the rugged ladder frame Amarok. It would also be part of an eventual three-model Atlas line-up, including the seven-seat SUV and more sporting Atlas Cross Sport, also shown in concept form at the New York show.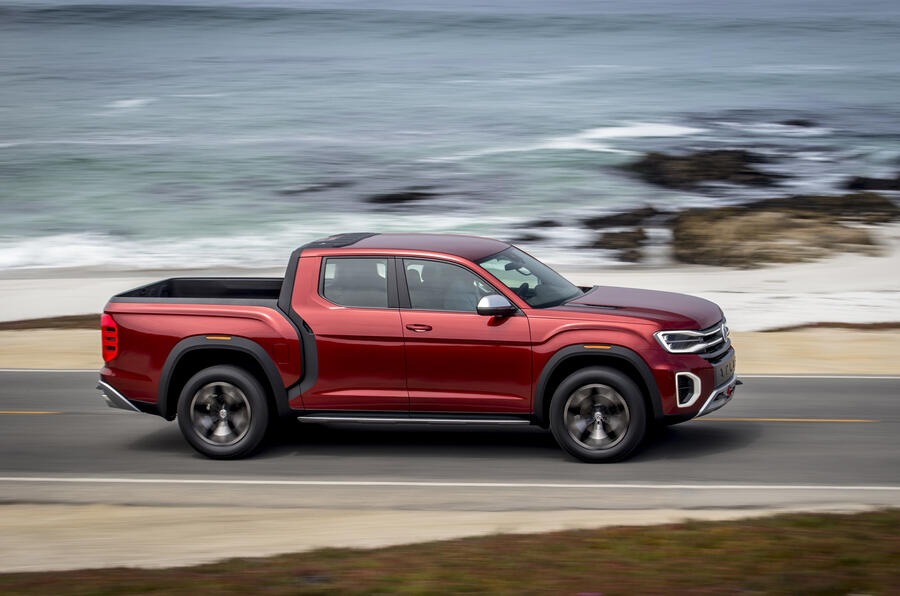 The powertrain and performance of the Atlas Tanoak
Less a tradesman's workhorse and more a lifestyle-orientated pick-up, the Tanoak has been designed to offer a range of different engines, including turbocharged 2.0-litre four-cylinder petrol and diesel units as well as the naturally aspirated 3.6-litre V6 petrol powerplant featured in the concept with 276bhp and 258lb ft of torque.
The transversely mounted engine channels its drive to all four wheels through an eight-speed torque-converter-equipped automatic gearbox, providing both high and low-range gearing via an Active Control function.
Performance figures haven't been confirms for the concept, but Volkswagen suggests the Tanoak can achieve 0-60mph in 8.5sec, with a limited top speed of 118mph.
A claimed payload of 750kg – which could rise to 1050kg with a strengthened rear axle – would put the Tanoak at the top of its class in terms of load carrying capacity.
At 5438mm in length, 2030mm in width and 1844mm in height, the Atlas Tanoak is 184mm longer, 86mm wider and 10mm lower than the Amarok. The Tanoak has a wheelbase of 3260mm, compared to 3095mm for the Amarok. The four-door dual cab body of the Tanoak is combined with a cargo box that is 1627mm long and 1450mm wide.