Cupra has publicly presented its third bespoke offering and second electric model at the Munich motor show, which will go on sale next year to strengthen its breakaway success from sister brand Seat.
The Cupra Tavascan, the firm's coupe-SUV, was launched earlier this year alongside the tagline "the brand's dream comes true". Its arrival will help accelerate the brand's rise as its prominence increases in the electric car market.
Based on the Volkswagen Group's MEB platform, the Tavascan builds on Cupra's sporty credentials, with a top-rung 335bhp, 501lb ft, dual-motor, four-wheel-drive model offered alongside a less powerful 282bhp single-motor variant.
This positions it alongside the entry-level 260bhp Tesla Model Y RWD and the top-spec 295bhp Audi Q4 E-tron Performance.
Power is drawn from the same 82kWh (77kWh usable) battery as in the ID 5, which is good for 341 miles of range in its most economical form. By comparison, the ID 5 – with which the Tavascan will share a production line at the group's Anhui factory in China from later this year – offers 327 miles.
The new SUV offers a major premium interior uplift on the smaller Cupra Born and the Cupra Forementor – the firm's other two bespoke vehicles – with gold trim, flecked lighting and a central 'spine' that mirrors the car's front end.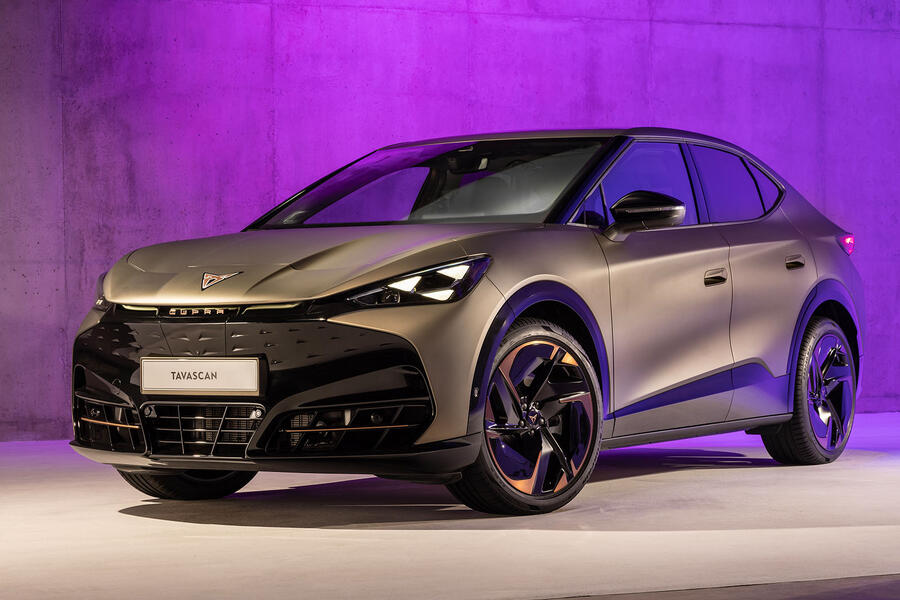 It also comes with the same 15in infotainment touchscreen as found in the new Volkswagen ID 7 and a Sennheiser speaker system. It uses the same digital driver's display as the smaller Born – itself based on the Volkswagen ID 3.
The Tavascan is only subtly distinguishable from the rather bold-looking concept that previewed its design in 2019 – something the young Spanish brand is key to emphasise.
Put them side by side and the key carry-overs are shown, if made less radical: a sharp, hammerhead-style, angular front end, with a large grille and a distinctive three-triangle light signature, joined by a raked roofline and a boot-width rear light bar.