Caterham has teamed up with Harrods to launch a bespoke personalisation programme called Caterham Signature. The scheme gets under way with a bespoke 420S finished in a unique Harrods colour scheme and a price of £59,999.
Caterham Signature offers buyers the chance to add their own touches to the sports car. This includes exterior paint and stripes, dashboard, upholstery, stitching and the colour of the chassis.
David Ridley, Chief Commercial Officer of Caterham Cars, said: "The Seven has always been one of the easiest cars to personalise because every car is hand-built and bespoke to the customer. Now, we've formalised these options into the Caterham Signature programme and there are almost infinite options to select. You can even have your name stitched into the seat."
The tie-in with Harrods has come about because Caterham says its models are not cars anyone needs to buy but because they want it. As a result, they are luxury purchases.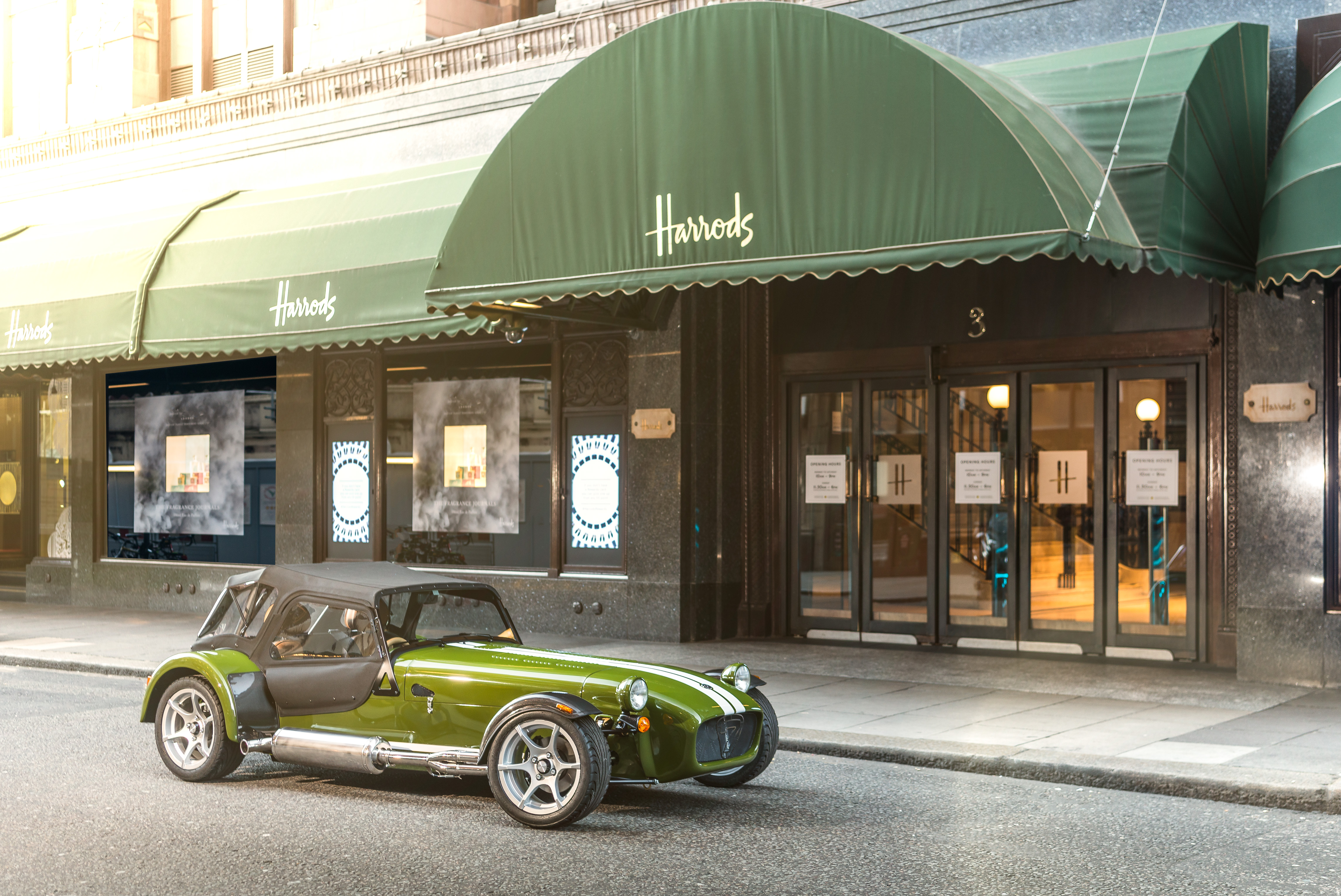 Ridley adds: "Harrods is a global brand as proudly British as Caterham, so it makes perfect sense that the very first Caterham Signature car has been created in partnership."
The one-off Harrods car will be displayed in the London store throughout October and is finished in Harrods Green with white stripe and gold pinstripe. Its chassis has been powder-coated in a gold colour.
Inside, it has butterscotch leather upholstery with the 'Harrods' logo embroidered on the seats and 'H' on the gear lever. A wooden dash has also been created for this car.
Guy Cheston, a Director of Harrods, said: "We wanted to make our car an object of desire, so our touches are understated and reflect genuine quality."
Alisdair Suttie
used Caterham Seven cars for sale
Caterham SEVEN 1.6 Ti-VCT 310 R S3 2dr
Caterham Seven 2.0 620 R S3 2dr
Caterham SEVEN 2.0 420 S S3 2dr
Caterham Seven 0.6 160 S3 2dr
Caterham 420R 2.0 420 S3 2dr
Caterham Super Seven 1600 SV
Caterham Seven 2.0 420 R S3 2dr
Caterham SEVEN 2.0 620 S S3 2dr
Caterham Seven 2.0 360 R S3 2dr
Powered By