The organisers of a record-breaking drive by an autonomous car on UK roads have hailed the event as a major step forward for the technology.
A modified self-driving Nissan Leaf travelled 230 miles from the Japanese car maker's technical centre in Cranfield, Bedfordshire, to its factory in Sunderland on an trial dubbed the Grand Drive. That route, the longest single journey achieved by an autonomous car in the UK, included B-roads, motorways and challenges such as unlined roads, complex roundabouts, multiple traffic lights and, on motorways alone, overtaking manoeuvres.
The record-breaking run was one of two trials undertaken as part of a £13.5 million development programme called HumanDrive and carried out over 30 months with the aim of creating a more human-like autonomous vehicle (AV) experience. The second trial, a test track-based activity, used machine learning to explore how blending human-like driving behaviour and autonomous technologies can enhance users' experience of self-driving vehicles.
This work was carried out at the Multi User Environment for Autonomous Vehicle Innovation (MUEAVI) facility at Cranfield University. Leafs were equipped with artificial intelligence systems developed by Hitachi and containing data on previously encountered traffic scenarios and solutions. These formed a 'learned experience', enabling vehicles to deal with similar scenarios on the test track – for example, plotting a safe route around an obstacle that felt natural rather than robotic.
The trials were led by Nissan engineers and funded by the government through the Centre for Connected and Autonomous Vehicles (CCAV) and Innovate UK, plus nine other consortium partners. Nissan Japan has pledged to provide funding until 2023.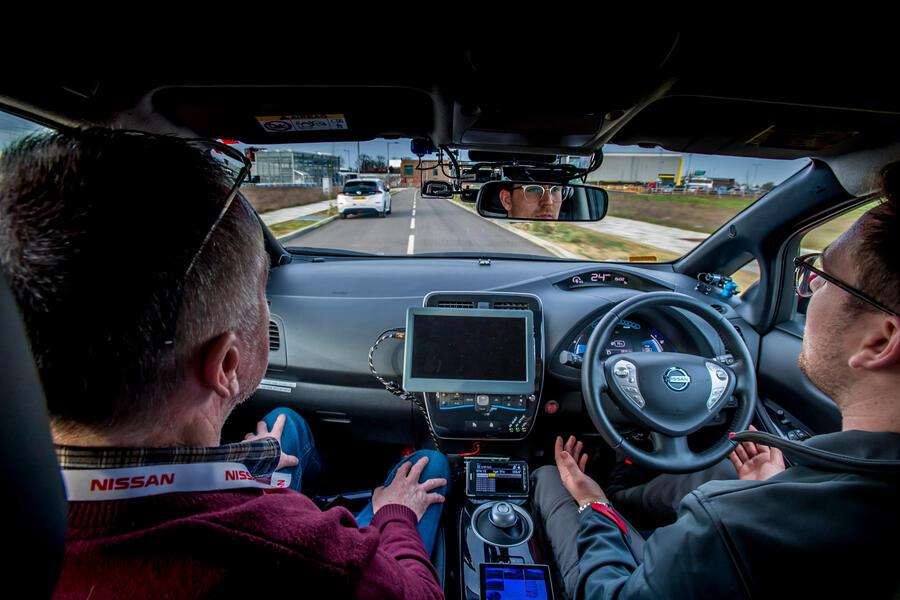 Autocar experienced a 13- mile section of the Grand Drive route – running from Cranfield to a service station on the M1 and back – in an autonomous Leaf similar to the one that completed the record-breaking run. For the first three miles, the car followed a B-road that, during development, had been recreated in the virtual world by a team of engineers at Catapult, the organisation managing the programme.
Details such as broken lane markings, cambers and road signs were all replicated in the model. An autonomous Leaf then drove through the real environment, with its trajectory and behaviour overlaid onto this digital visualisation. Data from human drivers following the same route enabled engineers to compare the cars' trajectories, with the aim of fine-tuning the Leaf's autonomous responses to provide a more human-like experience.