Those poor, unfortunate cheats at Audi are in trouble again.
This time it's for another few lines of software code that allow cars to fiddle an emissions test. Cue the predictable long faces, furrowed brows and tutting disapproval of the mainstream media, which we've no need to repeat.
I'm not excusing it and neither should anyone else. But before heaping even greater scorn on top of a growing pile, a would-be critic really ought to spend a few hours in the company of a modern automotive engineer and get some perspective on the endless list of often conflicting targets they're expected to hit for almost every facet of a new car's state and function.
What an irony, then, that if you're an engineer working down the road at Audi Sport, rather than at the mothership, you've no need to resort to 'creative' software coding to find a shortcut where you need one. You simply use the special dispensation that Neckarsulm has apparently been awarded from the laws of Newtonian physics. That, surely, is how this outfit can make a two-tonne RS6 Performance estate car hit 60mph from a standstill in just 3.4sec – as verified by the Autocar road test timing gear recently. And only that, you might imagine, could make the subject of this comparison test, the new TT RS, good for matching its equally jaw-dropping official 0-62mph claim of 3.7sec. That or rocket boosters.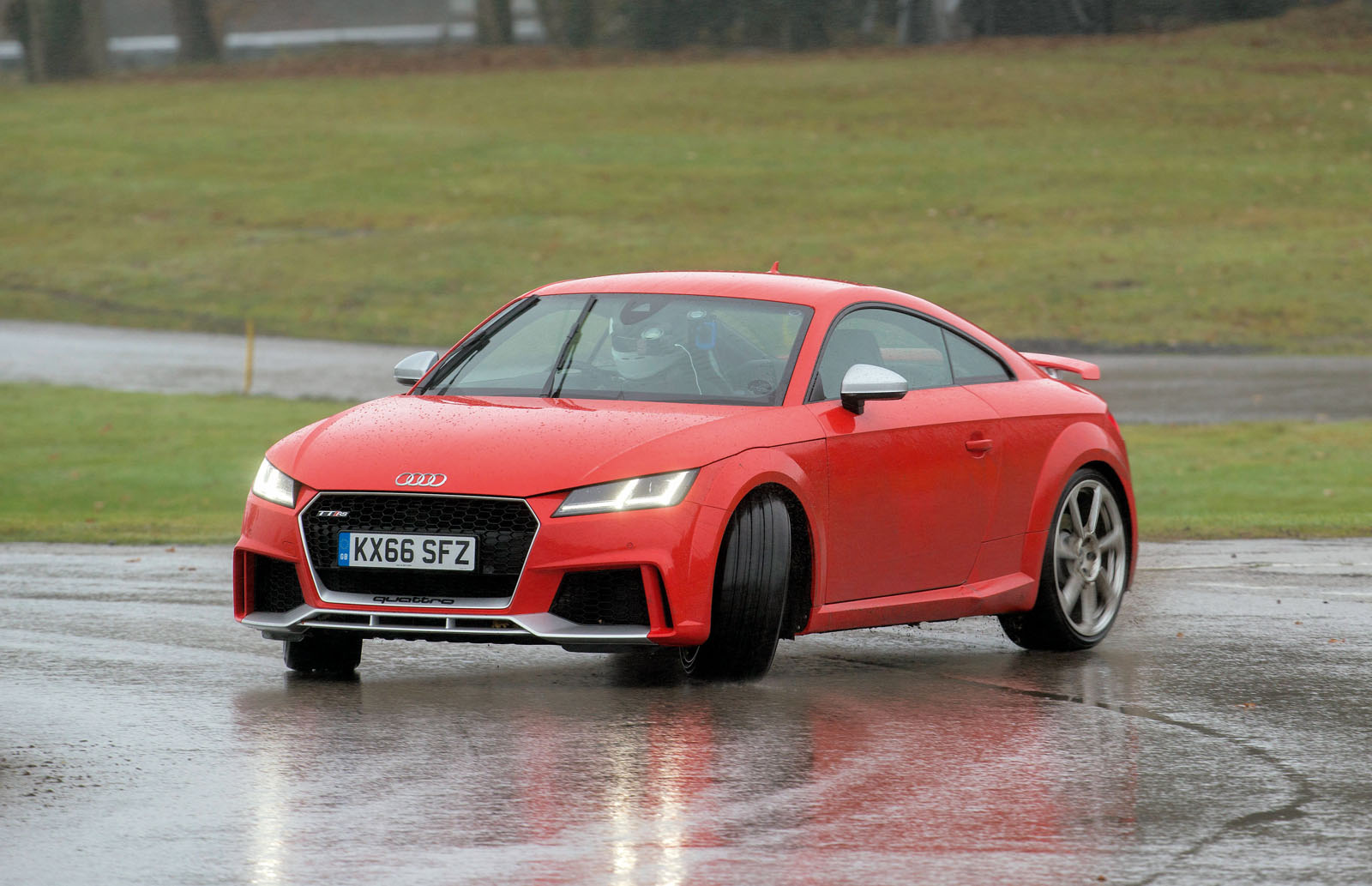 Here is a TT that's substantially quicker away from a standing start than most current-generation Porsche 911s, never mind a 718 Cayman. A BMW M2 is considerably slower as well – as is every version of the current M3, M4, M5 and M6. Both a Ferrari F430 and a 997-generation 911 Turbo take longer to get to 62mph. Absurd, isn't it?
The Audi TT has never been an ordinary sports car. It flouts the rule book and shuns the mechanical templates that deliver the dynamic advantages of either a mid-engined or a rear-driven rival. It has quattro four-wheel drive, of course, but that makes it only more unusual in a class where most manufacturers deem one driven axle sufficient.
And yet somehow, with this RS version, the car disappears into even more left-field territory. It's as though making a better sports car wasn't enough and Audi's aim was instead to reproduce the enormous, giantkilling, bang-for-your-buck-busting traction and pace of a 911 Turbo S or a Nissan GT-R at an even more accessible price point. The RS sub-brand clearly needed a new cult hero. And so, to find out if that's exactly what Audi Sport has got, we've lined up what we consider to be the fastest and most impressive four-wheel-drive performance cars produced to a similar brief.