The updated Audi RS3, the mega-hatch with a once-unfathomable 394bhp, is now on sale, priced from £44,300.
First revealed at the Geneva motor show in March, its all-wheel-drive rival is the £41,875 Mercedes-AMG A 45 4Matic, while the BMW M140i, which costs from £33,150, is a slightly less potent, rear-wheel-drive alternative.
Following the step taken by the new RS3 Saloon, the new RS3 hatchback has a heavily re-engineered variant of Audi's turbocharged five-cylinder direct-injection petrol engine, which is claimed to create even sharper acceleration without any detriment to fuel consumption.
Billed as the world's most powerful series-production five-cylinder engine, the transversely mounted 2.5-litre unit features a series of new developments, including a lighter but stiffer aluminium crankcase (in place of its predecessor's steel crankcase), a new dual-injection process, Audi's patented valve lift system and a new freer-flowing exhaust, among other changes.
Power has increased by 33bhp over the previous RS3's engine, while torque is extended by 11lb ft to 354lb ft between 1700 and 5850rpm. This provides Audi's revised hyper-hatch with 59bhp more but 15lb ft less than the turbocharged 3.0-litre in-line-cylinder M140i and 18bhp and 4lb ft more than the turbocharged 2.0-litre four-cylinder A45 4Matic.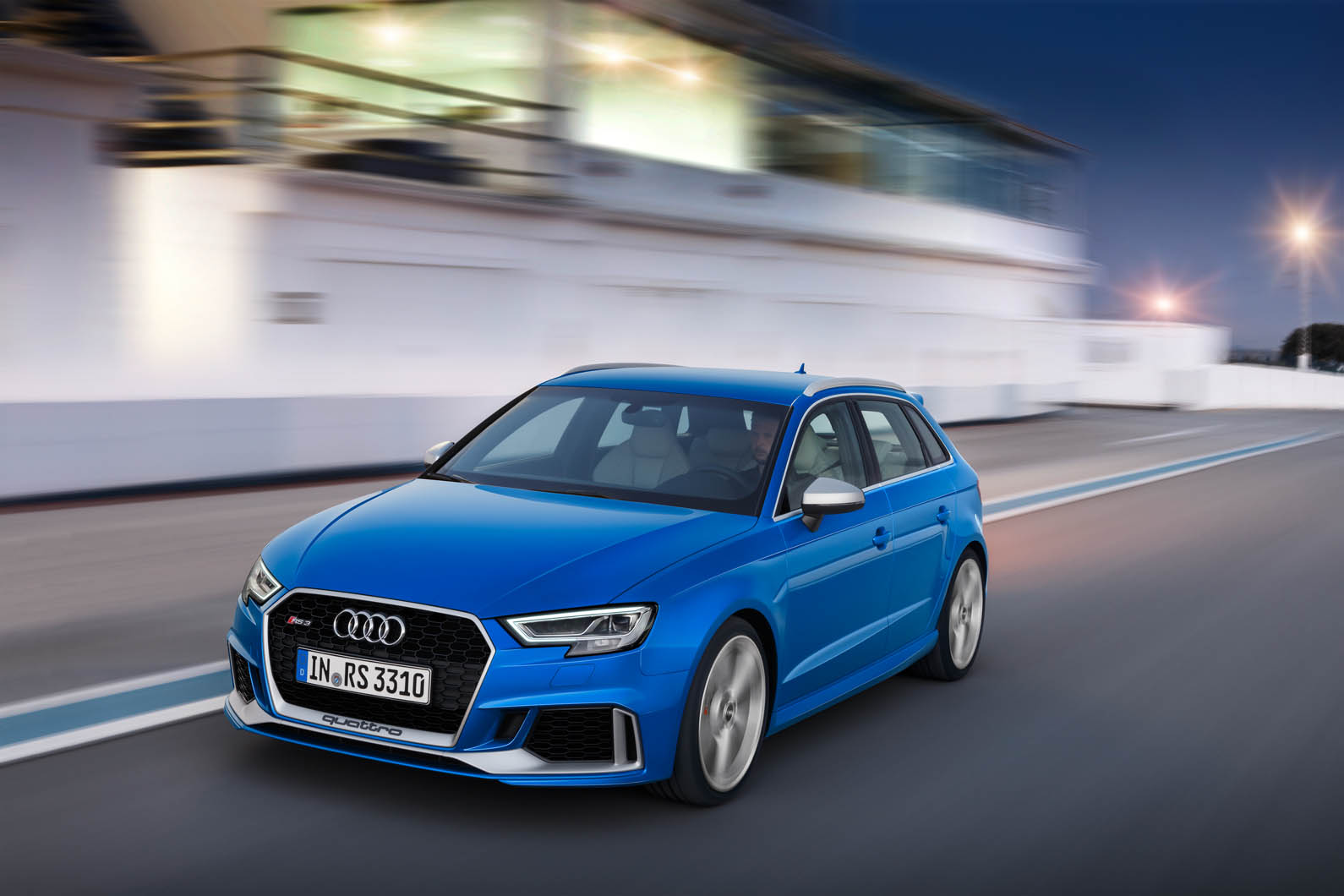 The increased reserves are channelled through a revised version of Audi's seven-speed double clutch S-tronic gearbox with new software mapping and an electrohydraulically actuated multi-plate-clutch quattro four-wheel drive system, providing the upgraded RS3 with a claimed 0-62mph time that is 0.2sec less than its predecessor at 4.1sec. As before, top speed is limited to 155mph, though it can be increased to 174mph at the request of the customer.